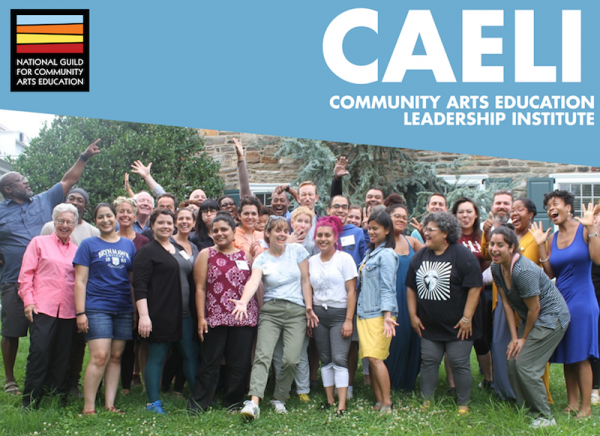 The National Guild for Community Arts Education, an 82-year-old organization with the mission of maximizing creative potential in arts education, has announced that Patricia Morales of Southwest School of Art in San Antonio has been selected as part of the 2019 class of the Community Arts Education Leadership Institute (CAELI). Morales is the Director of Young Artist Programs at Southwest School of Art.
Now in its tenth year, CAELI provides an intense, immersive experience for arts education professionals to advance their leadership skills. Over the course of eight months, the program includes a five-day, in-person seminar held at Bryn Mawr College, one-on-one coaching with top trainers and practitioners, and virtual workshops.
Morales is one of 26 individuals representing community arts education organizations across the nation who will participate in CAELI. "This year's cohort are phenomenal members of the arts education landscape and we look forward to seeing what they go on to accomplish during and beyond CAELI," says Quanice Floyd, the National Guild's director of learning and leadership development.
The Entire CAELI 2019 Class is below:
Rheanna Marie Abbott, Manager, Arts in the Middle Program, Lincoln Center Education, New York, NY
Pachy Banks-Cabral, Advancement Officer, Main Line Art Center, Haverford, PA
Scott Bartelson, Management Associate, Hartford Stage, Hartford, CT
Alaina Calloway Bolton, Music Education Director, Apple Tree Arts, Grafton, MA
Josiah Micha Bruny, CEO, Music Changing Lives, Moreno Valley, CA
Alberto Careaga, Director of Education, Art League Houston, Houston, TX
Alorie Clark, Senior Manager, Arts Education and Community Programs, Step Afrika!, Washington, DC
Kerry Davis, Development Coordinator and Community Liaison, Cleveland Print Room, Cleveland, OH
Teresa Drews, Director of Education, Wisconsin Conservatory of Music, Milwaukee, WI
Sarah E.R. Grosman, Programs Manager, Turtle Bay Music School, New York, NY
Eric Hung, Grant Writer and Conference Chair, Philadelphia Asian American Film Festival, Burlington, NJ
Daylynn Allis Lambi, Executive Director & Founder, Marrow PDX, Portland, OR
Mika Claire Lemoine, Teaching Artist Mentor, Destiny Arts Center, Oakland, CA
Vita Litvak, Manager of Adult Programs, Fleisher Art Memorial, Philadelphia, PA
Colleen Longshaw, Associate Director, CARE, Cleveland Play House, Cleveland, OH
Nathan Majoros, Deputy Director, Lifetime Arts, New Rochelle, NY
Linsey McDaniel, Managing Director, Balafon West African Dance Ensemble, Pittsburgh, PA
Patricia Morales, Director of Young Artist Programs, Southwest School of Art, San Antonio, TX
Elena Marie Muslar, Assistant Director, Entertainment and Fine Arts Professions, Loyola Marymount University, Los Angeles, CA
Sarah Jane Pietlicki, Program Manager, Chicago Jazz Philharmonic, Chicago, IL
Cathleen Marie Plazas, Senior Director, Curriculum & Program Evaluation, NJPAC, Newark, NJ
Carmen Myriam Santos-Robson, Assistant Director and Development, Newark School of the Arts, Newark, NJ
LeBrandon Stephen Smith, Associate, NeON Arts, Carnegie Hall, New York, NY
Margaret Wyporek Spear,Assistant Director, Strategic Growth and Programming, The Hartt School Community Division, West Hartford, CT
Veronica Stein, Program Director, Snow City Arts, Chicago, IL
Molly Terbovich-Ridenhour, President & CEO, San Diego Civic Youth Ballet, San Diego, CA