Public Access, which runs at the MASS Gallery through May 4, purports to accomplish many, many things at the same time. The gallery's 500-word description of the show is so ambitious that one might think the Austin-based, collectively run space is staging a minor revolution. What is NOT there? In addition to the rhetorically charged, referential title, we are also served ambitious goals of:
a) re-imagining the white-walled gallery space;
b) producing experimental, "challenging and inclusive multimedia experiences";
c) pushing "the boundaries of the medium and seeking new paths forward";
d) paying homage to the tradition of artists using public access television;
e) capturing "a subset of the artistic and performance community of Texas in a casual, egalitarian context."
Public Access clearly nods at public access television. However, by eschewing the word "TV," the title also invites broader questions on the current meaning of the notions of "public" and "access" for contemporary artists working in Austin, TX. What kind of a public does the MASS Gallery exhibition create? What image of  "the public" does it convey? What kind of an access does it offer? Finally, why call forth public access TV today, when even high-end cable channels seem obsolete and hopes for the World Wide Web as a more democratic alternative to corporate media are increasingly cast into doubt?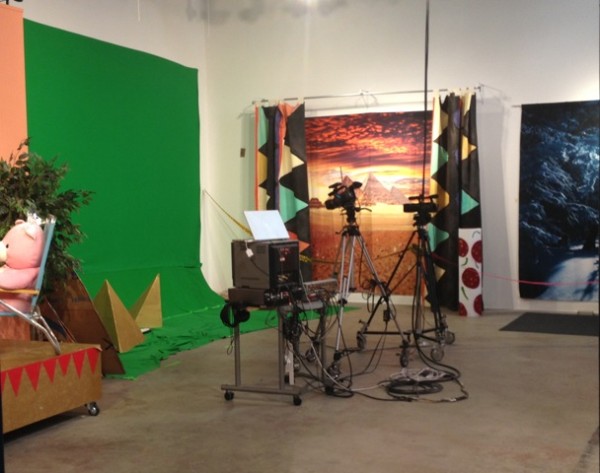 For the show, the gallery space is transformed into a do-it-yourself cable TV studio, collaboratively constructed by the Mass Gallery members and their cohorts. So far, the show has had two distinct lives. Serving as the late-night hub for the 2013 Fusebox Festival, the opening on April 19 featured an appropriately grand party and a number of live performances by the gallery's befriended artists and musicians.
For the rest of the show's run, multiple monitors scattered throughout the space replay loops of about a dozen of pre-recorded performances. Since no exhibition dealing with television would be complete without live feed, the cameras overlooking the makeshift studio sets, including "the living room" and "the kitchen," relay silent images of the current happenings in each to the monitors assembled in the "station's" "control room." During the crowded opening, visitors who gathered there could take the pulse of the intensity happening in the main space. When I visited a week later, on a Saturday afternoon, the same monitors transmitted eerie images of mute, mostly empty sets.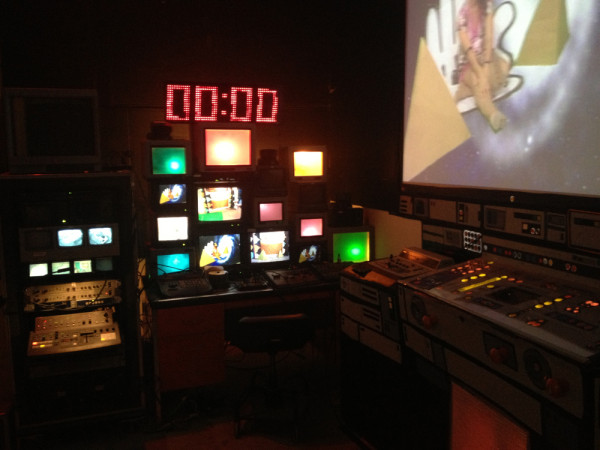 The most important aspect of Public Access is the fact that it is not a functioning television channel. Given the possibility, if not an outright obligation, to "broadcast yourself™", it is surprising how few of the events and performances made it onto the Internet.  The exhibition is an installation that creates the image of a very homey, and dated, public access TV studio.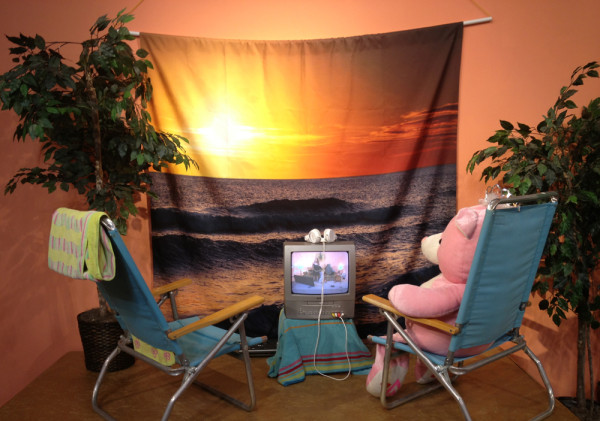 Larger walls of the gallery are decorated with hand-painted, intensely patterned curtains and garish, photorealistic backdrops—pyramids of Giza, a snow-covered forest illuminated by cold winter sun, and a bloody sunset on an oceanfront. The latter is complemented by a couple of large, artificial plants, two beach chairs (with towels), and a giant pink teddy bear, positioned to face not only the ocean view but also a small TV set up right in front of it. Another of the backdrops is a large green screen, accompanied by strange props (a floppy cartoon hand, two golden cardboard pyramids, and a bunch of human-size mock pizza slices), which can be captured by two tripod-mounted cameras.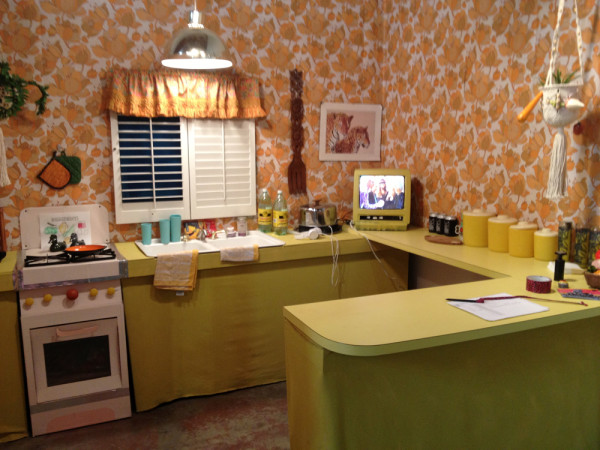 Along the gallery's shorter wall, the MASS crew built "studios" that double as domestic spaces: a kitchen, a living room, and two reception areas adjacent to the gallery entrances. With their pastel-colored walls and wood paneling, furniture picked up on the curb, home décor items that are too unsophisticated to be labeled "vintage," obligatory calendar photographs of kitties and puppies, and—as one might expect—ubiquitous TVs, these sets project the low-brow, cheap aesthetics of working class, small town America.
Together with the exhibition's premise, these aesthetic choices put into relief the issue of artists' relationship to the world and people at large and, more specifically, artists' deployment of media in constructing such a relationship. As historical phenomena, a wide availability of inexpensive video technology and emergence of public access cable channels, provided—at least in theory—an avenue for intervening into a previously highly centralized medium.
If, until mid-1960s television was a profoundly undemocratic medium of social discipline, controlled by a handful of large corporations and two political parties in order to deliver unilateral "message" to passive consumers, the changes in technology and delivery systems opened up the proverbial door to upsetting established power relations and creating a more egalitarian, pluralistic, and just society [1].  For artists, these changes also signaled an opportunity to expand their audiences beyond traditional gallery goers and to subvert commodification and institutionalization of their work. Finally, they also promised to fulfill the ultimate avant-garde dream of merging art and life: the distinction between producers and recipients of art would finally be abolished once everyone was given the tools and the means to generate their own content.
As is, Public Access disavows such aspirations. The distance between the gallery and the public sphere was especially jarring on the opening night, just after the Boston Marathon bombings, when the lone surviving perpetrator was captured. Social media were a confounding mix of enthusiasm, hysteria, and panic. Triumphant exclamations "America! Fuck Yeah!" clashed with fear caused by the federal government's ability to effectively shut down an entire city in the name of national security. By the following morning, we were bidding a permanent farewell to Miranda rights and a hope for any kind of meaningful immigration reform. Regardless of the urgency of the moment, none of these greater concerns could show up in the exhibition's pre-programmed agenda.
Taking delight in closed-circuit television, the show is comfortably self-contained. While this mock studio possesses cameras, sets, and its own control room, it is—in fact—a very closed circuit. Even though the whiteness of the proverbial "cube" is literally covered up by ample, colorful backdrops, the gallery "box" remains firmly in place. No signal is being broadcast beyond the gallery walls. The gallery goers can watch other gallery goers by the means of the cameras that, perched on top of the two-by-fours framing the sets, look very much like surveillance apparatus, or they can watch artists presenting themselves to "the public" through recorded performances no one can join or interrupt.
The highly interactive beer served at the opening party was an exception, not a rule. (I must admit, though, I was tempted to jot down Xochi Solis's recipe for frittata from her video Dog Can Cook.) If the show seeks to be a refuge from the "useful," politicized art of the high-end contemporary art biennials, whom does it harbor? It is a refuge for a privileged cohort preoccupied with self-representation who can afford to withdraw into the space of fun, tongue-in-cheek domesticity, as if any aspiration to reaching the public had long been proven to be no more than a utopian fiction of a trashy, 1980s public access show.
Public Access, is on view at the Mass Gallery through May 4, 2013. on Friday, May 3 from 5:30 – 7:30pm, MASS will presents a screening and panel discussion with Austin video and performance artists Erica Nix and Max Juren, featured in Public Access.

Dorota Biczel is a writer based in Austin. She has experimented in art and life in Poland, Peru, Spain, and the United States. A doctoral student at UT, she's writing a dissertation on urban interventions in Lima, Peru, in the 1980s.
[1.] For an account of the moment, see, for example: David Ross, "A Provisional Overview of Artist's Television in the US," Studio International 191. 981 (May/June 1976), 265–272. For an excellent historical and political analysis, I highly recommend David Joselit's Feedback: Television against Democracy (Cambridge, MA, and London: MIT Press, 2007).