You can't miss the compound on San Antonio's West Side as it sits in the middle of Leal Street. Warhol-inspired Campbell's soup piñatas mixed in with lush, green vegetation greeted visitors as they walked through bronze gates into the gardens, where an opulent four-day Easter-themed extravaganza at self-made artist Franco Mondini-Ruiz's compound took place. His studio/aviary/gardens and casita were open to the public for the closing event of Contemporary Art Month, Paintings, Peacocks, & Prosecco. I can only describe the compound as being the West Side meets Versailles—where lavish gardens, art, cacti, sculptures, ponds and a botanica create an exotic Garden of Eden-meets-hacienda oasis. In February's edition of Texas Monthly, Sandra Cisneros said she would spend her days at Mondini-Ruiz's place.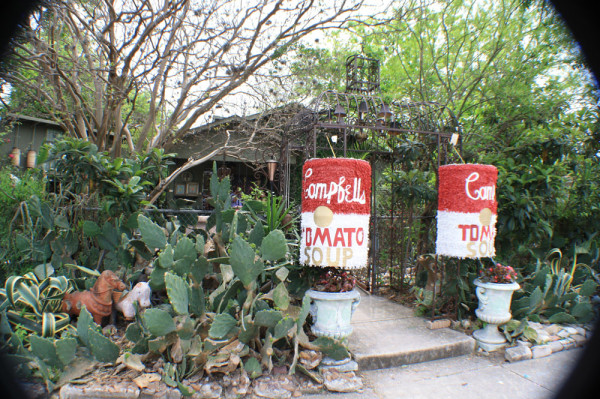 The Organic Garden is where I first explored. This area contained six sculptures made from parts of a 19th century organ (hence the name). One in particular that stood out was Central Park, a conceptual piece that included towering organ pipes surrounding a square cut of lush grass, mimicking the isolation of NYC from the natural world. Inside, the Crema Gallery (which is also the main residence of Mondini-Ruiz) was strewn with Mexi-kitsch-meets-baroque period pieces.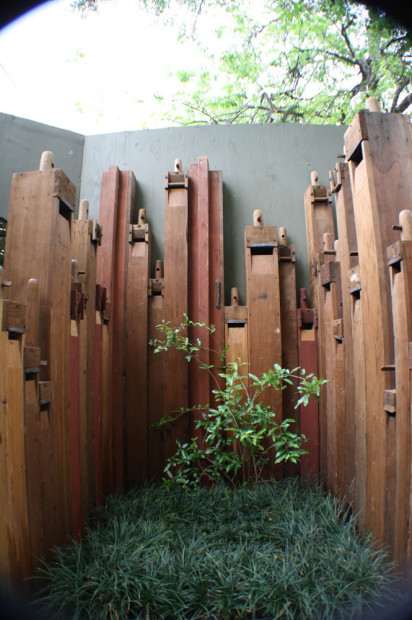 As I wandered across the grounds, I came to La Botanica, a place where mixed-media treasures and the Mexican occult intermingled. A rasaquache shrine to the late artist Chuck Ramirez was one of the easy finds in the mix and mingle of found objects.
Socializing in between Mondini-Ruiz's studios and living space were peacocks, roosters, fashionable guests and art in every nook and cranny—I found it hard to look away from the picturesque scene. When I first found Mondini-Ruiz, he was diligently painting portraits of his guests in his large sunroom studio called The New Gallery (it was rumored that on Saturday he stayed painting portraits for ten hours).
Mondini-Ruiz lives and breathes art; not as a machine, but more like the production of a play. His assistants run around trying to locate the next clean canvas while catering to guests, loyal patrons patiently wait and Mondini-Ruiz is the director, producer and star attraction in this production. Born to an Italian father and Tex-Mex mother, Mondini-Ruiz is proud to be a working-class painter. "I wanted to prove that I could be an upper-middle class, free, creatively-unfettered artist/entrepreneur and it happened. It did, but it wasn't easy," he said.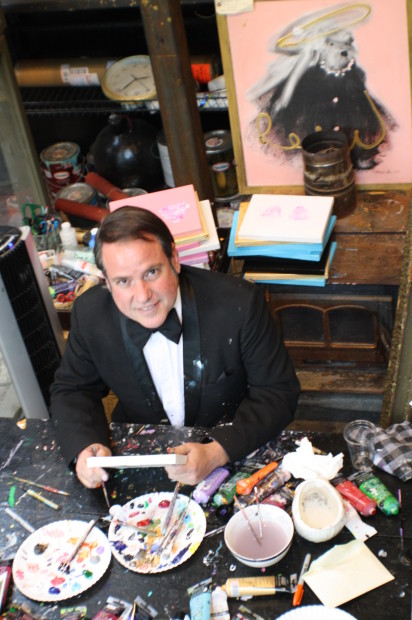 Mondini-Ruiz was originally a corporate lawyer. After doing that for a few years he decided to pursue the life as an artist, selling everything he had and starting from scratch. He talked a bit about being an artist from the practical and creative side. "I wanted to mix entrepreneurialship, create a magical environment and good art. I hope it becomes some inspiration," he said.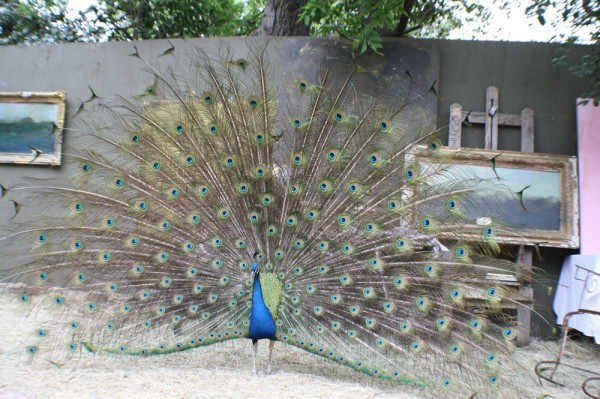 To him, art is not only a business or a creative, cerebral process, but also a lifestyle—and his compound proves it. It is not only an escape, but also an extension of his artistic expression. He said, "I am living an experiment, that I want, someday [for others], and for art institutions not to worry about who's on their board or to try and build more buildings—we don't need more museums—we need more people investing in artists."
Paintings, Peacocks, & Prosecco, Franco Mondini-Ruiz's Open Studio and Home Reception opened to the public from March 28 – 31 at 2710 Leal Street, San Antonio.