Saturday, 4 pm
Lawndale Artist in Residence Domokos Benczedi (right) is asked to lower the volume on his unscheduled art fair performance by fair director Jeffrey Wainhouse. – B.D.
To which Domokos replied: "MAN, WE DON'T TURN IT DOWN FOR ANYBODY!"
Domokos then left the building. – K.K.
Saturday,  1:24 pm
These are the photos from our "Meet the Gator" symposium at the Glasstire Gulf Coast Dive bar, opening night.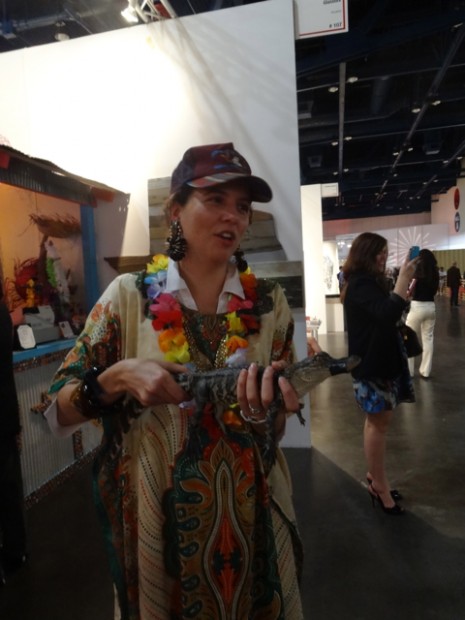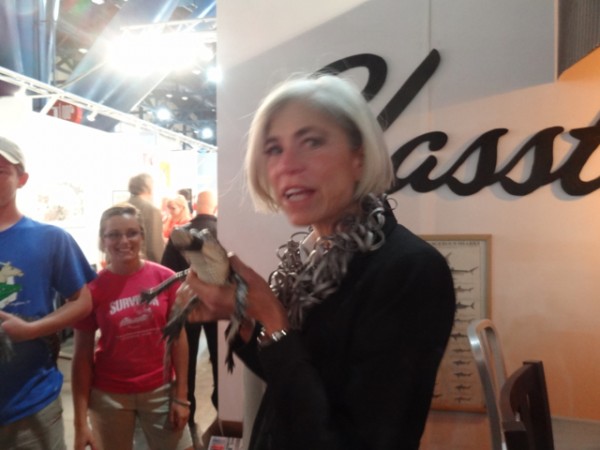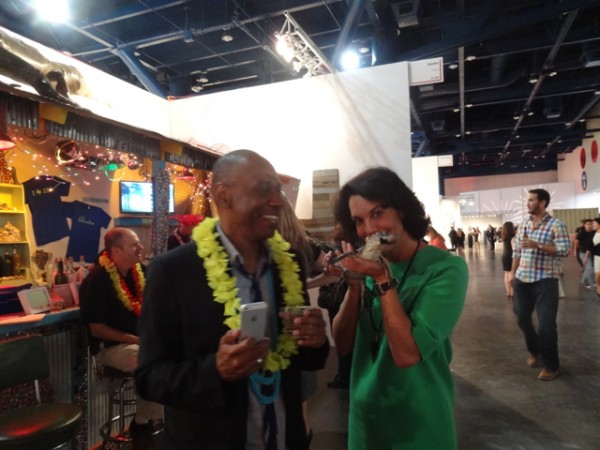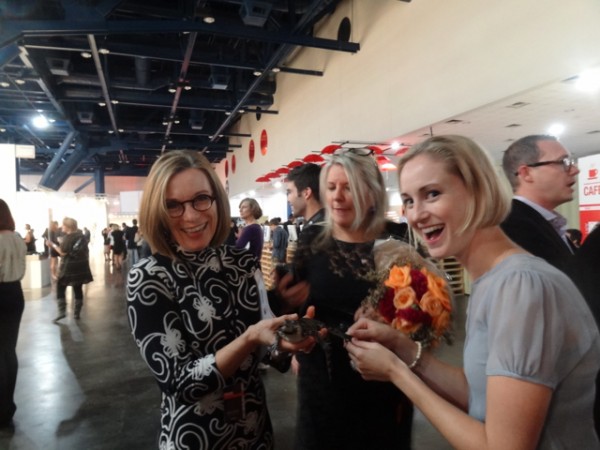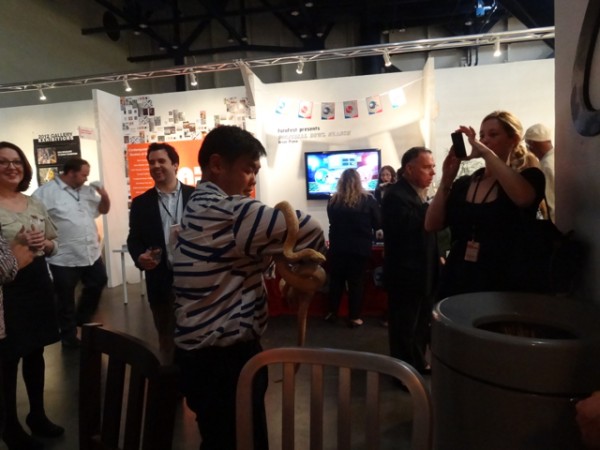 Friday, 5:51 pm
Christine West of Lawndale Art Center stopped by the Glasstire Beach Bar, and showed us the correct way to open a coconut with a 2×4.
-B.D.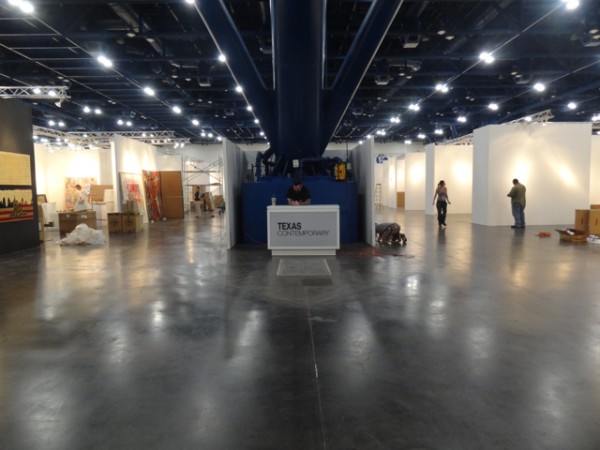 10/18 10: 47 a.m.
The Texas Contemporary fair opens tonight. We'll be live blogging throughout the fair. Come see us at our gulf coast dive bar (booth 107), beautifully hand crafted by none other than Bill Davenport! And tonight only, a specially appearance by a LIVE GATOR from the nice folks at Houston's Largest Reptile Show. (Glasstire staff will not engage in gator wrasslin', as said gator is no match for us. It is apparently on the small side and works the children's birthday party circuit. )
Sadly, the friendly pet nutria has been disallowed by the powers that be. No nutria will be present tonight.  But who doesn't love an aquatic rodent? "Invasive species" is such a prejudicial term…
And don't forget our Barfly Series with the wonderful Lawndale Art Center from 2 – 4 p.m. throughout the fair. Never fear, it's not another panel discussion or lecture, just interesting people from inside and outside the Houston art community sitting at the bar and chatting with whomever drops by.  We'll post a full schedule tomorrow!
Here are some installation shots from yesterday….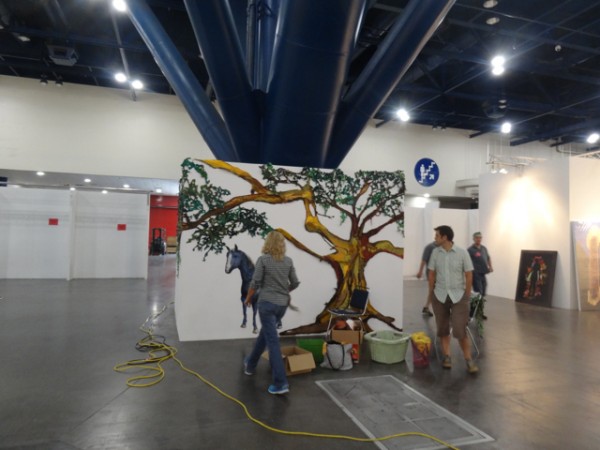 – K.K.
10/18/12 2:47 p.m.
More fair preview picks. Sorry, not everything is identified yet…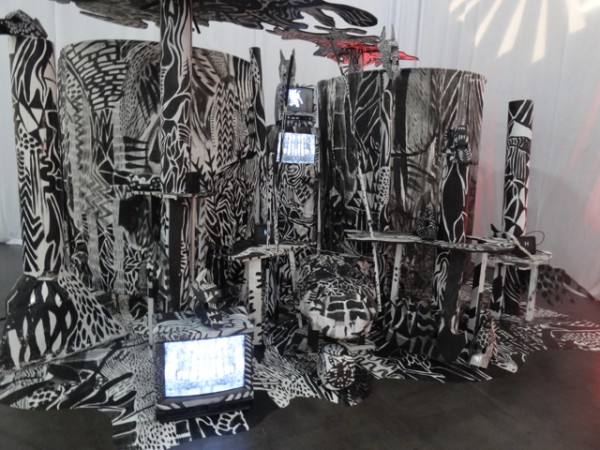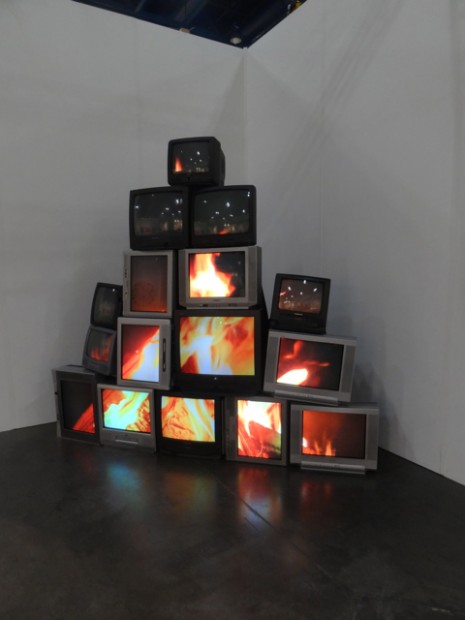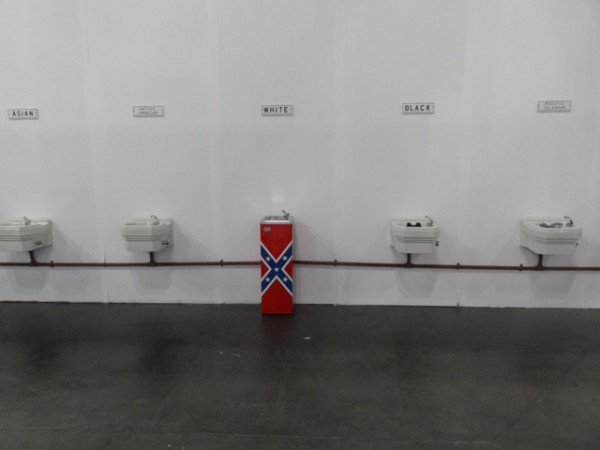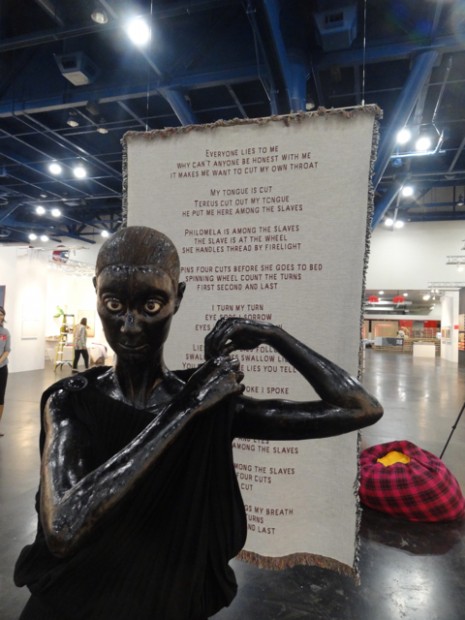 – K.K.