On the drive back from Bemis we made a point of stopping in
Kansas City.
Just a 3 hour drive from Omaha, it's
always been a favorite art town
of mine with
The Kemper Museum
,
The Nelson-Atkins Museum
and it's new
Bloch Building
addition, plus the Noguchi Sculpture Court. It is also home to the Kansas City Art Institute and a local gallery scene which includes galleries such as
Dolphin
and
Paragraph
, that are alive and vibrant fed by the art school's youthful energy. This trip however was just a pit stop on our way back to Texas so we decided to make the most of our time and see something new.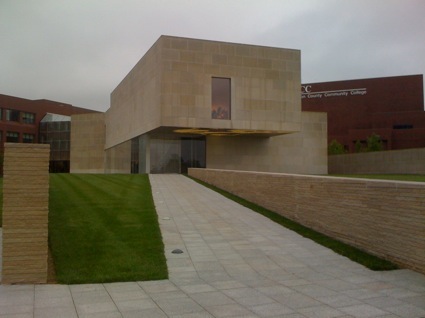 The
Nerman Museum of Contemporary Art
is part of Johnson County Community College. The 41,000 square foot minimalist museum has 16 temporary exhibitions annually and showcases the Museum's Oppenheimer Collection. The front entrance has a 60,000 white LED installation by artist Leo Villareal which cantilevers out as you enter the museum. On the particularly rainy and overcast day that we visited it foreshadowed that something good was just beyond those doors.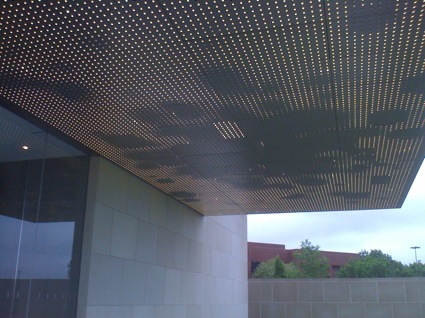 The museum has two levels with nine large galleries, housing the temporary exhibitions and permanent collection. It's a beautiful space with a terrific take on current contemporary work.

There was an Amy Sillman hanging next to a Carroll Dunham which was beside a Nick Cave Sound Suit. In other galleries I found the work of Ken Price, Amy Myers, and an amazingly thick impasto painting by my newest art crush
Allison Schulnik
.
A highlight for me was to be able to see the scale and intensity of her painting in person alongside a screening room which showed
Hobo Clown
. I had seen the video before at
Marty Walker Gallery
but the screen had been small and surrounded by other artist's works in the back room. As for her paintings I had only seen them on her website and I did not think twice about them. But when standing across from the massive work, feeling its physical weight, stature and tactility I couldn't help but reconsider my opinion. This painting changed my mind and made me take a closer look at her videos as well.
So if you are in the area or need an excuse for a weekend roadtrip I recommend a visit to Kansas City. The Nerman Museum in particular is a wonderful surprise filled with a collection that is a consistently connected by color, abstraction, and a strong interest in contemporary figuration.