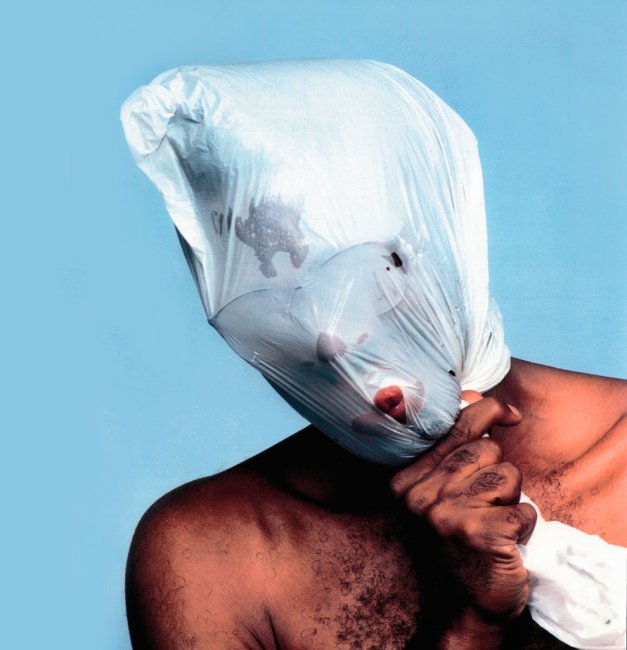 William Pope.L, Foraging (asphixia version), 2008, Digital C-Print
It was 2003 and "William Pope.L's: eRacism was on view at Houston's DiverseWorks as part of a national exhibition tour (also presented at Institute of Contemporary Art at Maine College of Art in Portland, Maine and Portland Institute of Contemporary Art in Portland, Oregon, and later traveling to Artists Space in New York and Mason Gross School of the Arts Galleries at Rutgers.)
The eRacism retrospective exhibition at DiverseWorks was extremely absurd, provocative, and physical.  Featuring documentary videos and installation, the exhibition captured the abjectness at the center of Pope.L's practice as he often deals with some pretty serious sociopolitical issues, particularly race and class in America. Once such work was "Map of the World" as described in the Houston Chronicle: "Map of the World is a messy and faintly smelly map of the United States made from some 4,000 hot dogs attached to plywood in a grid of vertical and horizontal segments. Ketchup, mayonnaise, mustard and sauerkraut are splashed, smeared and glopped on the massive 10-foot-by-16-foot surface, along with a bit of paint, adding color and texture. (The foodstuffs have been treated with bleach and dehydrated to delay decomposition.)" Pope.L also conducted a public art piece as part of his collective crawl series, in which he invited Houstonians to participate in an outdoor crawl, again pushing his and others physical limits and senses to serve as a catalyst for larger sociopolitical issues.
Ever since his exhibition here in Houston, he's always been on my radar. His work certainly defies categories. Mainly rooted in performance, there seems to be a kind of punk aesthetic connecting Pope.L's approach to making visual art. While thoughtful the work seems to have a DIY, f*** you, tone, and all of the works are extremely guttural as seen in the "crawl" works.
His background seems to have been key in informing the seemingly uneven and body-centered nature of his work. Pope. L attended the Mason Gross School of Visual Arts Graduate Program at Rutgers University to work with Fluxus artists Geoffy Hendricks and Bob Watts. He also has studied with the experimental theater group Mabou Mines.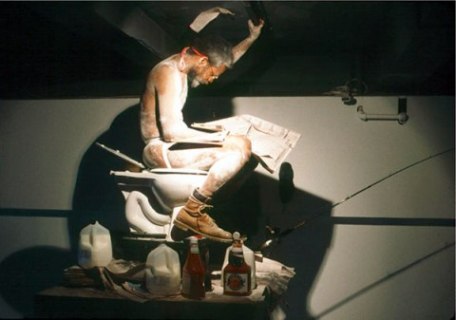 William Pope.L, "Eating the Wall Street Journal," 2000. Performance, newspaper, toilet, milk, ketchup.
Pope.L is an artist we don't seem to hear enough of probably because of the unsettling nature of his materials and aesthetics, maybe even more so because of the themes (of race and class) he pushes forward, particularly coming from a black male perspective. Maybe we just don't know what to do with these issues not simply in the arts arena, but in our American society, and possibly this is why Pope.L's work is so relevant.
Born in Newark, N.J., in 1955, Pope.L has long taught at Bates College in Lewiston, Me., and is now on a two-year sabbatical at the University of Chicago.  He recently won a prestigious, $50,000 grant from the Joyce Foundation in Chicago to create a work on African-American history in Cleveland, where he will be an artist in residence at Spaces.
Pope.L will also be in the upcoming group exhibition, Radical Presence: Black Performance in Contemporary Art, opening at the Contemporary Arts Museum, Houston November 17, 2012 – March 3, 2013.
"I think that the relationship between the haves and have-nots is interesting. No matter how high you get up there, it doesn't take much to be struck lower." -William Pope.L
—
Ayanna Jolivet Mccloud is an artist based in Houston, Texas. While minimal, her work is driven by explorations in materiality, physicality, and sensation. She has participated in exhibitions throughout the Caribbean, South America and in the U.S. and was recently awarded the Individual Artist Grant from the Houston Arts Alliance.