What is Glasstire?
Glasstire is an online magazine that covers visual art in Texas and Southern California. We've been in continuous operation since January 2001. We are a non-profit 501(c)(3) publication, and we're supported in part by grants from The Houston Endowment, The Brown Foundation, Inc., the the National Endowment for the Arts, the Greater Houston Community Foundation, the City of Houston through Houston Arts Alliance, and the Texas Commission for the Arts.
And the name?
The name is an homage to Robert Rauschenberg's sculptures of tires cast in glass. The artworks evoke traveling great distances, at great speed, with great clarity. We like that idea. We also drive around Texas a lot.
Who are you people?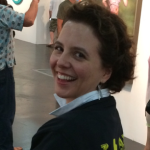 Rainey Knudson – Founder/Publisher
Trained in literature and entrepreneurship, in 2001 Rainey founded Glasstire, one of the earliest web-only arts journals in the country. She has spoken or written about arts journalism at Emory University, the USC Annenberg School, the National Endowment for the Arts, and other places. She lives in Houston.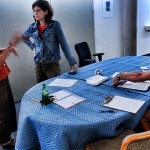 Christina Rees – Senior TX Editor
Prior to joining Glasstire full-time in 2014, Christina served as an editor at both The Met and D Magazine, as a full-time art and music critic at the Dallas Observer, and has also covered art and music for the Village Voice and other publications. Rees lives in Dallas, where she was the owner and director of Road Agent gallery and the curator of Fort Worth Contemporary Arts.
Our Writers
We believe in the power and importance of writing about art, and we're proud to have been the largest employer of arts writers in Texas for many years now.