Update: The original deadline was June 15, 2023. This article has been updated to reflect that the deadline has been extended to Friday, June 30, 2023.
The San Antonio Ethnic Art Society (SAEAS) is accepting applications for its 2023 SAEAS Abaraka Award.
SAEAS was originally founded in 1983 as the Southwest Ethnic Art Society by collectors Aaronetta and Dr. Joseph Pierce, Dr. Gary Houston, Johnnye Yates, John Coleman, F. L. "Doc" Spellmon. In the late 1990s the organization changed its name and in 2000 it was established as a nonprofit.
In 2017, SAEAS launched its biennial art grant, which provides funding to African American women working in the visual arts as artists, curators, and scholars. The prize, which is supported by collectors Aissatou Sidime-Blanton and Stewart Blanton, awards up to $3,000 to early- to mid-career artists and arts professionals.
The SAEAS Abaraka Award is open to applicants across the United States. Though only one recipient will be selected, there are three categories (and corresponding applications), each with its unique criteria. Eligible visual artists must have at least five years of experience with three completed projects, which could be exhibitions, bodies of work, or other types of artistic projects, and they also must not have had a solo museum exhibition. To receive funding for exhibition assistance, applicants must be a working artist or arts professional with at least five years of experience and who has curated at least three exhibitions in museums, art galleries, or cultural arts centers. The third category, the arts professional grant, supports research and scholarship and is given to a working artist or arts professional with at least five years of experience and who has not written or edited more than two books related to artistic topics.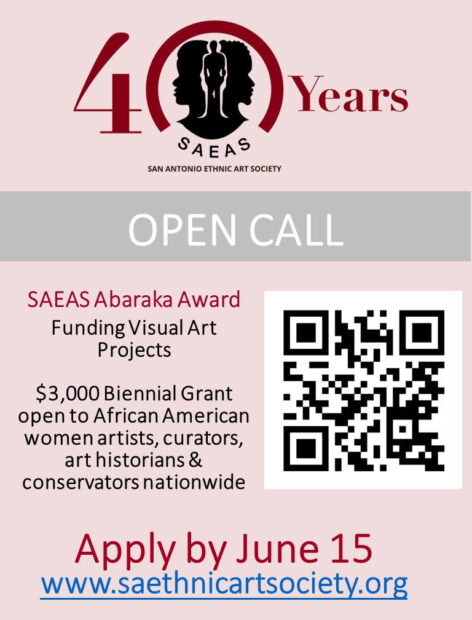 Previous winners include Lauren Woods (2017) for her conceptual photography project that explored Black bodies in the context of the Texas tradition of taking family portraits in bluebonnet fields; Dr. Sharbreon Plummer (2019) in support of her PhD dissertation research on Black Feminist material practices; and Jessica Bell (2021), who created a sculptural installation focused on disparities related to COVID-19 treatment and healthcare services. 
Ms. Bell told Glasstire, "Through this grant, I was able to work with a group of African American high school students to create a large scale sculpture titled, Unhealth Care… The students researched, held discussions, and helped build the sculpture… Because of this funding, the students were able to participate in a project larger than they ever have."
Though a juror has not been announced for the 2023 award, selecting the winner is a multi-step process that involves a guest juror, who narrows the applicants. Then, the Selection Committee will identify a project to receive funding.
The deadline to apply is Thursday, June 30. To learn more and to apply visit the SAEAS website.