Glasstire counts down the top five art events in Texas.
For last week's picks, please go here.
1. SA to HOU | HOU to SA
BOX13 Artspace (Houston)
May 12 – June 17, 2023
From the organizers:
"SA to HOU | HOU to SA is a two-city art exhibition exchange between Clamp Light Studios & Gallery, an artist-run studio and exhibition space based in San Antonio and Box 13 Artspace, an artist-run studio and exhibition space in Houston. While close to 200 miles separate the two artist groups, the common goal is to support their fellow artists and share their community's creative output. The exhibitions will be curated by curators Bianca Alvarez (San Antonio) and Rosa Ana Orlando (Houston).
Curatorial Statement by Rosa Ana Orlando:
Using their own visual languages, the artists included in this exhibition delve into themes that deal with identity, self-reflection, anxiety, loss, fears, and introspection, which are examined through a variety of approaches, formats, materials, and styles.
I truly believe in the power of art to connect us as humans, as it transcends cultural and generational barriers. Art allows us to express feelings and communicate messages in powerful ways; it makes us aware of different perspectives and points of views, and it contributes to developing empathy and understanding for unfamiliar situations. I am thankful for the opportunity to engage with the thought provoking and compelling works included in this exhibition, which all embody these ideas."
2. Tahir Carl Karmali and Regine Basha: Pulp Friction
testsite (Austin)
April 23 – June 4, 2023
From testsite:
"Fluent~Collaborative & testsite are pleased to present Pulp Friction, a collaboration between Tahir Carl Karmali and Regine Basha.
Tahir Carl Karmali is a Kenyan-born artist based in New York. Over the past 15 years, his work has spanned photography, sculpture, textile installation, prints, and drawings. Though his formal approach may appear deceptively minimal, his choice of materials is often imbued with hidden narratives of ecological exploitation, human migratory patterns, and intersections of the personal with the geo-political. He cites artists such as Eva Hesse, El Anatsui, Agnes Denes, Isamu Noguchi, and Zarina Hashmi, as artists with whom he has connective tissue. The work he has created specifically for testsite, which includes drawings as well as a new sculpture made onsite, reflects upon the border – its physicality as well as its porousness and the trauma it causes to migrant bodies and to land use."
3. Fernando Andrade: Confluence
Rockport Center for the Arts
April 28 – June 11, 2023
From the Rockport Center for the Arts:
"Rockport Center for the Arts hosts Confluence, an art exhibition featuring the abstract paintings and figurative/abstract mixed-media work of artist Fernando Andrade. Presented by Neiland Sammons II, the exhibition will be on display through June 11 in the H-E-B Gallery located on the upper level.
Confluence brings together select works from the artist's two series, Espacios and Suspended Thoughts. Espacios is a series of abstract paintings, improvised organic compositions that are colorful and dynamic, while Suspended Thoughts, his new, ongoing body of work, represents the struggles of mental health taking place during the pandemic, utilizing contrasting mediums to create a pause in time using suspended bodies in an abstract space."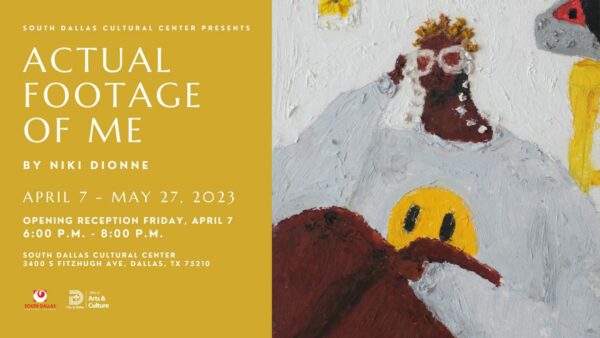 4. Nikki Dionne: Actual Footage of Me a Solo Exhibition
South Dallas Cultural Center
April 7 – May 27, 2023
From the South Dallas Cultural Center:
"Actual Footage of Me is a vibrant and playful collection that features some of the most beloved artworks by Dallas-based illustrator and fiber artist Nikki Dionne. The exhibition showcases Niki's unique artistic vision and explores themes of self-discovery and identity as a black woman.
As visitors enter the show, they will be immediately drawn into Niki's world, where they will encounter a variety of faceless black women brought to life through different mediums such as fiber, oil pastels, and digital illustration. The exhibition space will be filled with Niki's signature illustration style and textures that create a captivating visual experience."
5. Bo-Tan: Still-Life and Portraits
Charles Adams Gallery (Lubbock)
May 5 – 31, 2023
From Charles Adams Gallery:
"The Charles Adams Gallery is proud to present an exhibition of paintings by Bo-Tan, a highly experienced painter specializing in traditional representational art, particularly oil portraiture. Born in Dalian, China, Bo-Tan graduated from the oil painting department of Luxun Academy of Fine Arts in Shenyang and went on to teach at the school for 14 years. He is a recognized associate professor and a member of both the Chinese Artists Association and the Chinese Oil Painting Committee.
Bo-Tan has been a West Texas resident for over two decades, contributing significantly to the local art community through his own professional gallery and studio space near downtown Lubbock, as well as through exhibitions at LUHCA and Art on the LLano. Visitors to the Charles Adams Gallery can experience Bo-Tan's captivating use of color and light in this collection of portraits and still lifes. This exhibition offers a unique opportunity to see the work of an accomplished artist with a distinguished career in painting."