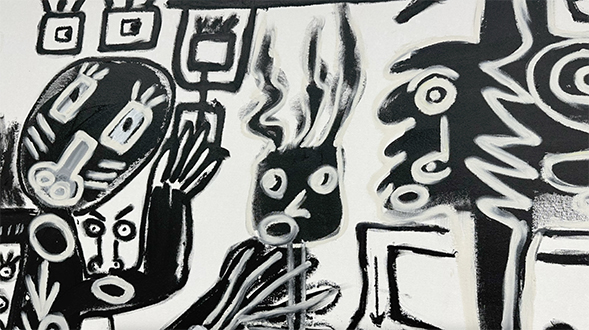 Note: the following is part of Glasstire's series of short videos, Five-Minute Tours, for which commercial galleries, museums, nonprofits and artist-run spaces across the state of Texas send us video walk-throughs of their current exhibitions. This will continue while the coronavirus situation hinders public access to exhibitions. Let's get your show in front of an audience.
See other Five-Minute Tours here.
Halim Flowers: The Revolution Will Be Digitized at Nicole Longnecker Gallery, Houston. Dates: February 25 – May 27, 2023.
Via the gallery:
"'I first became aware of Halim's work through his social media page,' said gallery owner Nicole Longnecker. 'His paintings are defined by the use of raw and expressive brushstrokes synonymous with that of Jean Michel Basquiat. Being self-taught, he uses the freeness found in street art to combine words and images on canvas to create vibrant works that are thought provoking. These works show how humans are interconnected despite race, religion and other constructed boundaries. As Halim says, "Love is the Vaccine."'
HALIM FLOWERS
Halim Flowers is an autodidactic activist working between the visual and performing arts through a wide range of mediums including painting, sound, fashion, and performance. Art was Halim's road to resilience and redemption. At age 16, he was arrested and sentenced to life in prison. At 41, after 22 years behind bars, he was released after successfully petitioning for resentencing.
While in prison, Halim became a memoirist and poet with an irrepressible drive to make meaning out of darkness. Liberated through self-expression, he wrote and published 11 non-fiction works about the causes and consequences of the American prison system. He mentored incarcerated youths through D.C.'s Young Men Emerging program and took courses at Georgetown University through its Prisons and Justice Initiative. Halim's experiences were captured in the Emmy award-winning documentary, Thug Life In DC. It's powerful evidence of the persistence of human creativity in the most inhumane of circumstances. He refused to be rendered invisible.
In the aftermath of his incarceration, Halim became a husband and a father. It was his wife, the artist Lauren McKinney, who encouraged him to pick up a paintbrush. Halim has created a spectrum of colorful, politically charged paintings to reclaim the individuality and agency that gets broken down in carceral spaces. He keeps an aura of kindness and positivity, choosing to send a message of love even when the subject is serious.
Halim's work has been exhibited at the MoMA PS1 and the National Arts Club in New York City. He is the recipient of numerous honors, including Halcyon Arts Lab and Echoing Green fellowships. He is a sought-after speaker and has been featured on panels at universities and conferences around the country. In 2022 he launched his own streetwear clothing brand, debuted at New York Fashion Week and released his first album of rap music called Ultracrepidarian.
Halim Flowers' body of work is a visceral, visual embodiment about the ambition of racial justice, prison reform, financial literacy and transcending adversity suggesting a sense of renewal, positivity and hope."