Art associations and districts across Texas host monthly, quarterly, and sometimes annually gatherings with the goal of directing visitors to the wealth of local studios and galleries. This weekend, the Houston Art Gallery Association (HAGA) and the Fort Worth Art Dealers Association (FWADA) will host spring celebrations in which galleries across each city will be open with new exhibitions for the public.
HAGA's 2023 Spring Celebration kicks off Friday, March 24 and runs throughout the weekend. Member galleries across the city will be open with free admission and refreshments for visitors. Sicardi | Ayers | Bacino will open the new exhibition Taller Torres-García: a unified aesthetic, presenting paintings, sculpture, and drawings in the Constructive Universalism style. Laura Rathe Fine Art will debut The Space Between, a group show featuring new works by Gil Bruvel, Caprice Pierucci, and Michael Schultheis. McClain Gallery will present a solo show of Jane Allensworth's minimalist paintings. 
The full list of member galleries includes: Anya Tish Gallery, Bill Arning Exhibitions, Bisong Art Gallery, Catherine Couturier Gallery, Deborah Colton Gallery, Dimmitt Contemporary Art, ELLIO Fine Art, Foltz Fine Art, Foto Relevance, G Spot Contemporary Art Space, Gallery Sonja Roesch, Heidi Vaughan Fine Art, Jack Meier Gallery, Koelsch Gallery, Laura Rathe Fine Art, McClain Gallery, Nicole Longnecker Gallery, Off The Wall Gallery, Redbud Arts Center, Sicardi | Ayers | Bacino, and Thornwood Gallery. 
The official hours of the event are Friday, March 24 from 6 pm to 8 pm; Saturday, March 25 from 12 pm to 5 pm; and Sunday, March 26 from 12 pm to 5 pm. Click here to visit the HAGA site and view a map of the gallery locations. 
Similarly, FWADA Spring Gallery Night falls this Saturday, March 25, though it does not have consistent hours across venues. With museums, galleries, and pop-ups listed across the city, there will be lots for people to do and see throughout the day. Arts Fort Worth will open as early as 9 am, and Sundance Square's 400 Houston St. Gallery will be open until 10 pm. Fort Works Art will host opening receptions for Joshua Goode's show, The Ruins of Burg Worth and Michele Tejuola Turner's show, Tejuola: Lines Of Descent. Across town, McAnthony's Multicultural Studio and Gallery will showcase works by John Johnson, an acrylic and watercolor painter whose pieces feature church and community.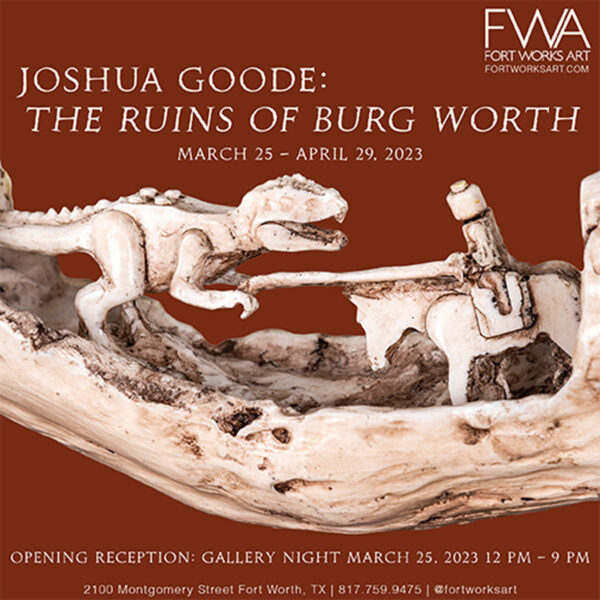 The full list of member venues includes the Amon Carter Museum of American Art, Art on the Boulevard, Artes de la Rosa, Artspace 111, Arts Fort Worth, Atrium Gallery at UNTHSC, Bee Street Gallery, Bernice Coulter Templeton Gallery (Texas Wesleyan University), Fort Works Art, Fort Worth Contemporary Arts (TCU), Gallery 440, The Gallery at UTA, Kimbell Art Museum, McAnthony's Multicultural Studio, The Modern Art Museum of Fort Worth, Moudy Art Gallery (TCU), Rebecca Low Sculptural Metal, The Sid Richardson Museum, SiNaCa Studios, Tarrant County College, The Upstairs Gallery, Weiler House Fine Art Gallery, and William Campbell Contemporary Art. 
For more information, visit the FWADA website where you can view or download a Spring Gallery Night guide, which includes descriptions and times for each venue, as well as a map.