Glasstire counts down the top five art events in Texas.
For last week's picks, please go here.
1. Open Storage: 25 Years of Collecting
The Warehouse (Dallas)
August 26, 2022 – April 29, 2023
From the Warehouse:
"Open Storage: 25 Years of Collecting presents over 200 works from The Rachofsky Collection. Curated by Allan Schwartzman, Director of the Collection, Open Storage looks at how The Rachofsky Collection has grown over the last quarter century. Much of the exhibition is installed chronologically by year of acquisition, examining a number of developments in the collection, among them themes of identity and materiality; the ongoing commitment to postwar art from Italy, Japan, and Korea; and the continued interest in younger and emerging artists."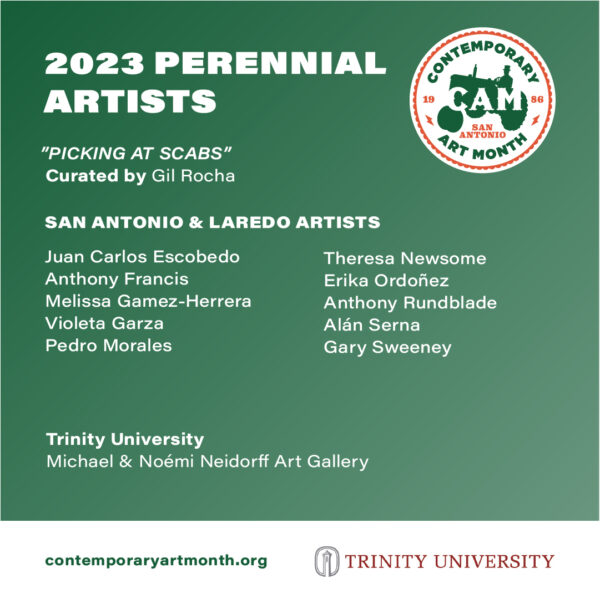 2. CAM Perennial 2023: Picking at Scabs
The Michael and Noémi Neidorff Art Gallery (San Antonio)
March 8 – April 8, 2023
From Contemporary Art Month:
"Statement from the Curator: This set of works is a metaphor for hereditary injuries that are passed on through stories, testimonies, tales, objects, and subtle gestures that embrace individual and generational suffering. The work is an approach towards empathy for someone else and questions 'can we heal together?' In the search to heal, this group of artists leave a testament of where the wounds began creating the pain before generating the scars. Holding on to a picturesque notion that the mistakes once made will never be repeated. Each artist offers beauty and indifference from race to the abuse of power, while emphasizing multiple sacrifices taken individually towards change, often at the cost of accepting the pain within themselves.
Artists Included in the exhibition: Juan Carlos Escobedo, Anthony Francis, Melissa Gamez-Herrera, Violeta Garza, Pedro Morales, Theresa Newsome, Erika Ordoñez, Anthony Rundblade, Alán Serna, and Gary Sweeney."
3. Mark Flood: A Guide for Nude Investors
Reeves Art + Design (Houston)
March 3 – 25, 2023
From Reeves Art + Design:
"Mark Flood: A Guide for Nude Investors retraces ten years of the artist's sputtering attempts to incorporate digital printing into his art."
4a. Luke Harnden: Dreams of You
Old Jail Art Center (Albany)
March 4 – May 20, 2023
From the Old Jail Art Center:
"Los Angeles-based artist Luke Harnden takes full advantage of our world's inundation of images to create paintings that allude to their various means of transmission and presentation. Though his calculated and intricate process mimics the appearance of CRT television screens, the images flow and develop depending on the viewer's distance and engagement. The works are both representational and abstract as he considers photography through the lens of painting. The artist states he selects images 'because of their strange aesthetic gravity…formal properties and alluring qualities.' Harnden's work reminds us that our relationship to images, their manipulation, and creation in any media is complex and intangibly emotional—and often individually personal.
Harnden was born in New Orleans, raised in Texas, and currently lives and works in Los Angeles. The OJAC is thrilled for his return to Texas to share his work, including a new body of intriguing paintings that builds on his interest in 'the lively effects of the photographic image and the technical structure which supports those images.'"
4.b. Keer Tanchak: Company Retreat
Old Jail Art Center (Albany)
March 4 – May 20, 2023
From the Old Jail Art Center:
"Dallas artist Keer Tanchak's initial desire to reject painting on canvas was further inspired by Mexican painter Frida Kahlo's practice of reworking traditional Ex-Voto and Retablo paintings on tin. Tanchak often paints on irregularly cut aluminum sheeting that stands in stark contrast to her expressive, yet delicately rendered, portraits and vignettes. Her subjects are mined from art history books, magazines, and movie stills. Appropriated and recontextualized, the images often depict women and interiors throughout history that reflect on pleasure and wealth, the redirection of the male gaze, and traditional portraiture. The shaped paintings are experienced differently within changing environments and context. The OJAC's jail cells are a prime and provocative venue for the interaction."
5. Ann Johnson: Ironic
Hooks-Epstein Galleries (Houston)
February 25 – March 25, 2023
From Hooks-Epstein Galleries:
"Ironic by Ann Johnson explores family, community, and Black womanhood — specifically being seen and seeing the women in the shadows. Johnson uses the ironing board as a sacred symbol that represents the backbreaking work many women of color have had to endure for survival. The work in the exhibition evokes powerful imagery through Johnson's integration of her experimental printmaking technique with an unexpected medium. The ironing board is a physical object that serves as a medal of honor that many Black women and women of color have earned, having had to take care of families of others before being allowed to tend to their own—the irony being that the least regarded person is actually the most valuable to the home."