Earlier this month, Austin-based arts organization Big Medium announced its plan to leave Canopy, a complex featuring shops, gallery spaces, and artist studios in Austin, where it has been located since 2013.
Officially established in 2007 by artists Shea Little, Jana Swec, and Joseph Phillips, Big Medium was born out of the artists' spaces in Bolm Studios, and had begun to take shape in 2002. The original facility was a live/work space in the Bolm warehouse, which led to the three artists developing the East Austin Studio Tour (EAST) in 2003.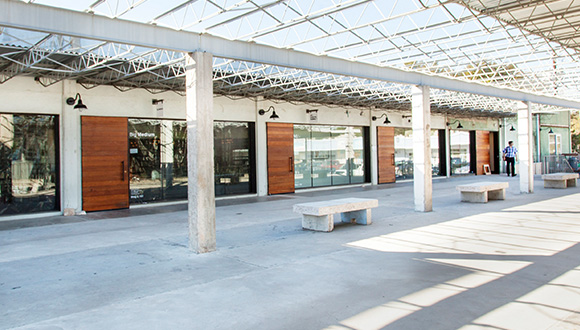 In 2013, after a couple of years of talks and negotiations, Canopy brought Big Medium on board as an anchor tenant in its mixed-use creative complex in East Austin. The building, a redeveloped warehouse, was inspired by Houston's Winter Street Studios. From the onset, Big Medium held a master lease over Canopy's studio spaces and assisted with the management of the property. Mr. Little told Glasstire that this provided the organization with management fees and put them in a position to be a liaison with the complex's artists.
Now, after a decade with Canopy, Big Medium is looking to step into a space of its own. Mr. Little explained, "Canopy has been very generous and very supportive of artists and Big Medium. But what Big Medium and the art community needs from developers to make space sustainable is more than even the most generous developer can do. It is a systematic issue… If we had a space of our own and could apply for grants to support rental rates, we could reinvest into our arts community and provide studio space at a more affordable rate."
Big Medium's lease at Canopy was set to end in March, but the organization has extended it for an additional month (through April 30), for the run of Austin artist Tammie Rubin's solo show. Ms. Rubin was the 2022 Tito's Prize winner and received a $15,000 award and a solo exhibition at Big Medium. Mr. Little stated that though the current plan is to leave at the end of April, the organization may still decide to extend its lease again for a short time.
Currently, Big Medium is working toward acquiring a permanent space, though it will likely be housed in a temporary space for the next three to five years while the organization works to raise funds for the new facility.