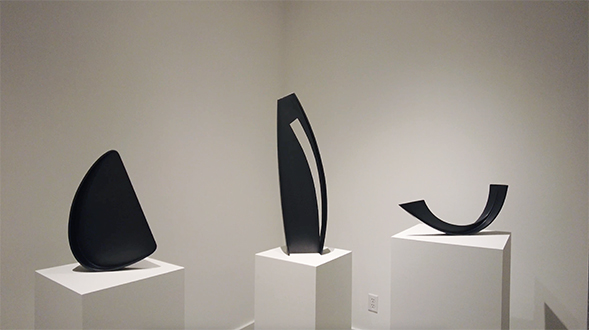 Note: the following is part of Glasstire's series of short videos, Five-Minute Tours, for which commercial galleries, museums, nonprofits and artist-run spaces across the state of Texas send us video walk-throughs of their current exhibitions. This will continue while the coronavirus situation hinders public access to exhibitions. Let's get your show in front of an audience.
See other Five-Minute Tours here.
Steve Murphy: A Matter of Balance at Andrew Durham Gallery, Houston. Dates: December 3 – February 25, 2023. 
Via the gallery:
"Andrew Durham Gallery presents Steve Murphy: A Matter of Balance, a survey of his body of work spanning from 2007 to 2022. The exhibit includes painted wood, lead, steel, graphite and gilded sculptures, works on paper, acrylic on canvas among other media.
Murphy's work engages the classical elements of sculpture: form, volume, surface and edge. He works within a limited range of shapes, edge treatments, and angles of repose. Juxtaposing these elements into multiple formats is the primary focus of his continued investigation and development.
Steve shares, 'I want the viewer to bring their personal references to the work and find their unique connection to the pieces. I want the pieces to allow the viewer to slow down, have a quiet, meditative-like experience when contemplating these works, and hopefully walk away with a fresh way of seeing and experiencing the world around them.'
Steve Murphy, a native Texan, holds a BFA from the University of Houston. His work has been selected for numerous public installations around the city of Houston, as well as many institution, corporate, and private collections."