To read the previous parts of this series, please go here: Part 1, Part 2, Part 3, Part 4, Part 5, Part 6.  
I had been on the road nearly two weeks, and still had two more stops along the way before returning to Narva. I had organized my two months in Europe so I was settled in Narva for the first half of the trip, and on the road for the last half. During my two weeks on the road, life had been mostly silent. Since I don't speak Polish or Ukraine, my conversations were limited, and typically only consisted of my  ordering food or drinks. There is a loneliness to travel, an anonymity that can be at once both refreshing and exhausting. Communication takes effort, as does understanding and attempting to translate, and while I have become accustomed to packing and repacking my bags (a task I loathe), no matter how often I come and go, the relief of returning home — wherever home happens to be — never goes away.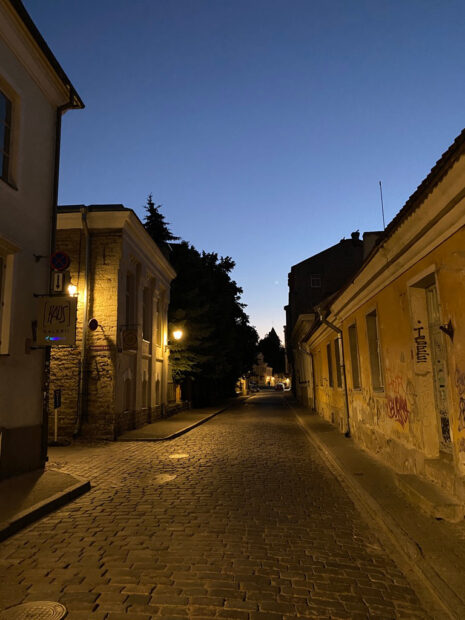 This time, I had returned to Tallinn. I arrived just in time for a series of exhibition openings happening that evening, but more importantly, I very quickly realized just how much I was starved for friendship. 
Tallinn has a small but incredibly tight-knit art community. Lingering infrastructure from Estonia's Soviet past had created a culture where being an artist is considered a profession, and thus, artists are paid a modest monthly salary. In addition to monetizing the profession (or at least creating a foundation for monetizing it), massive studio complexes had been built for working artists, one of which is adjacent to the Tallinn Art Hall, which is the central exhibition hub for contemporary and experimental exhibitions in the city. The Art Hall would be considered a state-run nonprofit by our U.S. standards. The opening that evening was in a small satellite space associated with and just down the street from the Art Hall; the show looked at the T-Shirt as an object of communication and material culture in Estonia. While the exhibition was exciting and unexpected, it turns out the environment was what I really needed. 
That evening, as I walked up to the Art Hall, I was greeted by friends in the Tallinn art community I had known for five years. My professional relationships had turned to friendships throughout the course of those years, and for the first time in weeks I had the sense that I was no longer an outsider; I was surrounded by a community. 
Being back in Tallinn was refreshing. I was able to percolate on my time in Ukraine and Poland, and shifted my focus to get back into artists' studios. I was back in my comfort zone, back with my squad, communicating easily and talking art with some of the smartest people I know, which felt good. But this was still just a stop along the way, so I continued on to the sleepy border town of Valga, which is just about an hour southwest by train from Tartu, Estonia's second-largest city. 
Throughout all my travels in Estonia, people had told me that Valga needed to be a stop on my itinerary. Located in the southwestern edge of Estonia, Valga borders Valka, Latvia. Valga is one of a few villages that has experienced the problem of depopulation since the early aughts, a problem that proliferates throughout Estonia's smaller villages as opportunity to diversify personal income become more attractive in places like Finland and Sweden. These opportunities are just a short ferry ride across the Baltic Sea. Smaller villages also lose people to larger cities, as tech investments have created more immediate needs for blue collar labor in places like Tallinn. Tech growth inevitably also means a real estate boom, and these days, any city that has a skyline dotted with cranes is probably experiencing some tech growth cycle. 
Nevertheless, I wanted to visit Valga because everywhere I went people told countless stories about the seamlessness of the border towns. I had also heard that Valga had experienced such an extreme depopulation that it's municipal government was absorbed into that of a neighboring village, creating a cluster of municipalities governed by one entity. It was a sleepy, warm Sunday afternoon when I stepped off the train in Valga. On this trip, I had no intention of crossing the border into Latvia — I had my fill of border crossings after my experience in Poland, and was ready to take time in one country for a few days. To avoid temptation, I hadn't done any due diligence of checking COVID requirements to cross the border, and I had left my passport back in my apartment in Tartu, which was about an hour away. So upon my arrival, having no real plans or expectations, I wandered from the train station into what Google showed me was the city center. 
It was a beautiful, meandering walk through parks with green trees, short hills, and quaint European roundabouts; it felt like a Sunday in the countryside. Museums and shops were closed, few people were out on the streets, and those who were used the public park benches and lush grass to laze about in the sunshine — soaking in as much as they could before the darkness of winter settled over the Baltics. I wandered through main thoroughfares, and off into neighborhoods, in search of somewhere to eat lunch and have a coffee. In the distance I spotted the tower of a church and decided to make my way towards it to get a better view of its architecture. 
The church itself was small and a bit underwhelming, but beautifully understated nonetheless. By this, point my hunger was starting to quietly scream, and I pulled my phone out to search for a place to sit and eat. That was when I realized that the blue dot marking my location on Google Maps was on the wrong side of the border line. 
I still can't fully piece together how or when it happened, but at some point in search of the church, I had walked across the border into Latvia. There was no performance around it, no showing of passports, no document requests, and no office to pass through. I had just walked across an invisible line, and the only thing that made that line clear was the app in my phone. I retraced my steps, walked back over a brick road, checked my phone again, and I was back on the Estonian side. Again, there was no performance, no documentation required, and not even an office to demarcate the space.
In the distance, on my right side, there was a small kiosk — a hut, really — that looked like it could be an immigration office. Outside the building was a uniformed gentleman who was clearly enjoying a calm, drunk Sunday; he was sitting on the ground, leaning against the structure's wall with a beer in hand, and amiably waving at me. On my left was a massive park, complete with a semi-covered structure made of red-stained wood that integrated the dividing lines between the two villages — and countries — into its architecture. As an art person who is responsible for wayfinding, I would say it was effective in terms of blurring the border, yet ineffective in conveying an actual place. 
But maybe that was the idea. 
I sat at a cafe and ordered a beer. I was so discombobulated by the lack of pretense along this border that I needed a minute to simply take it in. Since I was still harboring the fear of getting stuck in a place I didn't have documentation for, I didn't want to push my luck and wander too far into Latvia. I had left my passport in a completely different city, after all. Even sitting at the only open cafe felt a little risky since I was actually still on the Latvian side. Never in my life had I experienced a border crossing so seamless and easy that I didn't even realize I had done it. This was the European border crossing experience I had expected more of, which my travels had contradicted. In the moment I walked across the border, I was thinking that seamless crossings like this were a thing of the long, lost past. Once again, I was proven wrong. 
Perhaps there is not just one way. Perhaps, we are all led by a crippling fear of losing something. We can't let go of the deep and profound need to ground ourselves in a place and identity that divide us, the things that create the demarcations in our own identities, our own boundaries. What would happen, then, if we let go of these boundaries, if there was no performance in crossing, if there was no "crossing" per se, but instead a freedom in both movement and identity that meant it just didn't matter anymore?
I walked back and forth between Valga and Valka multiple times that day. I followed every single sidewalk and footpath that would take me across. I just wanted to be able to say that there was once a tiny moment between two tiny villages where freedom was actually free. 
All photos by Leslie Moody Castro. 
****
Special thanks to Tiiu Vitsut, Filipp Mustonen, The Office of Public Affairs at the U.S. Embassy, Tallinn, Ann Mirjam Vaikla, and the NART Narva Artist Residency. Thank you to Dorota Biczel for sharing and clarifying so much for me so openly. Thank you to my cousins Carol Franco, Brian Nagurney and his father John Nagurney, Aunt JoAnn Villarreal, Aunt Jeannie Cisneros, and Aunt Betty Moody Winters.