Glasstire counts down the top five art events in Texas this week:
1.Jamal Cyrus: The End of My Beginning
June 5 – Sept. 19
Blaffer Art Museum (Houston)
From the Blaffer:
"Blaffer Art Museum, in partnership with Texas Southern University (TSU), is proud to present the first survey exhibition of artist Jamal Cyrus, which will span fifteen years of this artist's prodigious career. The End of My Beginning will include approximately 50 objects, images, and installations produced from 2005-2020 that demonstrate the breadth of Cyrus's consistently cross-disciplinary practice from his MFA studies to the present. In doing so, this show culminates the emerging period of his practice, provides a mid-career reflection, and lays the foundation for the future. The broadly spanning exhibition will include paintings, drawings, and works on paper, papyrus, and grits as well as textile-based pieces, sculpture, assemblage, installations, and a program of performances and events."
2. Raul Rodriguez: Marine Park
June 4 – July 24
Latino Cultural Center (Dallas)
From the Latino Cultural Center:
"The Latino Cultural Center is pleased to present artist Raul Rodriguez in his first solo exhibition titled Marine Park, showing his recent work created from 2019 to 2021. Marine Park is a photographic series centering around a Fort Worth skatepark that local skateboarders have found both community and solace in. The photographs share the faces and details that can be found in an otherwise desolate and makeshift course that many low income communities may experience. The exhibition will take place June 4 through July 24. The work will be on display in the Latino Cultural Center's MPR Gallery.
"Raul Rodriguez is a photographer, artist, curator and educator from Fort Worth, Texas. He graduated with a BFA from the University of North Texas College of Visual Arts and Design with a focus in Photography. As an artist he investigates communities and cultures like skateboarding, boxing, and Lucha Libre, as well as social justice topics linked to the Latino identity."
3. Ruth Orkin: A Centennial Celebration
June 5 – August 14
Photographs Do Not Bend Gallery (New Location) (Dallas)
From PDNB:
"On June 5th, we celebrate this momentous occasion with an exhibition reviewing Ruth Orkin's career. Ruth would have been 100 this year. She created indelible work that has contributed to the history of photography and photojournalism. Her New York images, along with her iconic work from Italy, captured street life with a sensitive, candid vision of a true artist.
"Ruth's centennial year will be marked with the release of a monograph published by Hatje Cantz. Her photographs will be widely exhibited in galleries and museums in the US, Canada and Europe. Earlier this year, many of Orkin's most memorable images were published in The Guardian. And, PDNB will screen the film, Ruth Orkin: Frames of Life, during the span of the exhibition on a date to be announced.
"Many will remember Ruth Orkin's classic, American Girl in Italy. This image became an icon, reproduced all over the world. It was shot in Florence, Italy, when Ruth had just been to Israel for a press junket to photograph newly settled Jewish immigrants in 1951."
4. The Sitter
June 3 – September 5, 2021
Blue Star Contemporary (San Antonio)
From Blue Star:
"The Sitter highlights works by artists using contemporary portraiture and figuration to build narratives and generate conversation around the subjects' actions, experiences, or identities. Utilizing diverse mediums, the exhibition highlights how contemporary artists are expanding how they define what a portrait is and how they can activate the figure. The sitters or subjects transcend the role of model or muse and are sometimes collaborators or activators, giving access to a broader context and unraveling complicated stories.
The show features works by La Vaughn Belle, Suzette Bross, Ruth Leonela Buentello, Carmen Cartiness Johnson, Madison Cowles Serna, Natan Dvir, Sarah Fox, LaToya Hobbs, Loc Huynh, David Johnson, Philip Matthews, Zora Murff, and Cruz Ortiz."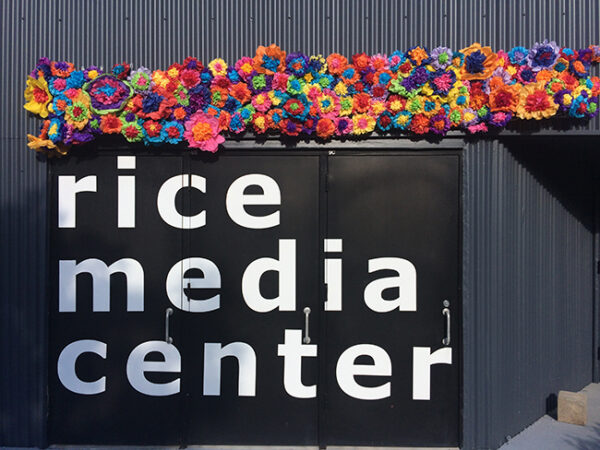 5. Rice Media Center Open House
June 5
Rice University (Houston)
From Rice University:
"Stroll through the Media Center one last time to see what's here now and what's to come! Outdoors there will be a registration check-in table, light bevs and individually wrapped snacks, music, and areas with fun little giveaways and keepsakes while supplies last.
"Inside the Rice Media Center design boards from the three competing architect firms will be on display, including the winning design for the new arts building! This is a golden opportunity for interested community members to view future plans of the space, building and department. There will also be a silk-screening station on site! BYO (bring your own) T-shirt or tote and we will silkscreen an outline of the Media Center onto it! Parking is available in West Lot 4 at a discounted flat-rate of $5, credit card required."
To learn about the history of Rice Media Center, please go here. For a story on the 50th anniversary of the center, please go here.