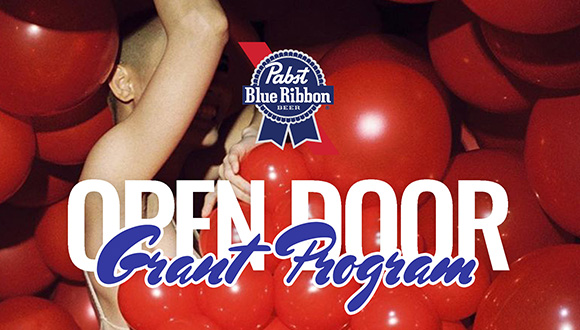 Pabst Blue Ribbon, the major beer company, today announced its Open Door Grant Program. The program will award five grants of $5,000 each to artists applying from ten states, including Texas. The application period is now open, and the deadline to apply is Friday, April 2.
"The biggest hurdle faced by the next generation of truly impactful artists is the support they need to amplify their work to new magnitudes," reads a statement from Pabst. "The contest is intended to recognize and provide support to artists of all disciplines and fields and who have a new or existing initiative with the intention of making an impact in their local communities."
Photographers, sculptors, painters, drawers, muralists, sound artists, filmmakers, digital artists and models are all encouraged to apply.
 Applicants can submit with new or existing projects.
All applicants must be 21 or older, and must live and work in one of the following states: Washington, California, Texas, Tennessee, Georgia, Florida, North Carolina, Rhode Island, Colorado, or Oregon.
Last week Pabst announced that it would open an art gallery in San Antonio on March 13. The announcement also stated that Pabst will build a 1.5-acre culture park in downtown San Antonio that will include another art gallery, a bar, a BMX bike track, and indoor skate park, "and eventually a rooftop movie theater and concert venue," according to a November 2020 article by the San Antonio Report.
Applicants are required to submit an artist statement, a statement of purpose, as well as a portfolio of images. For rules, guidelines and other submission requirements, please go here. To apply, please go here.