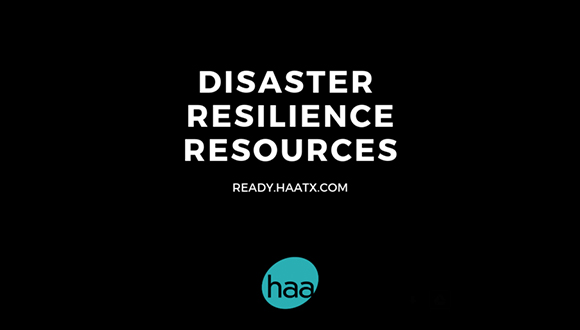 Houston Arts Alliance (HAA) is encouraging cultural organizations, businesses and individuals to participate in a new series of surveys designed for the greater Houston art community. The surveys, organized under HAA's Disaster Services Program, seek to access information about the needs of area organizations and individuals who have been affected by the arctic freeze of Winter Storm Uri.
An HAA Disaster Resilience website was launched in March of 2019 to handle "risk assessment, preparation for any and all hazards, calculating loss after a disaster, documenting inventory before a disaster, navigating insurance, cybersecurity, FEMA and local assistance, business continuity, and preservation," and to provide a step-by-step, how-to manual for those "whose work is endangered or destroyed by disasters" — such as Winter Storm Uri.
Basic information about participants will be compiled and assessed by specific geographic regions, artistic disciplines, and budget categories. The Cultural Organizations Survey for museums, historic properties, performing arts programs, libraries and other similar institutions can be accessed here.  To fill out the Individuals Survey for individual artists and arts workers, please go here. For businesses, galleries, dance studios and for-profit art businesses, the survey form can be filled out here. Spanish-language versions are also available here.
$2 million in relief funding, unrelated to Winter Storm Uri, was recently made available to Houston creative businesses facing economic hardship as a result of the Covid-19 pandemic. The funding for the City of Houston CARES Act Program for Arts and Culture includes funding from the City's Coronavirus Aid, Relief, and Economic Security Act (also known as the CARES Act).
Resources related to Winter Storm Uri relief for artists and the general public can be found here.
****
Houston Arts Alliance (HAA) is a local arts and culture organization whose principle work is to implement the City of Houston's vision, values, and goals for its arts grantmaking and civic art investments. HAA's work is conducted through contracts with the City of Houston, overseen by the Mayor's Office of Cultural Affairs. HAA also executes privately funded special projects to meet the needs of the arts community, such as disaster preparation, research on the state of the arts in Houston, and temporary public art projects that energize neighborhoods.