Christopher Blay and (momentary) guest host Hesse McGraw, Director of Contemporary Arts Museum Houston, discuss seeing the sun again, an unpronounceable show title, wild life, and an exclusive first look at the renovated CAMH.
"We've been closed for 11 months. It feels like an eternity but we've made the best use of that time."
To watch last week's Top Five, a republished focus on our favorite art about snow and ice, please go here.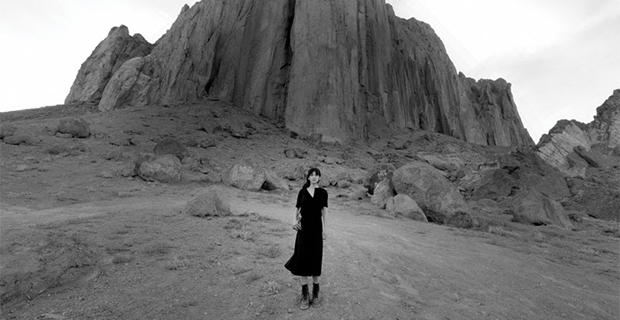 1. Shirin Neshat: I Will Greet the Sun Again
February 28 – May 16
The Modern Art Museum, Fort Worth
From the Museum:
"Shirin Neshat: I Will Greet the Sun Again surveys approximately 30 years of the artist's video works and photography, investigating her passionate engagement with ancient and recent Iranian history. The experience of living in exile and the human impact of political revolution are also explored by Neshat.
"The exhibition takes its title from a poem by the Iranian poet Forugh Farrokhzad (1934–1967). I Will Greet the Sun Again begins with Neshat's most famous body of work, Women of Allah, 1993–97, and also features her early iconic video works such as Rapture, 1999, Turbulent, 1998, and Passage, 2001. Monumental photography installations include The Book of Kings, 2012, The Home of My Eyes, 2015, and Land of Dreams, 2019, a new, ambitious work encompassing a photographic series and video."
2. Wild Life: Elizabeth Murray & Jessi Reaves 
February 24 – May 16
Contemporary Arts Museum Houston (CAMH)
From the CAMH:
"Wild Life: Elizabeth Murray & Jessi Reaves brings together paintings by Elizabeth Murray (b. 1940, Chicago, Illinois; d. 2007, Hebron, New York) and the work of New York-based artist Jessi Reaves (b. 1986, Portland, Oregon). Although Murray and Reaves are generations apart, this exhibition highlights each artist's simultaneously lyrical, playful, and rigorous engagement with the decorative, domestic, and bodily. The exhibition opening coincides with the Museum's public reopening. The exhibition will remain on view through Sunday, May 16, 2021. The Museum will employ comprehensive COVID-19 safeguards to ensure the health of our staff and the public. As always, admission to CAMH is free."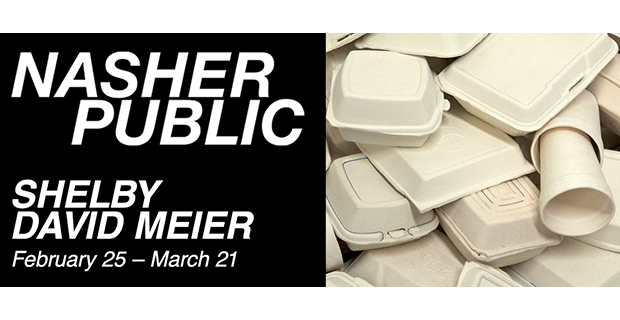 3. Nasher Public: Shelby David Meier
February 25 – March 21
Nasher Sculpture Center (Dallas)
Excerpts from the Nasher:
"Shelby David Meier's Nasher Public installation invites viewers to consider the role everyday objects play in our lives and to reflect on our relationship with the things we leave behind.
"At first glance, Meier's installation could be mistaken for the remnants of a previous event. The gallery is bare apart from a pile of ostensible Styrofoam cups and food takeout boxes covered in flowers and a single envelope, torn open and floating on the nearby wall. A closer look reveals that the single-use containers are actually ceramic casts of those objects, remade in a material common to formal tableware. And the floating envelope is not an envelope at all, but a paper sculpture mimicking so-called 'security' envelopes, complete with a cutout address window and dense pattern that Meier traced by hand. Both objects purport to be something they are not and in doing so, draw connections between their materials and those things they are pretending to be."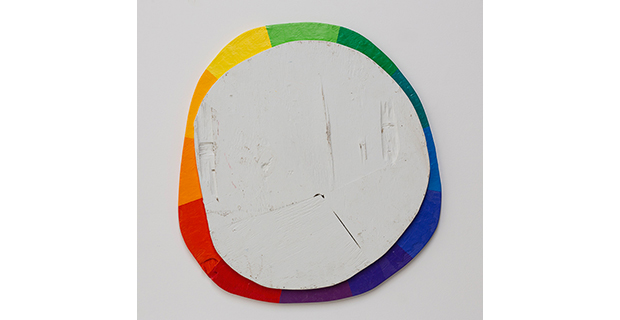 4. Sterling Allen: No Visitors No Objects
February 27 – May 22
Old Jail Art Center (Albany)
From the Old Jail Art Center:
"For the last few years Austin-based artist Sterling Allen has been creating outside the confines of the typical 'white cube' of a gallery or museum space, and even his studio. After strategically locating an urban building site that is often ignored or forgotten, he places his own sculptural works with objects and materials he finds on-site into an outdoor exhibition. Responding to the location and architectural elements, he creates a uniquely temporary exhibition that he quickly photographs. This documentation becomes an important aspect of his work."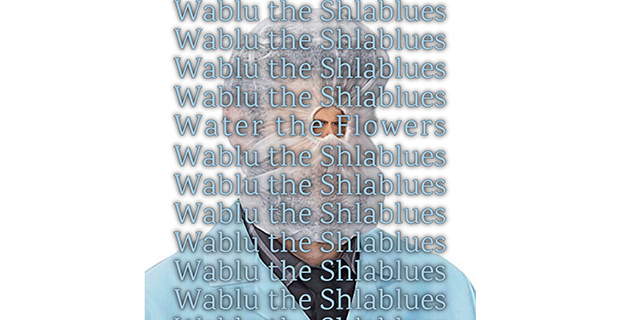 5. a) Jeff Gibbons: Wablu the Shlablues 
February 27 – April 3
Conduit Gallery (Dallas)
Excerpts from Conduit:
"Gibbons' work is usually woven through with an element of the auto-biographical, or at least self-referential. Endemic to his creative process is the care for or looking after of his objects of creation as a means of self-care.
"My first sentence (as I'm told) was 'Can I water the flowers?' Though I had condensed and slightly altered it into 'Momma, wablu the shlablues?' I remember saying that, somehow, and wanting to water the flowers. There was a satisfaction in my gut seeing the water go into the ground, knowing it would make the flowers happy and alive."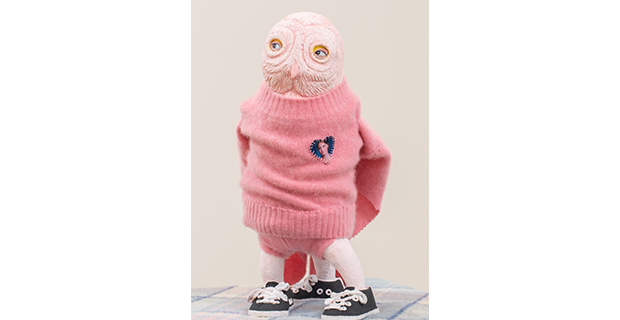 5. b) Margaret Meehan: After Laughter
February 27 – April 3
Conduit Gallery (Dallas)

Excerpts from Conduit:
"With After Laughter, Meehan continues her 20-year investigation into otherness by linking those who identify as women with a parliament of overly emotional owls and stoic songbirds. Owls were chosen for their symbolism of both wisdom and death and as shape shifters who can warn of danger but also usher in change.
"The exhibition's title After Laughter comes from the 1964 song 'After Laughter (Comes Tears)' by Wendy Rene, as does one of the larger ceramic sculptures which dons a haphazardly placed pink wig."