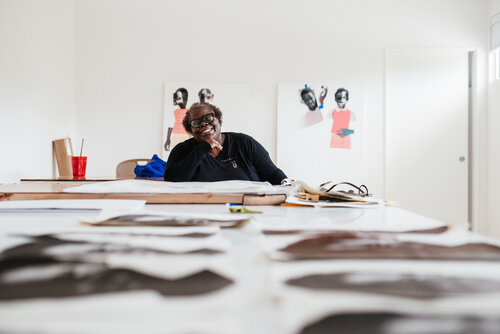 If you are an Austin artist with Gesso painting skills (paint using Gesso without leaving streaks or marks), and with painting knowledge of the figure (this is an absolute prerequisite), acclaimed Austin-based artist Deborah Roberts invites you to apply to be her studio assistant.
Among the other job requirements are experience with Photoshop, InDesign and Lightroom, the ability to multitask, organize and carry out administrative tasks. The candidate for studio assistant must be reliable and have computer skills. The opportunity begins on March 3, 2021, and the assistant would work on average 3-4 days per week.
Roberts, the 2018 Anonymous Was a Woman grant winner whose current solo exhibition at The Contemporary Austin is on view through August 15, also has her work prominently installed on the street-facing wall of the Contemporary. Little Man is part of Roberts' Contemporary Austin exhibition — her first solo show at a Texas museum.
To read a 2016 review of a gallery show of Roberts' work, please go here. To watch a 2017 Glasstire Top Five video guest hosted by Roberts, please go here.
Roberts prefers a candidate with a background in art and knowledge of the art world, but doesn't require it. Interested candidates should email a CV or resume to [email protected]