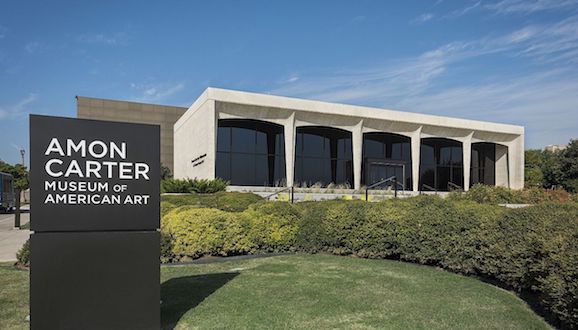 The Amon Carter Museum of American Art in Fort Worth has just announced that it will reopen to the public on Friday, June 19, 2020. The tiered reopening  begins with a members-only window between June 16 and June 18. The museum closed on March 14, as reported here, due to the Coronavirus pandemic, and remained closed after Governor Greg Abbott's Executive Order permitted museums to reopen with reduced capacity in May. With announcements from the Kimbell Art Museum and the Modern Art Museum of Fort Worth earlier today, all three major fine arts museums in Fort Worth now have reopenings scheduled.
The Carter's current main exhibitions — The Perilous Texas Adventures of Mark Dion; Looking In: Photography from the Outside; and Eliot Porter's Birds — will remain on view through July 5. Culture Shock: American Artists from Europe, 1913–1953 can be viewed until September 6, and Justin Favela's Puente Nuevo has been extended through November 22. Upcoming exhibitions Acting Out: Cabinet Cards and the Making of Modern Photography will open August 15 and run through November 1.
Stares Andrew J. Walker, Executive Director of the Carter: "Our staff has worked tirelessly during this time to find safe and accessible solutions for reopening, following local, regional, and federal recommendations. With our new protocols in place, the Carter looks forward to opening its doors again and to providing a place of learning, beauty, history, and culture for our community."
Some of the new health and safety procedures  implemented include 50% limited capacity, social distancing, and a face mask requirement for staff and visitors. The complete list of new protocols is as follows:
Admission remains free and does not require a ticket. If the museum is near capacity, visitors will be required to wait in a socially distanced line outside the museum's Main Entrance and will be granted admission as quickly as possible while observing limited capacity and proper social distancing protocols.
Members will have the first chance to visit the Carter on member-only days, Tuesday, June 16 through Thursday, June 18. The Carter opens to the public on Friday, June 19.
All visitors and staff will be required to wear face masks and observe social distancing (minimum of 6 feet) within the museum. The museum will provide masks to visitors who do not arrive with their own upon entry.
The Main Entrance will be the only open entrance at this time. The Lancaster Avenue Entrance is closed until further notice.
The Library, Study Room, Museum Shop, Food Cart, and Bag Check will remain closed until further notice.
A low-touch experience will be encouraged. The Family Pop-up Space will be closed, and all touchable interactive devices will be removed at this time.
For more information on the Carter's reopening, please visit its website here.