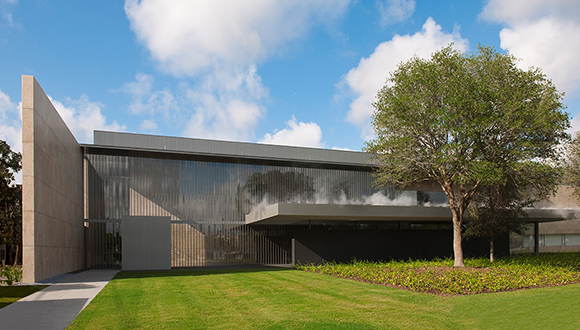 Asia Society Texas Center (ASTC) in Houston will reopen to the public on Wednesday, June 3, with health and safety protocols for staff and visitors. Initially, the building will only be open for the exhibitions  Form is Emptiness, Emptiness is Form and the ancient artifacts exhibition Eternal Offerings: Chinese Ritual Bronzes which will be on view each Wednesday through Saturday, 11AM-6 PM, and on Sundays 10 AM-4 PM, and free through August 31.
ASTC will also continue its #AsiaSocietyAtHome content, as well as art tours, family activities, a virtual Eid festival thru tomorrow, live webcasts on COVID-19 public policy on Thursdays, and Friday Favorites staff picks.
The health and safety protocols announced by ASTC are as follows:
All guest areas will be sanitized following CDC recommendations. High-touch areas will be cleaned every 30 mins. 
Staff members and volunteers will undergo temperature checks daily and wear face masks at all times.
Guests over 10 years old are required to wear a face mask at all times in the building. Complimentary masks will be provided.
Acrylic panels are installed at our Guest Services desk.
Since exhibition admission is free, the need for online or onsite payments is eliminated.
 Physical distancing of 6 feet or more between parties is required.
Visitor capacity is restricted to 25 guests in the Louisa Stude Sarofim Gallery at any time.
Hand sanitizing stations are installed throughout the building.
Guests exhibiting any signs of illness will be asked to return on a later date.
Pondi Café remains closed. Reopening dates will be announced soon.
Onsite programming remains suspended.
Programming announced at ASTC that runs June 4-24 is as follows, with registration required:
"FemFest Houston: Voices of Asia" celebrates the voices of Asian and Asian American women with a play-reading series featuring three Houston premiere plays in a virtual setting. A collaboration between Mildred's Umbrella and ASTC, the series will be offered in an online format beginning June 4. Schedule:
June 4–10, 2020: "Peaches," written by Soo-Jin Lee and directed by Peter Ton
June 11-17, 2020: "Mother in Another Language," written by Taniya Hossain and directed by Jennifer Decker
June 18–24, 2020: "The Hatmaker's Wife," written by Lauren Yee and directed by Christine Jugueta
For more information about the Asia Society Texas Center, please visit its website here.