Artist Kris Pierce, whose work explores notions of power, value, and states of consciousness in the context of our digital world, will have his newest work, Untitled (Plinths), dedicated this Friday, December 6, at 5:30pm at Fort Worth Community Arts Center (FWCAC). The series of three cast-concrete sculptures will be added to the City of Fort Worth's Public Art Collection, and FWCAC will be its permanent site.
Untitled is inspired by FWCAC's architecture,  which was designed by Bauhaus architect Herbert Bayer. The 1954 building, first known as the Fort Worth Art Center, later became the Modern Art Museum of Fort Worth, and remained the Modern's home until the museum moved to its Tadao Ando-designed  building in 2002. Previously, the work Chance Meeting (1989) by sculptor George Segal  was installed in the building's courtyard. After the dedication, Pierce's plinths will serve as pedestals for temporary exhibitions of sculptures at FWCAC.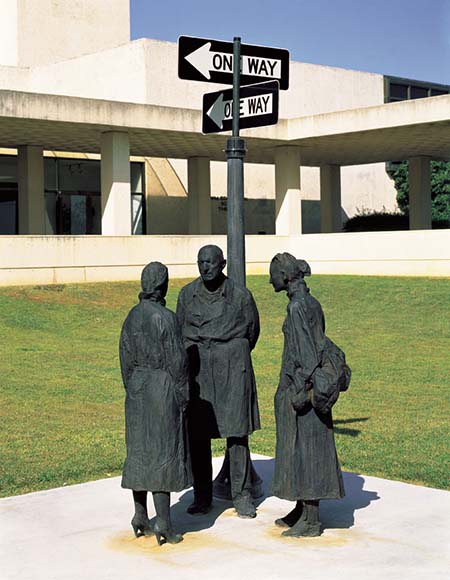 Writes Pierce, in an email to Glasstire: "I saw the project as a unique opportunity to surface an important part of the cultural district's architectural past. A conceptual relationship to the legacy of the site was something I felt the responsibility to build on top of, and hope this [pairs] with the utilitarian nature of the project, [and] provides a solid anchor for the work of future artists."
Pierce has exhibited internationally in museums, galleries, and public spaces, including recent solo and group exhibitions at the Hiroshima Art Center, Japan; CICA Museum, Gyeonggi-do, South Korea; Gallerie Se Konst, Falun, Sweden; Reunion, Zurich, Switzerland; Blue Star Contemporary, San Antonio; and RL Window, Ryan/Lee, New York City.
Untitled (Plinths) will be dedicated on Friday, December 6, 2019 at 5:30 – 6:30 p.m at FWCAC.
For more information, visit Fort Worth Public Art Commission
here
.