On a slathering of modeling paste sits a single strand of resin. This is not necessarily a trick, though it mirrors the effect of paint — rich in body, squished out of its tube. If we follow this logic a bit further, this is essentially the basic principle of printmaking: A liquid is forced onto a surface, with a little drying time, and will inevitably produce an image. 
Extrusion is a major theme of the current Liz Trosper exhibiton, on view at the University of Texas at Dallas' The Wilcox Space. Trosper's work operates from a Marshall McLuhan perspective — the work itself bends toward comment on its constituent parts rather than delegating pictorial coherence. The medium, raw color that shows the shape of its former vessel, is the main character in these works.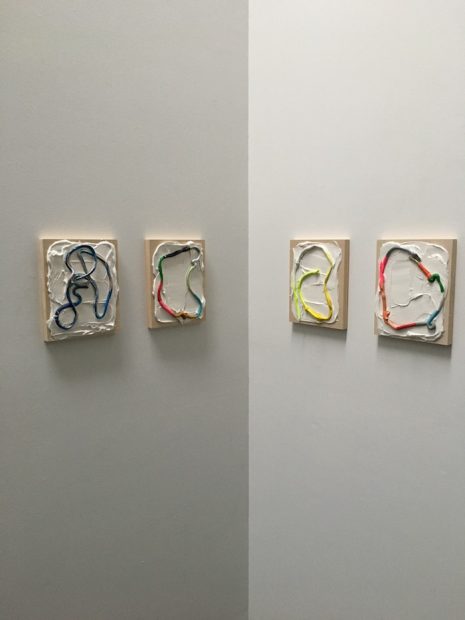 The inconspicuous Wilcox Space, a relatively hidden gallery in Expo Park near downtown, is the former working space of the late painter John Wilcox. Marjaneh Goudarzi, my guide to Trosper's show on the day I went, points out some splatters on the floor of the back gallery that remain from Wilcox's time there. The space has been maintained in Wilcox's name over the years by his brother, David, with occasional shows of Wilcox's work, and has recently come under the custodianship of UTD's Edith O'Donnell Institute "as a site for the exhibition, study, and documentation of the work of painters whose practices, like Wilcox's, bring together the craft of painting and exploration of the nature of the medium itself." Trosper's show, curated by UTD's John Pomara, is the first non-Wilcox exhibition under this new arrangement.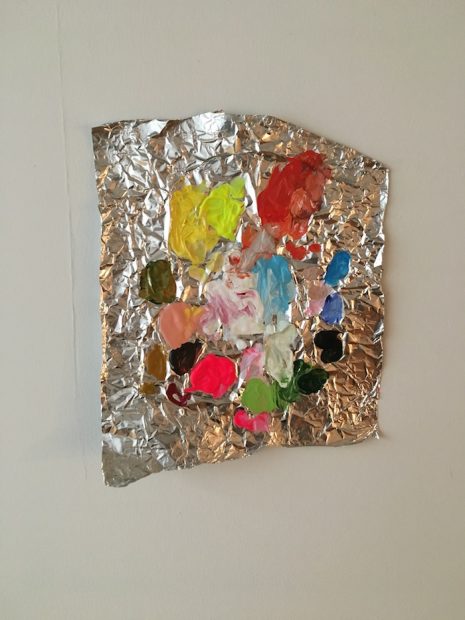 Trosper's series called Scanner Paintings can be seen here in two flavors: in UV ink (a commercial grade pigment that is cured with ultraviolet light), and in inkjet mono prints. She mixes metaphors wildly in the show, with snaking tails of acrylic and silicone resin that allude to paint pulled out of a tube, sometimes on top of printed images of (presumably) the same material.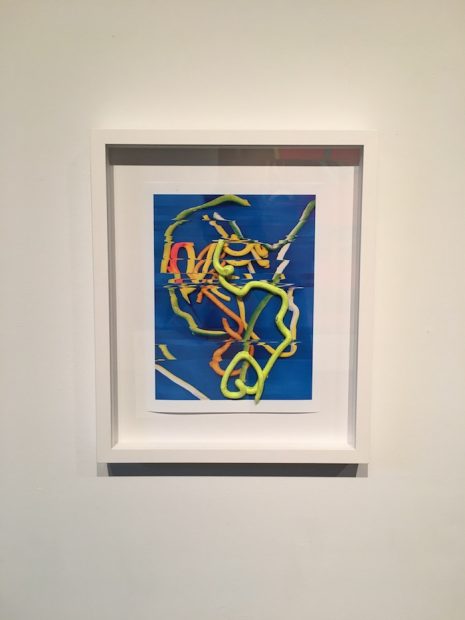 Part of the allure of the work is that it speaks to the sensibilities of commercially produced images under the guise of fine art. The shift of commercial-grade printers, scanners and cameras to the consumer end means cheap, pro-like images for everyone. For artists, this has enabled a move from the darkroom to the laptop. For other media-adjacent workers such as advertisers, print workers and imaging professionals, these technologies are at the lower end of an industry that assembles our world through billboards and endless print ephemera. Trosper situates herself somewhere at the intersection of these two practices, with insights reflective of that.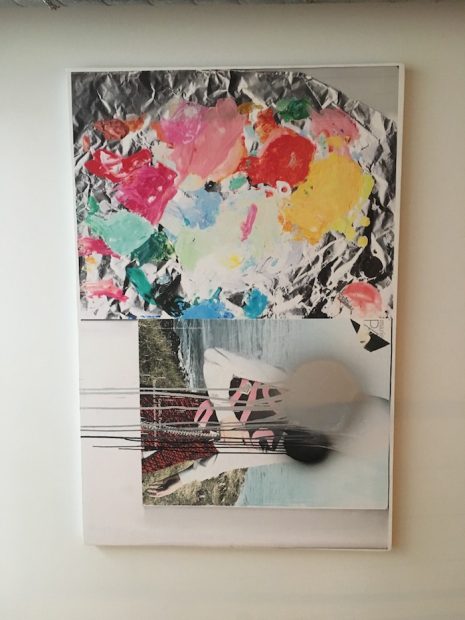 I had the opportunity to speak with Trosper in her studio earlier this year. We connected on the frustrations of large-format printing, and what "image production" means today.  
William Sarradet: Can you give me a quick description of digital optics, and one of the tools you use in this practice?
Liz Trosper: [I use] entry-level, consumer-grade CCD array platen scanners. The CCDs are the same basic diode technology that's on a digital camera sensor — it's just on a bar and moving across a platen. 
WS: I'm interested in this pile of printers you have here in the corner of your studio.
LT: They're actually here because I did a scanner painting workshop with the Nasher [Sculpture Center in Dallas] for their Teen Institute, and so they gave me free hand to come up with what I wanted to do. I want to be able to use these in a way that you use any kind of medium or tool — to get this sort of brain-eye or tool as an extension of that operation. To use these up, burn them out, whatever. 
Each one is a little bit different. So it's nice to have the opportunity to have a lot of them, and work between them.
WS: I used to operate an Inca Onset Q40i 8-color printer; it's about 30 feet long or so. This thing can kill you if you don't use it right.
LT: Or rip your arm off.
WS: Right. I learned that each printer has a fingerprint in a way, which is imperceptible to most people, but it's like having a different kind of eye that can perceive colors. 
What really drives me in my interests in optics is the specificity of the technological tools you're using. 
LT: So I did my thesis exploring and probing that — the relationship you build with these extensions of yourself being no different than any other medium.
I had an 8-color HP Z6100, and it was a beast. There's a fluidity and a flow that happens between you and the machine when you start to understand the way that it works. It had an onboard CPU so it was processing inputs live, [in] real time. There were things that I would do with it that I wasn't supposed to be doing, to try to generate interesting outputs. I wanna make analogies that make it seem accessible — it's just the same as your desktop printer but bigger — and in a way that's true; it's still based on this bubble-jet technology that was invented years ago, but in a way it's a totally different animal.
Making scanner paintings: The fact that it's creating a vapor mist of pigment that goes onto a canvas — that's fascinating. You're talking about the printer's fingerprint. You can learn the patterns in which each of those tiny holes that vaporize the pigment — you can learn their pattern just by doing basic color calibration. You can learn the fingerprint just by paying attention to it, and you can also alter it. 
If I can use the analogy of digital photography where you understand how the camera should work, but a good photographer can override the camera's light metering and use attachments like filters to create interesting results. You know how it's supposed to operate, but through practice you learn how to override the technology to get the aesthetic or technical results you want. The same is true of the inkjet outputs using the scanner technology and the CCD arrays for input as well.
Artists buying pigment, like Yves Klein, had to find a chemist to make his pigment for him; he needed a clear binder instead of linseed oil. The artist as someone who needs to source material has always been a thing, but it has come into high relief in the art and technology space.
WS: They're kind of walled gardens. For example, there are alternatives to produce video without Adobe Premiere Pro, but the freeware or otherwise accessible programs don't have the same tools or hotkeys I'm accustomed to. 
LT: Exactly. Even pressing 'F' in Photoshop repeatedly — I do that the way I toss my hair. If I shaved my hair off — and I've done this before — I would still have the nervous tic to flip my hair. It comes out of muscle memory and familiarity, as an extension of yourself. Maybe 'prosthesis' is a good word.
WS: You said the state of artist as consumer, having to source your materials used in creating your intellectual property, has come into high relief at the advent of art meeting technology. Can you expand on that?
LT: I think that it's become a topic of increasing conversation. A wide-format printer is a high-end piece of technology. [And then] Apple products for image editing; even something like a DSLR; an iPad for digital painting. It's not that artists haven't had to source things like canvas stretchers — I keep using analogies in the realm of painting — but it has become more of a branded thing. Very highly specific-planned obsolescence consumer goods. There's a lot of hand wringing about the over-specificity of these kinds of products becoming complacent in terms of, in an abstract way [for example]: What is the core of what you're doing in your practice that isn't specific to that Apple Pencil? Is it okay, for being in the moment of your time, to be influenced by that, and let it be part of the work? Either way, its a conversation to specifically consumeristic kinds of goods that have been marketed to the creative professional. 
WS: A word I use a lot is 'proprietary,' because I think it communicates the specificity of use in a tool you're referring to. I don't need to have a relationship with Adobe to create images, but under the paradigm that we exist in, I kind of do. It's problematic. We take for granted the ubiquity that we rely on reproduced images, but until you're the worker interfacing with these very proprietary technologies, you realize there are limitations to production. We forget that there are hard limits to producing images because they're such an integral part of our society.
LT: They demand a lot from us. I did my thesis with a wide-format HP Z6100. A precision, high-end piece of equipment that requires an initial investment, but an ongoing maintenance cost. The money to buy the pigment, maintenance kits, calibration, keeping your studio in a pristine state — it's a demanding piece of equipment and medium to work in. You can't just farm it out to someone else. If it's a part of your creative practice, even if someone is assisting you, you have to know the right questions to ask, how it operates, what it needs. There are extreme physical limitations to getting the image. [With] a piece of fine art, or a billboard, the production has physical inputs and limitations.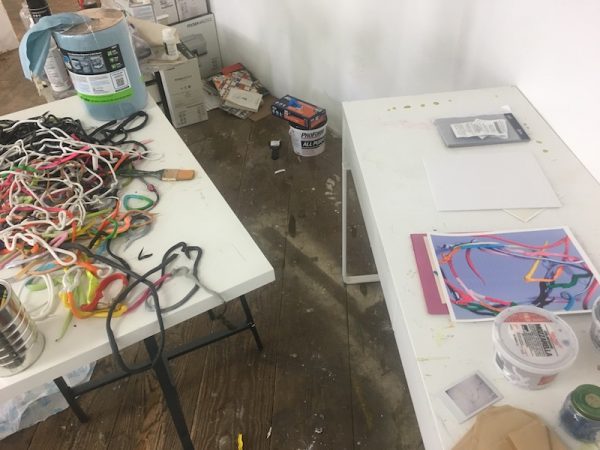 WS: That knowledge only comes with interacting with these machines. Most people won't go through the rigors to acquaint themselves with that knowledge.
LT: My knee-jerk response is that because we're inundated with consumer images, that we're allowed to dismiss [them]. There's a lack of willingness to engage or question the formal machinations of what goes into making these kinds of works. I also think that's exactly what gives them power, or potential. Now more than ever, we should be questioning how these images are made, and what value they carry. 
That's my gut reaction: That we're conditioned not to question. It's not only a matter of education but one of philosophy, maybe. 
We came into contemporary art out of the self-reflexivity of modernism. The idea that — a little bit of what you said about our current epoch — is that we have no sense of obligation towards self-reflexivity any longer. 
In the art world we talk about it quite a lot — self-critique — but I think in a broader sense that a little bit of that is diminished right now. Automatically people are going to talk about your work within the context of modernism, but if you're doing something that may trouble their sensibilities of what is historically considered art, you get perceived as separating yourself from that dialogue. 
I'm trying to get at something like that, and a lot of the way that I talk about my work is inviting that to come along, and the way that I've done that is to use the discourse of painting to bring people along. It's a way that I'm trying to bridge a formal conversation about the work. It's only been a few years that work like mine would even happen in a commercial gallery. It's a totally accepted medium, but it's [also] so nascent that people are having a bit of shock that's not allowing them be on their forward foot in terms of analyzing it. Or perhaps people engage with that kind of technology in other ways, that they have a false sense of understanding it already.
Liz Trosper's work will be on view at the Wilcox Space in Dallas through Dec. 14, 2018. 
Photos: William Sarradet