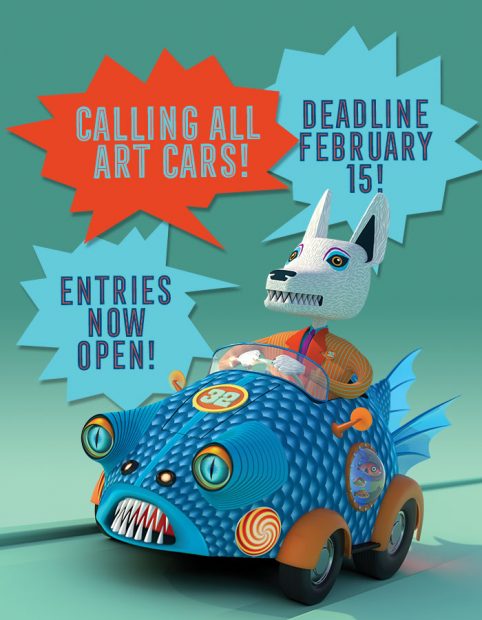 The Orange Show Center for Visionary Art, a Houston-based non-profit organization dedicated to preserving a handful of folk art projects and environments across the city, including the Orange Show Monument, has announced that it is now accepting applications for the 32nd Annual Houston Art Car Parade.
Although the first 'official' art car parade produced by the Orange Show debuted in April of 1988, at the request of the Houston International Festival, the event's roots go back a bit further. In 1984, what is thought of as one of Houston's first art cars was born when artist Jackie Harris transformed a 1967 Ford station wagon that was being auctioned off by the Orange Show into the Fruitmobile. After the car's $800 makeover, which left it covered in paint and plastic fruit, it was purchased by six patrons who then donated it right back to the foundation. 1984 also marked the year of Collision, a group exhibition curated by Ann Harithas at Lawndale Art Center that featured two art cars. (Pete Gershon used the title of this show for his new book about Houston's art history, Collision: The Contemporary Art Scene in Houston, 1972-1985. To read our interview with Gershon, go here, and to listen to him talk about the book, go here.)
Subsequently, in 1986, artists Rachel Hecker and Trish Herrera organized a parade featuring artist-made floats, art cars, and bicycles in conjunction with the New Music America Festival.
Today, the parade regularly features more than 250 vehicles from across America, Canada, and Mexico. In addition to artist-made cars, the event also includes cars made by schools and community groups.
The Orange Show is accepting applications for the 32nd Annual Houston Art Car Parade through February 15, 2019. Though there aren't a lot of requirements for entry, a few, provided by the Orange Show, are below. To apply, go here.
—An Art Car can be anything on wheels – cars, motorcycles, go-karts, golf carts, bicycles, roller skates, one wheels, and many more!
—Your entry must be suitable for family viewing
—Art Car entries must be decorated, embellished, augmented, or otherwise decked out – this is the ART CAR PARADE after all, not just a car show
—Your entry must work – we don't want it breaking down during the parade!