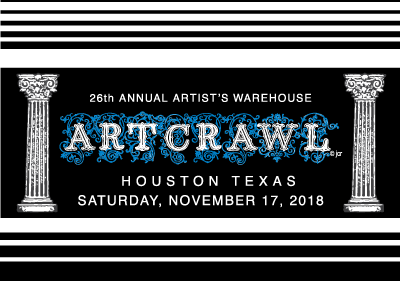 On Saturday, November 17, 2018, from 10AM to 9PM, Artcrawl returns to Houston for its 26th edition. Started in 1992, and running the Saturday before Thanksgiving, the annual event allows viewers to take a peek into the studios, warehouses, and other art spaces near Downtown Houston's warehouse district. This year's event will feature more than 150 artists participating at numerous venues, including art spaces that normally welcome visitors, like Hardy & Nance Studios and JoMar Visions. Also participating in this year's event are places that might not normally be very open to the public, like Mother Dog Studios (the "oldest surviving warehouse in Houston") and David Adickes' Sculpture Studio.
Other spaces involved in this year's Artcrawl include stops that are a bit removed from the north Downtown district, like Canal Street Studios and Super Happy Fun Land in Houston's East End, and Jim Pirtle's bar/performance space notsouH.
Even if art isn't your thing, Artcrawl offers the chance to see some historic buildings in the city: the Elder Street Artist Lofts (1101 Elder Street) is located in the former Jefferson Davis Hospital, a 1924 red brick building located just off of I-10 and I-45. And housed in Houston's old Federal Reserve Building (1301 Texas Ave.), which was constructed in 1922 and operated as such until 1956, is the Harambee Art Gallery, a space dedicated to "to inform, entertain, educate and elevate through the advancement of the arts."
Free parking for this year's Artcrawl is available at the University of Houston Downtown. The institution's gallery is also participating in this year's event, with an exhibition of works by longtime Houston artist Richard Stout. Artcrawlers will be able to eat at various restaurants located in proximity to the event, including at the famed Last Concert Cafe.
To learn more about this year's Artcrawl, go here.