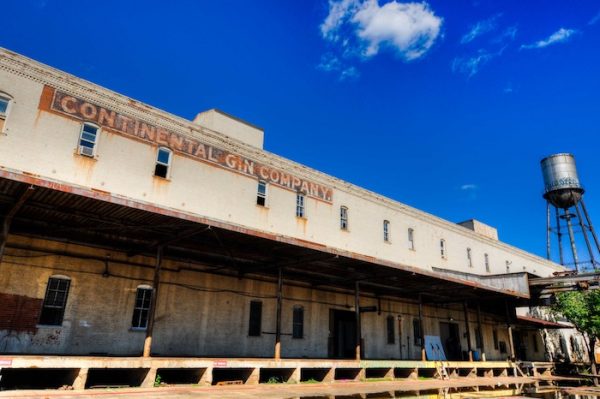 Dallas' Continental Gin Building, a longtime gathering, exhibition, living and studio space for artists in the city, will be hosting its final open studio event on November 9 and 10, 2018.
Built in the late 1800s, the building was originally run by the Continental Gin Company. In its time, the company was a large player in the global cotton market — according to the building's website: "…during the height of cotton manufacturing 1/6th of the world's cotton was produced within a 150-mile radius of the building."
After the company closed in 1962, the building became an elevator manufacturing company, and in 1982 was turned into spaces for artists. A year later, the building was listed on the National Register of Historic Places.
For many years, the Continental Gin Building was a hub for Dallas' creative scene, and its biannual open studio events became regular stops for avid and less experience-experienced art-goers alike. And although it might've begun as a rougher scene, perhaps comparable to the Commerce Street Artist Warehouse in Houston, the building now counts fashion designers and other creative people among its tenants. Historically, the building's spaces have been some of the more affordable art studios in Dallas, with rent around a dollar per square foot.
Tenants of Dallas' Continental Gin Building have faced the uncertain fate of the building for the past few years. In 2016, the building's then-owner, John Tatum, floated the idea of selling the space to a charter school. When that idea fell through, Tatum continued to search for a buyer, and ultimately decided on Dallas' August Family Partnership, who will convert the space into a multi-use complex.
After a renovation of the building is complete — including extensive repairs of its walls, windows, and roof — the building will be filled with 42,000 square feet of offices, 21,000 square feet of retail spaces, and a restaurant.
Those familiar with Dallas' Deep Ellum neighborhood might see the Continental Gin Building's transformation as another building block of gentrification sweeping the area. In fact, few galleries are left in the heart of Deep Ellum: Barry Whistler Gallery moved away in 2016, and only a a handful of commercial art spaces remain, including Kirk Hopper Fine Art.
As for the notion that artists play a role in revitalizing neighborhoods by making them seem more viable to developers, Evan August, one of the Continental Gin Building's new owners, just about said as much in a note to the building's tenants. The note read, in part, that the artists created "a unique, eclectic environment that in a lot of ways attracted [the August Family Partnership] to this building."
Dallas' Continental Gin Building's final open studios are scheduled for November 9 (6-10PM) and November 10 (2-8PM). For more information, go here. The artists participating in the building's final open studio event include: Andrea Guay, April Henegar, Ashley Stillwell, Bob Nunn, Brittany Lyons, Carol Pankratz, Carroll Swenson Roberts, Connie Roschlau Ball, David Klucsarits, Dong C. Chun, Donna Ball, Fanny Brito, Francene Christianson, Heather Helen Ray, Jan Partin, JCI Creatives/Jaren Collins, Jennifer Ayya, Jenny Keller, Jo Temming, Julie Brown, Katherine Baronet, Kathy Mackey, Kim Petty, Liz Wilson, Marianne Gargou, Marsha Oliver Moser, Michael Sutton, Monica Cowsert, Noe Garcia, Ray LeBoeuf, Rick Hogan, Robert Straus, Sarah Theobald-Hall, Stacie Hernandez, Treg Miller, Tricia Hayes, Ty Milner, Vivek Sebastian, and Walter Hofhein.