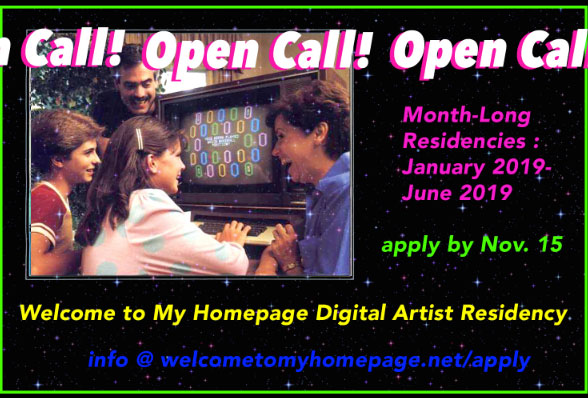 The Welcome to my Homepage Digital Artist Residency Program, an online-based artist residency, is now accepting applications. Although the program is loosely located in Austin, Texas — meaning that it was founded by Austin artist Rachel Stuckey in 2014 and sometimes hosts real-life exhibitions of digital residents' works at the Museum of Human Achievement in Austin — the benefit for applicants is that you can attend this artist residency without leaving your computer.
Since its inception, Welcome to my Homepage has hosted more than 40 artists internationally. The month-long residency is user-friendly and doesn't require coding, so it's not only designed for technologically hip artists. As the program explains:
"No coding necessary! Welcome to my Homepage provides a user-friendly web builder in which to explore digital-studio practice, build a new body of work, host a durational performance, or whatever suits your practice or specific project. We'll also promote any live online events you cook up, and offer one-on-one digital studio visits. Residencies are monthly, beginning on the first day and ending on the final day of each month." 
Additionally, the program is widely accessible to viewers. All audiences need to view the results of the residency is a computer with an internet connection. And for artists, there are no associated fees of the program — artists don't have to pay to "attend" their residency.
And since there's almost no overhead, this digital residency may just be one of the most economical ways of operating a program of its kind. Welcome to my Homepage lays out its operating costs on its website: its domain costs $27 annually, and web builder and hosting fees come to $149 a year. When you couple that with small honorarium that the program grants to artists and the money it would take to make the site ad-free, the program's annual budget goal comes to only $600.
If you are an artist interested in participating in an artist residency without leaving your computer, the Welcome to my Homepage Digital Artist Residency Program is now accepting applications for residencies from January – June 2019. The deadline to apply is November 15, 2018.
Update November 6, 2018: The Welcome to My Homepage Digital Artist Residency recently made some changes to their program. See those changes below, via the residency.
"We will be able to offer this upcoming round of artists a $75 installation stipend (a +$75 increase! ) for their Homepage IRL exhibition, as well as an increased artist honorarium of $50. As a result of this additional funding, we're really looking to expand and emphasize this exhibition aspect of the program
Homepage IRL is the name for the showing of work at the end of each artists' residency, held at The Museum of Human Achievement in Austin. We're psyched to move forward with and expand the project. Given that its an international residency, there's a lot of interesting dialogue that can happen here. Basically the possibilities for an artist are as follows:
a) The resident artist comes to install work at MoHA in conjunction with their exhibition
b) IRL team installs work for resident artist at MoHA
c) The resident artist commissions/collaborates with a local Austin artist for a sort of hybrid exhibition of the work
We're excited to see what kind of ideas applicants present for their residencies as a result of this update!"