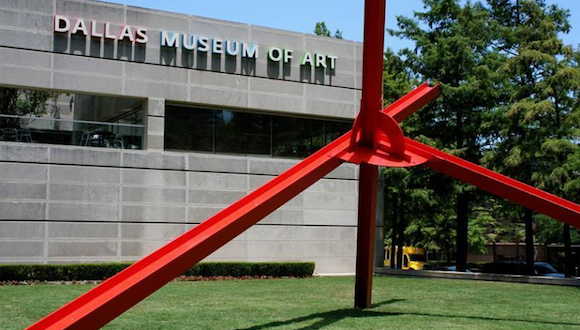 The Dallas Museum of Art (DMA) announces the publication of TWO x TWO x TWENTY: Two Decades Supporting Contemporary Art at the Dallas Museum of Art. The book celebrates 20 years of significant contemporary art acquisitions and exhibitions made possible by proceeds from the TWO x TWO for AIDS and Art auction. Held at the Richard Meier–designed Rachofsky House in Dallas, TWO x TWO for AIDS and Art has raised over $75 million in its 20-year history in support of amfAR's research initiatives and the DMA's contemporary program.
With proceeds from TWO x TWO, the DMA has, remarkably, been able to acquire more than 260 works by over 150 notable artists, including Olafur Eliasson, Thomas Struth, Lynda Benglis, Cindy Sherman, Lee Ufan, Theaster Gates, and Gabriel Orozco. The first purchase in 1999 was of the complete set of editions by Gerhard Richter, making the Museum the first and only institution to do so. Funds from TWO x TWO have also supported nearly 40 DMA exhibitions, including the US premier of Günther Förg: A Fragile Beauty, opening on October 21. An installation of postwar German art from the DMA collection will simultaneously be on view and will include representative works from the Richter portfolio.
"It is impossible to measure the enormous influence TWO x TWO has had on the growth and enrichment of our contemporary program," said Dr. Agustín Arteaga, The Director of the DMA. "The auction has allowed us to acquire significant works by pioneering as well as emerging artists, and has enhanced the quality of our contemporary exhibitions… . We are immensely grateful to Cindy and Howard Rachofsky, and to the artists, galleries, chairpersons, and patrons that have made each year of TWO x TWO a success. The catalogue is a celebration of all that we have been able to accomplish thanks to the efforts of the auction's organizers and our contemporary art department, and we are excited to see what the future holds for TWO x TWO and for the DMA."
The book also includes an essay by Dr. Anna Katherine Brodbeck, The Nancy and Tim Hanley Associate Curator of Contemporary Art, chronicling the auction's history and impact on the Museum and the Dallas arts community. "TWO x TWO's influence is evident not only in the artworks and exhibitions it has supported but also in the important relationships it has fostered between the DMA, artists, collectors, and the Museum's audience over 20 years," added Brodbeck.
TWO x TWO x TWENTY: Two Decades Supporting Contemporary Art at the Dallas Museum of Art will go on sale September 19 at the TWO x TWO pop-up shop at Forty Five Ten, 1615 Main Street in Dallas, and beginning in October, at the DMA Store. The TWO x TWO for AIDS and Art 2018 gala and auction, benefiting amfAR and the DMA, will be held on October 27, 2018.