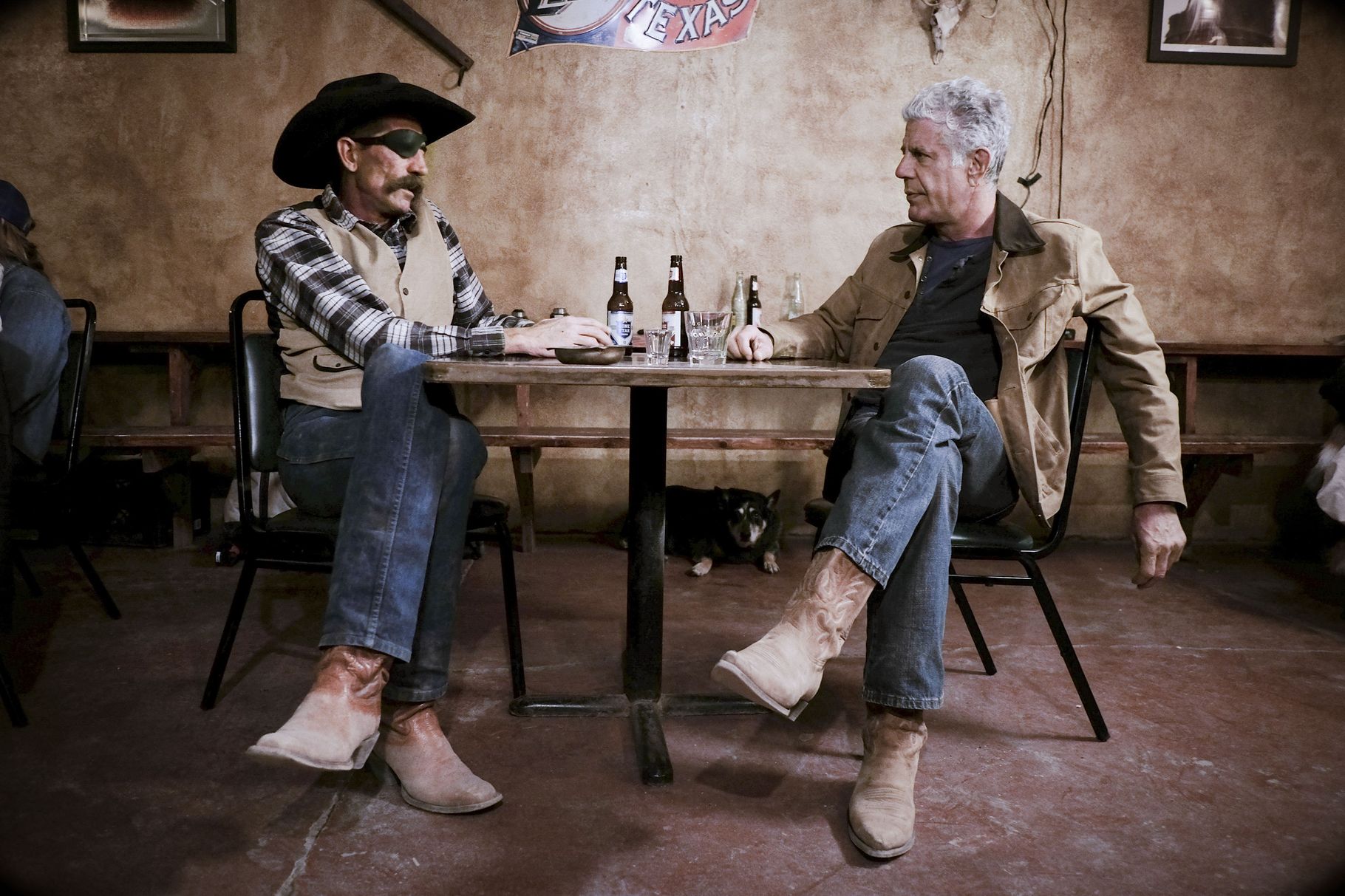 I was kind of over it. And while you were at the [Solange] show I walked around Marfa and tried to find us a table in a restaurant so we could eat when it was over. Which we did.
Christina Rees
Last year, writers Christina Rees and Brandon Zech published a dialogue on their experiences at Chinati Weekend. Although, they each discussed their favorite works, it must have been a bit sparse since Christina walked off to find a restaurant during the headliner's art performance.
Yesterday, Eater magazine published "The Best Moments of Anthony Bourdain's Trip to West Texas on 'Parts Unknown.'" We don't know if descriptions match scrumptious Christina and Brandon must have had, but Tony includes Marfa, the feel of the art scene in the middle of the desert, and West Texas food. And a recipe:
CABRITO AL PASTOR
Servings: 8–10, depending on the size of the goat
Ingredients:
1 whole processed kid (goat)
1 tablespoon sea salt for each side of the cabrito
2 teaspoons ground black pepper for each side of the cabrito
The portioning
There are specific cuts when portioning a cabrito, and everyone has their favorite. If you are cooking your cabrito in the oven, portion it before it is cooked. If you are cooking it over an open fire, portion it after. Consider this a chance to brush up on your Spanish:
Pechita: outside center breast of the cabrito, with rib tips
Paleta: inside center breast of the cabrito, with ribs and tenderloin (my favorite)
Riñonada: short loin with kidneys attached
Cadera: saddle and rump
Pierna: back leg portion (my second favorite) In the oven:
Preheat the oven to 400 F. Line a baking pan with aluminum foil. Cut the cabrito into sections and arrange them in the pan, then cover with another sheet of aluminum foil. Cook for 1 ½ hours, then remove the top layer of foil. Cook the cabrito for 20 to 30 minutes more uncovered, so the skin can become crispy. Serve warm with salsa.
Over live coals:
Build a large fire with about 12 to 15 medium-size logs of wood, preferably mesquite. Allow the fire to burn for about 1 hour. Shovel small amounts of the coal that forms around the flat metal grill where your cabrito will roast. By moving around small amounts of coal, you can control the heat level of your grilling area, which should hover between 325 and 375 F.
Season the whole carcass on both sides with sea salt and ground black pepper. Lay the whole carcass, ribs side down, onto the heated grill. The carcass should be flipped every 15 minutes over the course of 2 ½ to 3 hours. Through many trials, we have found that the best tool for flipping a cabrito is small squares of cardboard used as oven mitts. Not pretty, but they work.
When done, the cabrito should have a crispy golden skin with succulent meat underneath. Serve with a side relish of chopped cilantro and onions, warm tortillas, roasted onions, lime wedges, and your favorite salsa.