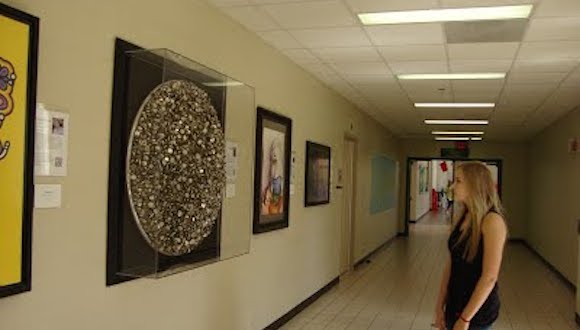 The Woodlands High School Art Trust, a non-profit that collects art to be displayed in the Woodlands High School, has announced that it is now accepting applications for its 2019 open call. Started in 2011, the program was inspired by a similar trust at the Greater Latrobe Senior High School in Pennsylvania, which was established in 1936 and now has a collection of more than 200 paintings.
Pieces in the Woodlands' collection are hung thought the school's halls, allowing students to essentially live with and continually experience the art. Additionally, the student body has a direct investment in the pieces — all of the artworks in the school's collection are purchased using funds from its homecoming dance. The selection process is inclusive as well: a student committee narrows initial submissions down to 15 pieces, which are then presented to the entire student body for a vote.
Artworks that are accessioned into the Trust's collection are cared for using funds from Palettes & Paintings, an annual fundraiser for which the organization auctions off 100 wooden artists palettes that have been decorated by students, teachers, and other artists. Money raised from this event goes to lighting and securing the collection, with additional funds going toward UV protection for delicate pieces.
In recent years, the Woodlands High School Art Trust has acquired works by Raul Gonzalez, Daniel Elliot, Kelsey Baker, and Tamara Robertson, among others.
Submissions to the Woodlands High School Art Trust are due on November 9th, 2018. The trust encourages artists to apply with works they are willing to sell. For more details and for application requirements, see below.
Requirements include:
—Artwork is limited to drawings, paintings, mixed media, printmaking, photography, and digital media
—Artwork must be able to be installed with appropriate hardware
—Applicants must be a current resident of Texas, a juried artist, 18 years or older