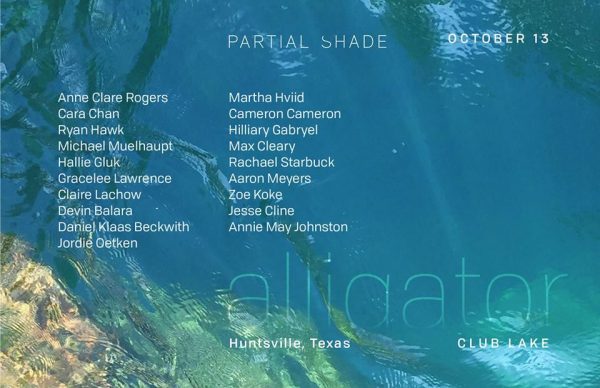 This coming weekend, on Saturday, October 13, 2018, will feature the openings of two shows at alternative spaces in the large region we think of as East Texas. (This being Texas, though, these shows are still a four-hour drive from one another.)
First, from 1-7PM in Huntsville is the one-day showing of alligator, a group exhibition presented by the Texas-based nomadic curatorial project Partial Shade. Since it was formed in 2016 by UT Austin graduates Rachael Starbuck, Michael Muelhaupt, Jesse Cline and Ryan Hawk, the collective has presented two exhibitions, each at different residences in Austin, Texas. In addressing the city of Austin's increasing affordability problem for artists and their spaces, one of Partial Shade's goals is to confront the complicated relationship the city has with money and real estate by hosting shows that have a "lighter footprint."
alligator marks Partial Shade's first project outside of Austin's city limits: it will be a one-day-only show held in Club Lake in Huntsville. Because the exhibition actually is in the lake, viewing the show is an unusual process. Instead of walking through a gallery space or backyard, viewers can view the exhibition from a dock — or they can choose to swim, float, or canoe to see the artworks close up. This show shares a concept with Surface Tension, an exhibition which was held in an Austin swimming pool a few years ago and featured some of Partial Shade's members.
For viewers unable to attend alligator, Partial Shade plans to post documentation of the show on the group's website. About the group's larger mission, Partial Shade told Glasstire:
"Partial Shade has been a really fulfilling and generative undertaking for us so far. It gives the artists we work with an opportunity to experiment with work that wouldn't otherwise fit comfortably in a traditional gallery space and it also operates as a sustainable and flexible exhibition platform since we're not tied to a specific piece of real estate. As we're moving into our third show and more people are becoming familiar with our project we've having more and more conversations about future locations for shows and the project is growing in a wonderfully organic and exciting way." 
October 13 also marks the opening of The Color of Love, an exhibition organized by curator Max Fields and held in My Friend, a small house gallery run by artists Melinda Laszczynski and John Forse in Paris, Texas. Fields, who has been working on the show as his first project after graduating with an MA from the Center for Curatorial Studies at Bard College, is no stranger to the Texas art scene. Before he went to New York for graduate school, he worked at the Contemporary Arts Museum Houston and was the director and curator for Suplex Projects, a curatorial collaboration that presented exhibitions in mainstream and alternative Houston spaces. During that time, Fields and his collaborators organized shows featuring works by Justin Boyd, Jamal Cyrus, Lauren Moya Ford, and Ryan Hawk, among many others.
The Color of Love features works by New York artist Peggy Ahwesh, Washington D.C. artist Julia Brown, and New Orleans artist Skylar Fein, and explores themes of racism, small towns and the sociopolitical structures of the American South, and the varying concepts of memory, using the charged history of Paris as a backdrop for each artist's work. Fields talked to Glasstire about the project and his connection to the region:
"I'm thrilled to have an opportunity to organize an exhibition in Paris, Texas. Years ago, I was a photography student at Texas A&M University – Commerce, so I have a deep familiarity with the area, its history, and the people that live there. When John Forse and Melinda Laszczynski asked if I would be interested in presenting an exhibition there, I jumped at the opportunity to revisit the history of the area and think about connections between Paris, the American South, and the current sociocultural and political moment within which we live. The resulting exhibition is less a commentary on Paris, but instead explores issues that are shared by cities and towns across the country. Rather than shine a light on Paris' dark histories, I'm interested in opening up a conversation about obscured histories that haunt the development of America. It's a project that attempts to expand definitions of cultural memory, place, and power. It's a tall order, of course, but I hope that this exhibition can be a starting point for a more expansive conversation that potentially will lead to an expanded exhibition and publication later down the road."
The Color of Love will be on view through November 10, 2018. To make an appointment to view the exhibition, contact Max Fields at maxcfields [at] gmail.com.