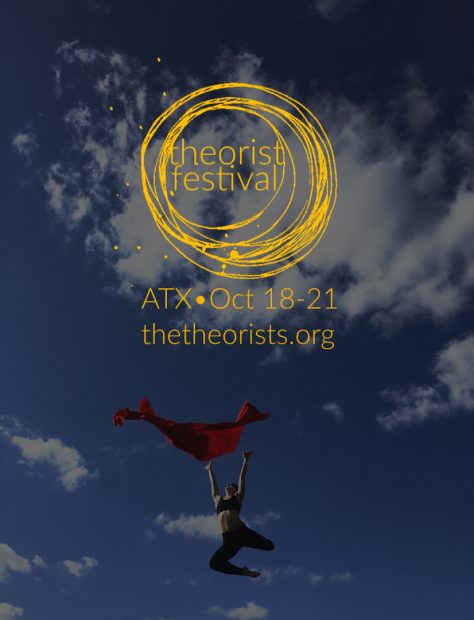 Theorist Festival, a diverse and global festival of dance, live music, film, multimedia, and master classes returns to Austin's Zilker Hillside Theater from October 18-21, 2018. The Theorist Fest features 44 artists from across the U.S., Mexico, and the Middle East.
The Theorists are a global consortium of artists engaged in a variety of dance techniques, including Classical Ballet, Gaga, Countertechndique, and Gyrokinesis. Based in Austin with performers from across the globe, the Theorists regularly perform in Austin and throughout the U.S. and internationally. Their mission is, via their website:
"Our disciplinary collaborations welcome people of diverse ages, abilities, and backgrounds including a physicist, psychologist, dance ability activist, geologist, database architect and analogue guru on our movement research. We have never claimed to nor ever intend to understand everything. Rather, we desire to create a space to play out impossible tasks with optimism."
Some of the highlights from the festival include: A screening of the film Mr. Gaga about the life and work of dancer Ohad Naharin and his "movement language;" a concert by Bob Livingston and Oliver Rajamani with dance accompaniment by Anu Naimpally; multimedia installations by Jason Akira Somma; and master classes in a variety of dance techniques.
See a full schedule of events below. You can RSVP for events here.
Theorist On Screen · October 18th · 5PM-10PM · South Austin Film Screenings & Opening Shindig
Theorist Live · October 19th · 7PM-9PM · Zilker Hillside Theater Live Music with Cowboys & Indians, & Multi-Media Installations
Theorist Gala · October 20th · 7PM-9PM · Zilker Hillside Theater Live Music with Mat Shields, & Multi-Media Installation
Theorist Toolbox · October 20th · 12PM-5PM · UT Master Classes in Gaga, Countertechnique, Contemporary Ballet, & Multi-Media Lab