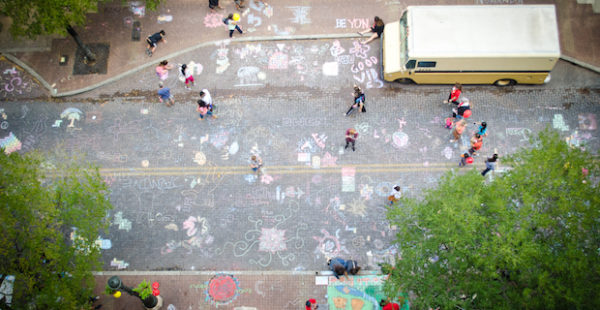 This coming Saturday, October 13, 2018, marks the return of Chalk It Up, an event that showcases artists and raises funds for programming for Artpace, the San Antonio non-profit exhibition space and artist residency. For the first time, Chalk It Up will be held right outside of the organization's doors.
Chalk It Up's chair, Alexandra Cavazos, says of the coming event: "This festival embodies the spirit that art brings to our community while showcasing our city's creative talent! Envisioned in 2004 as a fundraiser event, Chalk It Up has grown to be one of San Antonio's most beloved fall festivals."
This year, Chalk it Up's featured artists are the Borderland Collective, who will create work related to their Artpace exhibition One to Another, which explores the global migration crisis. Other San Antonio-based artists making work for this year's festival include: Jose Balli, Sarah Barcus, Lucas Dooley, Raul Gonzalez, Justin Parr, Katie Pell, Jeremiah Teutsch, and Nancy Wood, among others.
Chalk It Up is one of San Antonio's most popular art events, and is highly interactive and participatory. In addition to all of the artists mentioned above, over 50 local student groups will compete to create original chalk murals. Sponsors and businesses will also compete, with original works, in the Corporate Competition.
The event is designed to be fun for the whole family; in addition to all the murals and drawings on display, Chalk It Up will feature food trucks, live music, and 'Chalka Khan,' a Spirograph-inspired interactive sculpture by artist Reagan Johns.
Go here for more information about the event.