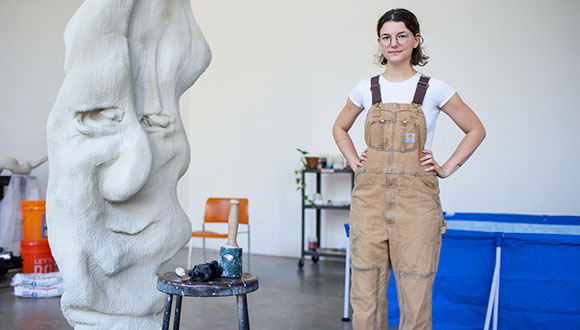 The UMLAUF Sculpture Garden & Museum, a sculpture park and gallery dedicated to preserving the work and legacy of Austin artist Charles Umlauf (1911-1994), announced that Shanie Tomassini is the winner of its 2018 UMLAUF Prize. Awarded yearly to a graduate student at the University of Texas at Austin (where Umlauf served as a professor for 40 years), the prize comes with an exhibition in the indoor gallery, as well as a chance to install works throughout the lush garden space.
This year's juror, Texas-based artist and professor Sedrick Huckaby, selected Tomassini out of twelve candidates. Past UMLAUF Prize winners include Ryan Hawk and Gracelee Lawrence (selected by Suzanne Deal Booth); Elizabeth McClellan (selected by Don Bacigalupi); and Bucky Miller (Selected by Bill Arning). Huckaby commented on why he chose Tomassini for the prize: "By marrying thick, palpable, abstract structures created from diverse materials with interesting ideas of algorithms and inverse forms, Shanie's work shows a brilliance and uniqueness that needs a larger platform."
Tomassini's show, Slippery Clump, will open at the UMLAUF Sculpture Garden & Museum on September 6th from 6-8PM and run through November 4th. Like Gracelee Lawrence's 2015 outdoor installations, Tomassini also plans to play on the six-acre park's water features by installing fountains throughout the space. The show will also feature sculptures and other installation elements.
Tomassini talked to Glasstire about some of the concepts behind her show: "I've been guided by physical and conceptual attempts to challenge the integrity of the things that surround me. I try to isolate the substance of a form until something new arises. It's a playful and doubtful quest that leads me to various states of in-betweenness.
"The work I have been doing evolved through an array of techniques, ranging from mold making to stone carving, digital to handmade. For this show, I took the "sculpture garden" status of the museum quite literally and decided to grow moss on my sculptures. They will evolve and transform through the two-month duration of the show. I hooked everything up to a watering system and hoped for the best. Maybe life will carry on."
Tomassini moved to Texas in 2017 to obtain her MFA at UT Austin. Prior to that, she graduated in 2014 with a BFA from the University of Quebec in Montreal.