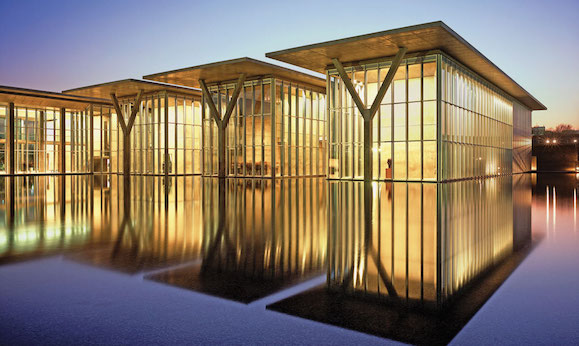 Glasstire has long been a fan of The Modern Art Museum of Fort Worth's programming (in 2011, we celebrated our 10th anniversary with a panel discussion at the museum). Their acclaimed lecture series, Tuesday Evenings at the Modern, features artists, curators, filmmakers, and other individuals both associated and not associated with the museum's current projects. Organized by the artist Terri Thorton, the Modern's weekly series offers fun, humorous, and insightful conversations that are free and open to the public.
This week, the museum released its fall 2018 lecture schedule, which includes talks and conversations by nationally known artists like Laurie Simmons and Liliana Porter, and Texas-based artists like Iva Kinnaird and Shelby David Meier. See a full schedule below, via The Modern. To hear podcasts of The Modern's past lectures, go here.
Kambui Olujimi
September 4, 7PM
Artist Kambui Olujimi explores the political landscape in relationship to his art practice and presents his work in public spaces and his collaborations with For Freedoms, a platform for civic engagement, discourse, and direct action for artists in the United States. In particular, Olujimi shares his own contribution to For Freedoms' Fifty State Billboard projects.
Robert Buck
September 11, 7PM
New York-based artist Robert Buck, whose biography locates him in "far west Texas" and who, through a commitment to language in his art practice and for conceptual purposes, changed his name from Beck to Buck, is accompanied by a sign language interpreter as he shares his work and ideas in a special presentation titled "Beauty is the last defense…"
Jonathan Marshall
September 25, 7PM
Austin-based artist Jonathan Marshall presents "WAS HERE," also the title of his recent solo exhibition at GRIMM gallery in New York, an investigation into historical perspectives and how they relate to a sense of place. With this presentation, Marshall conveys his commitment to making and offering ideas as a means of declaring one's presence on this planet at this time, what he sees as the thread that connects the ancient language of Art since its inception.
Iva Kinnaird in conversation with Shelby David Meier
October 2, 7PM
Houston-based multimedia and performance artist Iva Kinnaird is in conversation with Dallas artist Shelby David Meier, whose multifarious work reflects an interest in the "mundane." Meier and Kinnaird share a comedic intelligence. They have collaborated on an exhibition of their work, and both have the distinction, among others, of showing individually at Culture Hole in Dallas.
Andrea Karnes in conversation with Laurie Simmons
October 9, 7PM
Artist Laurie Simmons discusses the making of the Modern's major survey Big Camera/Little Camera with the exhibition's curator, Modern Senior Curator Andrea Karnes. This special presentation offers insight into Simmons's work featured in the exhibition, her career, and the processes and premise of Big Camera/Little Camera as a collaborative effort between artist and curator.
Noah Simblist and lauren woods converse with a special guest (TBA)
October 16, 7PM
In a panel discussion titled "What Remains: The Legacy and Future of Confederate Monuments," curator, writer, and artist Noah Simblist and artist lauren woods converse with a special guest (TBA) concerning the ways that communities tell the stories of our shared histories through art, scholarship, archives, and the built environment, with a crucial element of the discussion being the yet unresolved issue of how we reconcile competing perspectives on the same moment in time, whether it is the Civil War, Reconstruction, Jim Crow, the Civil Rights era, or Black Lives Matter activism.
Hans Butzer, AIA
October 23, 7PM
Architect and director of the University of Oklahoma College of Architecture Hans Butzer, AIA, in conjunction with Fort Worth AIA's 2018 Design Awards, presents the ideas and practices behind BAU, Butzer Architects and Urbanism, where they "design place that is between and within, and that is legible and with purpose."
Liliana Porter
October 30, 7PM
New York-based artist Liliana Porter works across media producing "theatrical vignettes" that, she explains, are "constructed as visual comments that speak of the human condition." Interested in "the simultaneity of humor and distress, banality and possibility of meaning," Porter presents such work and ideas for this Tuesday Evenings presentation.
Laurie Simmons and Carroll Dunham
November 13, 7PM
Artist Laurie Simmons is in conversation with her husband, artist Carroll Dunham, for an extraordinary presentation in which the two renowned artists discuss the role art plays in their life together and how their life together informs their art, all in conjunction with the Modern's survey of Simmons's art, Big Camera/Little Camera.