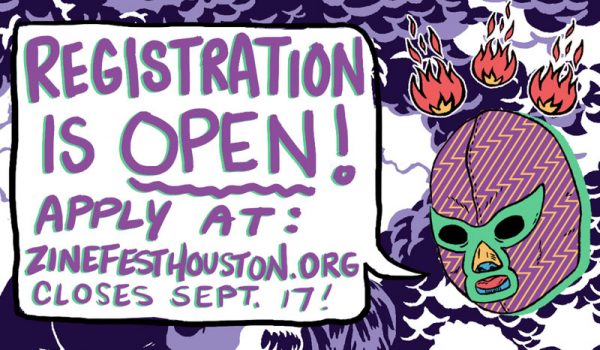 Today, Zine Fest Houston (ZFH) opened registration for its 2018 event, set to take place on Saturday, November 17th from 12-6PM at Lawndale Art Center in Houston. This is the third year of ZFH's partnering with Lawndale to fill the space's one upstairs and two downstairs galleries with exhibitors selling their zines, stickers, artist-made goods, printed ephemera and various other works. Prior to being hosted by Lawndale, the organization held its annual festival at The Printing Museum in Houston, which was closed for about two years following its fire scare in May of 2016. (The Printing Museum re-opened earlier this year.)
In addition to its normal exhibitors and events, the 2018 ZFH will be the inaugural year for the shane patrick boyle Memorial Grant for Emerging Zinesters. Named in honor of ZFH founder Shane Patrick Boyle, who unexpectedly passed away in 2017, the grant will provide an artist stipend of $200 and a free half-table exhibition spot to a queer zinester interested in showing their work at the festival. Applications for the grant are now open, and are due by September 17th. (Update, September 21: the application deadline for the shane patrick boyle Memorial Grant for Emerging Zinesters has been extended to 11:59PM on September 30, 2018.) ZFH organizers Maria-Elisa Heg, Anastasia Kirages, Evan McCarley and Sarah Welch said of the award:
"We are proud to launch this special initiative honoring shane, who always encouraged
creative expression and embraced the unique members of Houston's DIY community. We hope to keep his legacy alive by providing support to emerging LGBTQ+ creators, and also especially encourage POC to apply."
Applications for tabling at ZFH 2018 are open through September 17th. Full tables (72″ x 18″) are $30, and half tables (36″ x 18″) are $15. Go here for more information and to register.
The 2018 ZFH theme is wrestling, meaning that programming during the event will cover the history of the sport. Other programming will cover healthcare options for freelancers, artists, and those who are self-employed. There will also be workshops on zine making for teens and kids, along with workshops on DYI animation.
Zine Fest Houston will be the featured organization benefitting from Fresh Arts' Cultured Cocktails fundraiser on August 23rd, from 5-8PM at Boheme Cafe & Wine Bar in Houston. The money received will help ZFH raise funds for the shane patrick boyle Memorial Grant for Emerging Zinesters.