I overheard a couple of gentlemen talking about Obama on Steel (2018) during the opening of PURE EVIL: STEEL SHARPENS STEEL, at Cindy Lisica Gallery in Houston. It started with one man ogling the painting, talking about how cool it was. The other man — perhaps it was the artist PURE EVIL himself (real name: Charles Uzzell Edwards) — responded in that kind of dismissive, bad-boy way that I guess is supposed to make the work seem more flippant, punk, happenstance: "He's blond, so maybe it's Eminem." He said it in such a way that it was clear he meant that the character in that painting could have been Barack Obama, could have been Eminem, or could have been Homeless Joe Schmo from down the street. And he's absolutely right; the content in STEEL SHARPENS STEEL does not matter. 
Summertime, historically, has not been the season for galleries to present conceptually rigorous solo work. In most galleries, summer exhibitions are often light and mildly tedious group shows. But STEEL SHARPENS STEEL epitomizes soulless art-fair schlock. And there's already plenty of schlocking that goes on in Houston. Hell, there's enough schlocking that goes on at 4411 Montrose, the complex that houses this gallery along with four others. So why is this show particularly disappointing coming from Cindy Lisica?
Cindy Lisica Gallery hasn't been around a long time, but it has already built a reputation for showing work that — while not always fully mature or realized — is at least sincere. It's hard to imagine PURE EVIL and the likes of the far more thoughtful Anthony Suber or Jennifer McClish, to name two, being shown in the same gallery. 
But of course over the last decade (much longer, really) there has been an influx of street art making its way into traditional gallery systems, which is generally a problem in itself. Some well-meaning gallery directors want to exhibit "edgy" work that's made on the margins of society as some kind of noble anthropological experiment. (Some just see dollar signs.) The paradox of showing this kind of work in a commercial setting is that doing so it cuts the work off at its knees, politically and contextually. The crux of street art is to be illegal, marginal, populist, ephemeral. Harnessed into a gallery context, it's simply reduced to a tidy commodity masquerading as its former self.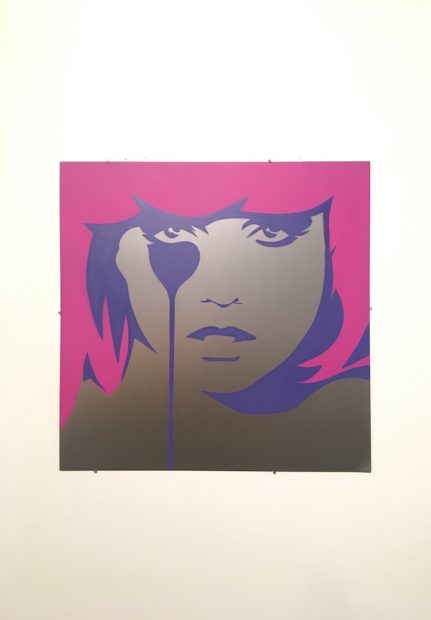 STEEL SHARPENS STEEL is worse: It employs the vocabulary of street art, and the vocabulary of Pop Art, without actually embodying the spirit of either. It barks its 'edginess' without bite; it's derivative of worn-out Warholian style portraiture and the Pop Art's predictable touchstone of Mocking the Abstract Expressionist Drip. There are moments of potential in PURE EVIL's work, like when the paint-drip tears of some of the paintings' subjects fall beyond the frame onto the wall and pool on the floor. But the sculptural flimsiness of the pool on the floor is just a commodified gimmick, rather than genuine experimentation.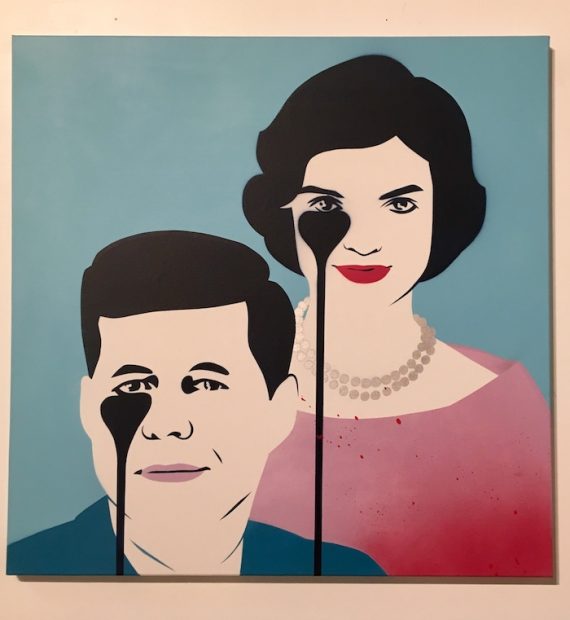 To be fair, there are some stand-alone paintings here that work within PURE EVIL's limitations as an artist. The pooling, bullet-hole tears feel pertinent and macabre in JFK and Jackie Last Days (2016). It suggests a push-pull narrative of how our society fetishizes the Kennedys as American royalty, and still aggrandizes and romanticizes JFK's assassination as fodder for political trolling and conspiracy theories. So the emptiness of this painting makes complete sense, whether intentional or not. Blondie on Steel (2018) reads as genuinely irreverent, sexy, and heroic in a nostaligic, adoloscent Jem and the Holograms kind of way. But the impact of these works is muddied and lost amidst the show's seriality. PURE EVIL seems to assume that because the tear drip works on some of his portraits, he can slap it on any old celebrity and it'll have the same effect, and it doesn't.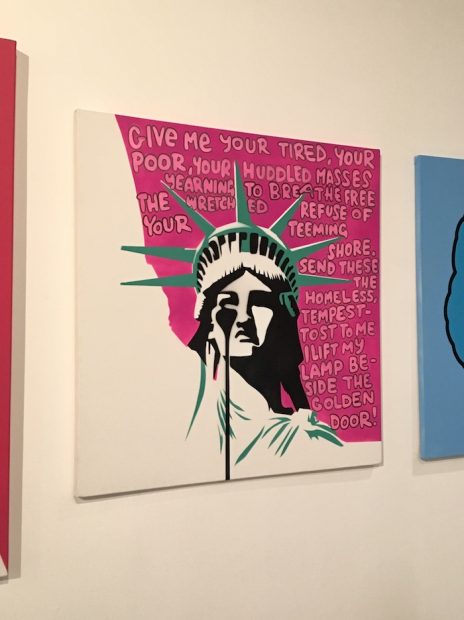 Where STEEL SHARPENS STEEL really goes off the rails is when it ventures from tepid semi-political portraiture to vapid and total political statement. I suppose the tear-drip Statues of Liberty in AMERIKA or the "Impeach Trump" print are fine, if not completely tepid. America's Nightmare (2018), on the other hand, is offensive. In a time where honesty feels irrelevant, where facts don't seem to matter, a place where little kids may never see their parents again, and where the rights of everyone who isn't a straight, white, wealthy Christian man feel genuinely at stake, the Simpsons-style cartoony text font and tear-laden Statue of Liberty represent the blasé, pretend protest art that I have run out of patience for. 
At Cindy Lisica Gallery in Houston through September 1, 2018