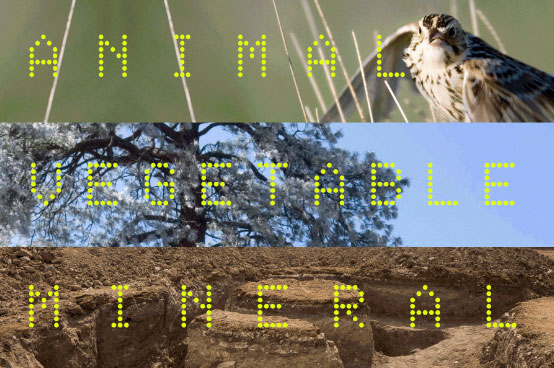 In conjunction with its current exhibition Hyperobjects, organized by Ballroom Marfa's director and curator Laura Copelin in collaboration with philosopher and Rice University professor Timothy Morton, Ballroom has organized three programs this month that go beyond offerings typical of art institutions. Mirroring Ballroom's show with themes of art and ecology, the workshops and experiences aim to connect participants with specific elements of the natural world, thereby grounding the viewer's experiences with nature in an interaction they might not otherwise have. Programs run August 5, August 24, and August 26. More information is below, via Ballroom Marfa.
Hyperobjects — Animal
Sunday, August 5, 7:30AM – 10:30AM
Mimms Ranch, Marfa, TX
A field workshop and discussion on grassland birds with ornithologists from the Borderlands Research Institute (BRI). Workshop includes a hands-on catching and banding demonstration on Dixon Water Foundation's Mimms Unit, followed by a conversation with regional ornithologists from BRI, Denis Perez and Mieke Titulaer. Through research and monitoring, the group works to understand environmental factors contributing to the decline of migratory bird populations of the Chihuahuan Desert and the Big Bend Region.
Hyperobjects – Mineral
Friday, August 24, 6PM – 7:30PM
The Capri, Marfa, TX
Free Exposure Soil Tasting – that's right, soil tasting – with artist and ecologist Nance Klehm. Also known as geophagia, the practice of eating earth or soil-like substrates such as clay or chalk has a deep history and is practiced by various cultures around the world. For this program Klehm will collect soil from various locations around Marfa and guide participants through a tasting, explaining what minerals and biological processes cause the different 'notes' and flavors.
Hyperobjects — Vegetable
Sunday, August 26, 9AM – 2:30PM
The Davis Mountains Preserve, TX
A hike through the Ponderosa Pines with ecologist Charlotte Reemts. Ponderosa pine populations have drastically decreased in the Davis Mountains, so Reemts and The Nature Conservancy have partnered with Texas A&M University to carry out 'Operation Ponderosa' – an initiative to restore and protect the ponderosa pine population in the area. Join Ballroom for this walking lecture in the sky island that is host to the Ponderosa.
Enrollment is free but limited. To enroll in any or all of the programs, email [email protected] or call 432.729.3600.