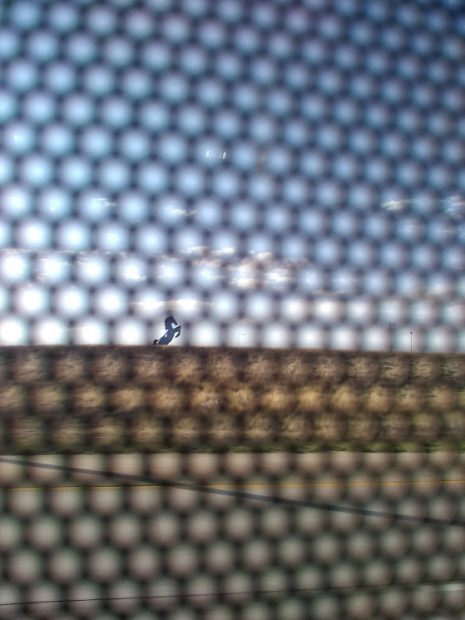 My first impressions of Denver on my first visit were exactly what I expected. The air was dry and clean, the population overwhelmingly white and insouciantly unfashionable. Ghastly jam band The String Cheese Incident (who apparently in a Doctor Yakub-like affront are combining bluegrass and EDM) were headlining three nights at Red Rocks, and I heard the word "cheese" float through snippets of conversation throughout the weekend. Leaving a record store, a bro on a solo wheel whizzed by — "Dude just buy a fucking cheese ticket," he croaked into his cell phone. 
I had a lovely time. The people were all very friendly; the food was good, albeit very bong-forward (e.g. most restaurants seem to have some kind of "loaded tots" on the menu). What surprised me was a current of fear and mania that ran through Denver's art installations and museums. I thought of the Denver of the 1970s that Denis Johnson wrote of in Jesus' Son, how the hardness of the mountains will make one see things. Here are some highlights. 
Luis Jiménez's Blue Mustang at the Denver Airport
In 2006, en route to moving to Seattle, I visited my sister in Roswell, New Mexico where she lived for a year on an artist residency. We drove a couple hours to the great artist Luis Jiménez's studio, where he gave us a generous tour of his studio including a giant piece he had been working on for years — Blue Mustang. Seeing sections of the giant, electric-blue mustang rearing in majesty… this was not merely public art, but in the realm of those statues of Buddhas commissioned by mining billionaires in China (the Buddhas kind of look like them) that are meant to shock by size, to create a momentary break in reality. Jiménez talked to us about his struggle to make this piece, and his feuds with the Denver Airport. "This horse is going to fucking kill me," he said bitterly. Very shortly after, a section of the horse fell on his leg, severing an artery and killing him.
I had never seen the actual installed horse until leaving and returning to the Denver airport. Entering the airport, seeing the horse in the distance and knowing its mythically heavy backstory plays as a very cutthroat zen koan when you're about to fly in an airplane: "Relax, a horse might come from out of the sky and kill you… ." 
Clyfford Still Museum
Clyfford Still pulled off the ultimate high-T, Ab-Ex white dude move: the posthumous solo museum. The stately museum, with its breathless, vaguely cultish wall descriptions (several of them amount to "This is a flowchart of Still's genius"), and reverential staging of his gorgeous, incandescent large works attains a sort of holy triumph of ego. "He would have loved this," you think. I vaguely presumed that there was some Colorado connection to Still and that's why the museum is in Denver. Wrong. In one of the greatest art-estate flexes of all time: 
"After the artist's death in 1980, the Clyfford Still Estate was sealed off from public and scholarly view. Still's will stipulated that his estate be given in its entirety to an American city willing to establish a permanent museum dedicated solely to his work, ensuring its survival for exhibition and study. In August 2004, the City of Denver, under the leadership of then Mayor John W. Hickenlooper, was selected by Still's wife, Patricia Still, to receive the substantial Still collection."
Imagine pulling that off. All of Still's large works are described by their energy or warmth, but, perhaps due to being up in the mountains, there's a howl in the pooling blacks and blues, the charge of the abyss. 
Jeffrey Gibson at the Denver Art Museum 
I loved the Denver Art Museum, and how it currently cannily presents a very blunted series of exhibitions: Stampede: Animals in Art; an exhibit on Ganesh; and a sprawling show of contemporary landscape photography. All are much more inventive and vital than their titles suggest. Stampede features several contemporary Native American artists alongside beautiful works by Native Americans from the late 19th Century. The Ganesh exhibit features a two-armed stone Ganesh from Cambodia, circa-700 AD, that is so smooth and detailed I expected it to crack and animate to life.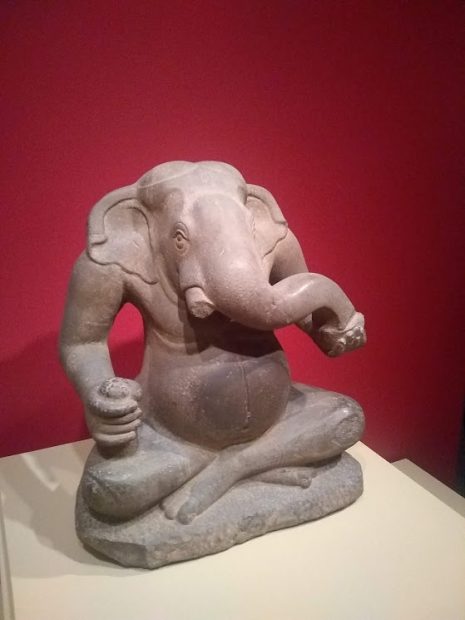 The ground floor hosts a highly emotional, epic show by queer Native American artist Jeffrey Gibson titled Like A Hammer. The show is very upfront about its trauma and catharsis. Gibson slashed his canvases, washed and dried them at a laundromat, took up boxing. The show, with its beaded heavy bags, kachina-like figures, and patterned geometric paintings on animal hides, is raw and open, and somewhat exhausting. George Michael's Freedom plays loudly throughout the exhibit. The experience is not unlike D'Angelo's triumphant, exalted comeback Black Messiah — a POC artist has walked through hell and lived to tell about it, elated if slightly crazed. 
The CELL: Counterterrorism Education Lab 
Right across from the Denver Art Musuem, and in spirit a diametric opposite to the Gibson show, is one of the strangest "museums" I've ever encountered. With its cut-rate "digital" graphic design and red plastic walls, I at first thought it was an Escape Room place where coders go for mandatory team-building retreats; then I thought it was perhaps some Banksy-like prank. No, apparently, and I'm still reeling. The CELL is 100% serious and backed by people like Newt Gingrich and the Mayor of Jerusalem. The exhibits include replicas of weapons used for terror, ranging from a machete to sarin gas. In The CELL's horrifying centerpiece, you are locked in a room, that through surround sound and video places you in downtown Denver. "It could happen ANYWHERE," a voice bleats; there is a massive explosion and a collage of actual footage of terrorist attacks and their aftermaths. This piece is undeniably effective, if fascist and deranged. It is as if Michael Haneke adapted a Michel Houellebecq novel for a planetarium. Lastly, there's a video of recommendations for how to detect terror. "Paying in cash is suspicious and should be reported." In the video, a severely divorced-looking man tries to pay another slightly less-divorced man for a horse, with cash. The seller frowns and immediately dials the number for the creepy snitch hotline run by The CELL — the "Colorado Information Analytic Center," which flashes on the screen. At this point, I was feeling faint, like Tony Soprano catching a panic attack. 
Staggering out of the museum, I thought of how Hunter S. Thompson, who famously lived in Colorado, wrote that we are entering into an insane fascist forever war, and then shortly after shot himself. But these dark vibes were washed away by good omen from a trickster spirit. My friend and I deeply suspected our Airbnb host in Denver was a white rapper. Perhaps it was the way he said "For real" on the phone, or that all the books in the apartment were in the success-win motivational  genre, or that he had set a large wall clock to permanently read 4:20, but we spent most of the trip laughing about this and exchanging made-up white rap bars ("You are listening to the confessions of a white ironist/looking for a lioness"). On our last day, leaving a Denver brewery, I spotted a crew filming a thin, tattooed blonde man in shades prance around and serve face. "White rapper!" I shrieked in pure joy, as the man skipped down the sidewalk in the crystal alpine air, rubbing his fingers together in the international sign for money. 
(Images via N Fauerso unless otherwise indicated.)