Scarlett Johansson isn't even on my top 100 list for living big-name actors, especially since she's spent the last eight or so years willingly trapped in the body of Marvel's incredibly boring Black Widow. (Six movies down, and two in the pipeline.) During this time, she made a couple of interesting choices when she did Under the Skin and Her, both released in 2013, and while Lucy, from 2014, wasn't a good movie, I don't blame Johansson for giving a Luc Besson-directed vehicle a shot.
This last weekend it was announced that Johansson has dropped out of a movie project called Rub & Tug, where she was to play the role of Dante "Tex" Gill, a real-life crime kingpin in 1970s  and '80s Pittsburgh who was born female but lived as a man. When the project was first announced, a week or so earlier, trans actors and queer activists — as well as just generally the liberal media — weren't happy about Johansson taking the role, and the op-eds and social media universe exploded with both legit arguments about representation, and sneers about Johansson's judgement and acting chops, and even groans about this movie being made at all if it needed such a big name attached to it to be green-lighted. 
But things are so nuts now with our administration and political climate — so many marginalized groups and minorities are under new or renewed attack — compared to how things felt as recently as 2013, when the producers of the show Transparent cast Jeffrey Tambor as one of the leads in the Amazon series. Last year, after four seasons with the show, Tambor, who played an aging (and often cluelessly entitled) retired college professor and dad who is transitioning from male to female, was canned from the show when sexual harassment allegations were made against him by some of the show's cast members. 
Transparent is steered by its creator Jill Soloway, and what is perhaps the most 'woke' team of woman and gay writers and producers you could possibly assemble in the state of California. In 2014, when Transparent debuted, acclaim for the show (and its casting) seemed unassailable. Getting the show's storylines very right — at least three of which center on LGTBQ lives — was the groundbreaking point of it, and Tambor's performance was consistently stunning. But… that was all between 2013 and 2017. Ever since the allegations against Tambor surfaced in November, vehement arguments have followed that Maura/Morton Pfefferman should have been played by a trans actor all along. And it almost feels like those arguing for it have dismissed the show altogether because of it, despite any progress the show made in getting LGTBQ stories in front of a large audience, and doing it with tremendous grace, humor, and dignity. Which in turn feels like a baby/bathwater casualty of our time.  
I bring this up because over the last couple of weeks I've been watching Baskets, a dark and quiet comedy (two seasons in now) on FX helmed by the comedian-actor Zach Galifianakis, about a deadbeat rodeo clown struggling to make it in Bakersfield, California. Galifianakis plays the clown, and his mother, which is a key role, is played by Louie Anderson, a comedian who I personally hadn't thought about once since the late '80s. He is astonishingly good as Christine Baskets, a complicated women in her 60s who loves Ronald Reagan and Costco, and who despite her upbeat exterior is perceptive as hell, is haunted by her past, and secretly worries that she's wasted her life. I didn't even know Louie Anderson was on the show when I decided to start watching season two (on an airplane; there were four late episodes available on in-flight entertainment), but once I started I was so taken with Christine that shortly after I started the series from the beginning, and kept watching — again, due to Anderson.
While I was halfway through season one, I listened to a radio interview with Anderson about the role, and he spoke about how much he's channeling his own mother through the character (his mom raised 11 children), and what it means to have this role in light of his uncomfortable upbringing, his flagging career, his mental health, and the recent death of his brother. And I know when I'm watching Anderson play Christine, he's honoring his dead mother so eloquently and sympathetically that you can see both his own grief and hers all at once. It's reduced me to tears, more than once, in the middle of a sunny Saturday. (This is what comedy is up to these days.)
I haven't read about any backlash to Anderson being cast as a woman. All I've seen in the press is praise for his work on the show, and Anderson has been nominated for and won awards for it. But if you follow the logic of the arguments post-Tambor Transparent and post-Johansson Rub & Tug, Anderson shouldn't be playing Christine Baskets. A woman should. And granted, it feels like the majority of the shows I've streamed over the last five years have centered on women characters played by fantastic women actors: GLOW, Happy Valley, Insecure, Broad City, Fleabag, Catastrophe… I could go on. These are the stories, the characters, that grab and keep me. Christine Baskets could have been played by any number of accomplished women actors in their 60s. But Galifianakis and Basket's producers (one of whom is Louis CK; let's not pretend otherwise) identified a very certain quality they wanted the mom to have, and, being familiar with Anderson through comedy, knew he was their woman. 
Did I ever tell you the one about all the research that points out that men and women can be (and often are) far more like one another, as individuals, than they are different, and that any one woman has no more or less in common with "women," as a demographic, than she does any man? And vice versa? Do you believe it? I do. 
I also believe that acting is one creative realm that honors the very idea that we humans are not defined by the characteristics we were born with or that people tend to push on us. Our stories, including our screen-centered narratives, are sacred — they are what make us human — and we get very attached to characters, and in turn the actors who bring them to us. When the New York Times ran an op-ed by a transgender women about why Johansson shouldn't play Gill and a trans person should, I got whiplash when I understood and agreed with her argument, while simultaneously agreeing with one of the op-ed's top comments (by someone signing off as Leah from Cambridge): 
"And (by this logic) Hilary Swank should not have played Brandon Teena in Boys Don't Cry, and should certainly not have won the Oscar for Best Actress for her performance. Nor should Linda Hunt have played Billy Kwan (a male) and won an Oscar for Best Supporting actress. And Glenda Jackson should have been forbidden from playing King Lear at the Old Vic. And Eddie Redmayne should have been barred from playing Einer/Lili Wegener in The Danish Gril. B.D. Wong should never have been cast as Song Liling in M. Butterfly, and won a Tony for his work.
The logical conclusion (as many have pointed out) is that all performers should be barred from playing characters who do not match their gender, orientation, and racial/ethnic identity. No black actor may be cast as Hamlet. No Asian soprano may ever sing Violetta in La Traviata. No trans woman can ever play Blanche DuBois. All forbidden.
Do not go down this road – everyone (all races, ethnicities, genders, orientations) will lose.:. ."
I want actors to get to play the characters who call to them. I don't want bad, stereotyping caricatures. I want narratives delivered by great artists and craftsmen. That's what we're expecting, and that's what we need. It's not so much about liking, or "liking," a casting decision. It's about believing in the character. If an actor can't nail the part, the entire story is wasted. Give the role to the actor — man, woman, gay, straight, old, young, trans, cis — who can make the audience engage with the story.
But representation on screen is a major, major issue for anyone who's not white, straight, and male. If all the woman characters on tv and movies were replaced by men, or if all women's storylines on screens were replaced by men's stories, I would be devastated. We all would. The variety of actors on screens these days is downright joyful, which is not a word I use more than once every five years. Queer and trans people have been showing up on screen much more often in recent years, and it only makes sense that they want to see that representation increase, not be ceded to white straight men actors, especially in the wake of Trump's election. People get rightfully pissed off and defensive when the fact of their very existence is under fire.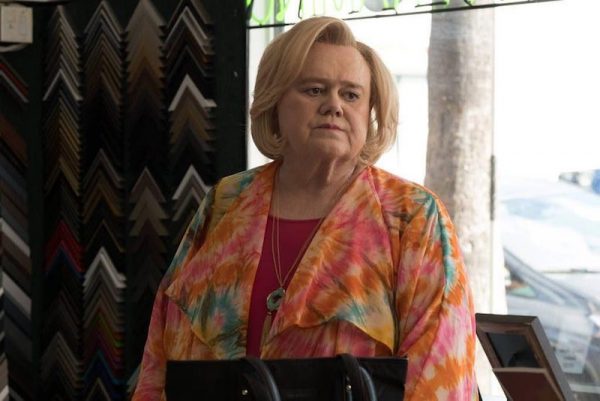 But Anderson's Christine isn't gay, and isn't trans. She's not in drag. Anderson isn't playing "a woman." Christine Baskets is an individual, a person personified by Anderson, and not a character (or caricature) agitating for political sympathy. If anything, Christine, with all her flaws, is a portrait of a lost and struggling middle-America (despite the show being set in California, given that Bakersfield is hardly LA or San Fransisco). She's overweight and has diabetes. She's falling in love with a black businessman from Denver. Her grown kids are awful, selfish humans who treat her like an irritating but necessary rest stop along the route of their own pointless lives. I love this character. I worry about her. I think about her all the time. 
I don't have any easy answers here. What I do know is that I'd love to see Buck Angel or Ian Harvie play Tex Gill, and I'd like Louie Anderson to keep playing Christine Baskets.