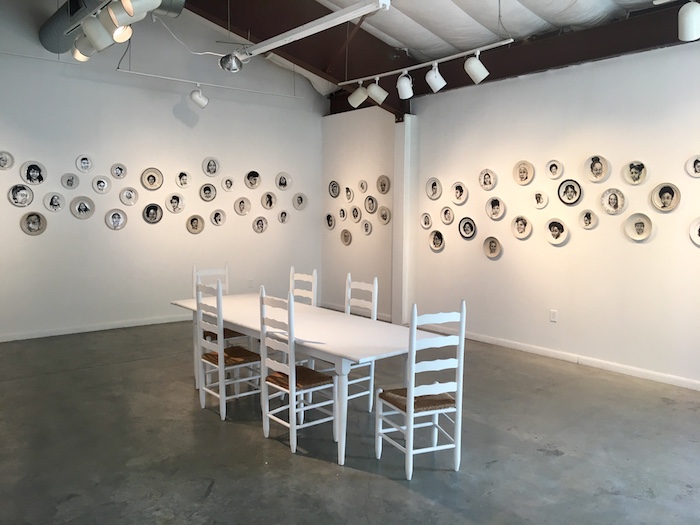 Houston-based artist Delita Martin beckons us inside her installation with The Dinner Table, currently up at Art League Houston: "Come, I have set a place at The Dinner Table for you." She has repeatedly described this work as communal, in that her table breaks tradition with her predecessors Judy Chicago and Carrie Mae Weems by leaving the table top unoccupied. With the seats intended to be filled by the viewers, Martin is creating an opportunity for us to engage with a community of black women that have impacted her life.
But to simply qualify The Dinner Table as a communal experience is trite. This work is more accurately haunting, interrogative, empathic, and confrontational. That's because Martin is doing more here than simply incorporating community members — the content of The Dinner Table is also asking us to consider archetypes of color, the history of feminist art, the history of portraiture, and the history of the gaze. 
What Martin calls "a backdrop void of color," indeed contains a color: white. The table, the chairs, the walls, even the plates on which these women's faces are painted harbor whiteness — a symbol of purity and, yes, the void, of rebirth and erasure, and perhaps most pointedly, the counterpoint to the color of their skin. Why is it important to Martin that this color — so fraught, so problematic — be emblematic of the void in this room?
And why is the table physically vacant? It is poignantly problematic that these women — heroic in some way through Martin's eyes — are denied a seat at this table. Instead, they are simultaneously relegated to and heralded on the walls, patiently watching us as we occupy the space that should be theirs, while we act as both participants and interlopers. Their silence is deafening. 
This space and sense of emptiness is as much an opportunity for interaction as it is a blunt-force trauma, a reminder of how black women are continuously silenced and projected upon, disregarded and presumed about, sexualized and stereotyped. But there's a chilling power in the sheer multiplicity of these faces, of the quiet looking back of approximately 150 black women. Varying in age from young girls to elderly women, their gaze by and large is not angry or jaded or bitter — there's genuine warmth emanating from these faces, which makes it all the more authentically painful. These women truly see us not really seeing them, and they carry on with grace and wisdom and understanding regardless of who recognizes it or not.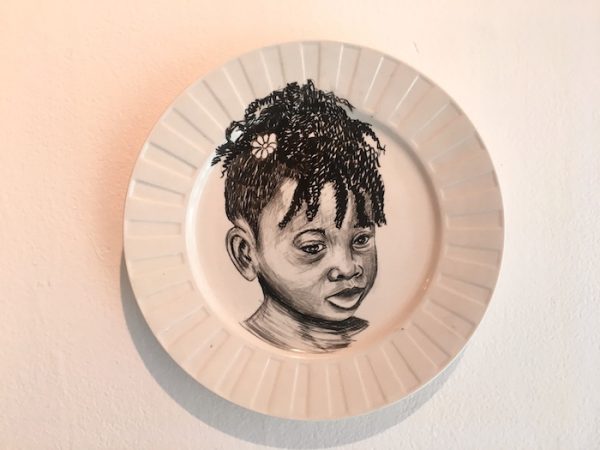 Other than an installation, Martin is also asking us to consider this work as a series of individual portraits, and while the real power of the work lies in their combinatory effect, there are a few standouts in this grouping — some that grab and maintain our attention as individuals. While most of these women are locking eyes with their viewer, there are a few here and there that are either in profile or are simply looking off somewhere else. Even though the mild-mannered yet gut-wrenching confrontation exists mostly in that eye contact, there's a portrait of a young girl near the back exit. Precious and doll-like, the girl is candidly glancing downward, just a hint of light dimming in her eyes. I've seen that look in some of my students before, when they're first starting to feel as if they aren't truly seen or heard.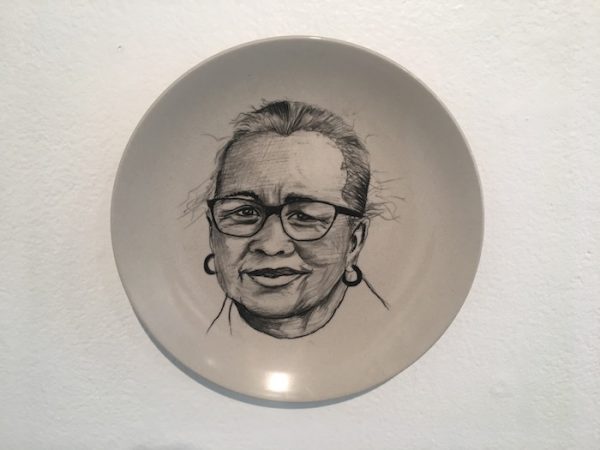 Further down the same wall, closer to the hallway entrance, there is a woman quite a bit older than that girl, and with a complex look. The brow of her left eye dropping slightly, she looks skeptical and happy and annoyed and warm — as if she wants to hug us, or see right through us, or both.
At Art League Houston through July 21, 2018.