There is a current to make high culture (museums, symphonies, etc.) more capital F "Fun". This style of "Fun" is in the nexus of flash mobs, urban scavenger hunts, restaurants that have LED tablets for tabletops, film screenings that encourage audience participation, and savory food described in some way or another as a "pop". Symphonies perform the music of Super Mario Brothers, Zelda, Final Fantasy and sell thrice as many tickets as some sturdy program of Elgar and Tchaikovsky. Museums increasingly lean towards whiz-bang "interactive" infantilized exhibits that begin to blur the lines between an art museum and a children's museum. I imagine a lot of museum director emails these days have subject lines like " How can we Meow Wolf quarter 3?" 
Honestly, I am not automatically revolted by this the way I am about, say, movies that cost the GDP of a post-Soviet bloc nation to make and are 90% CGI of an anthropomorphized board-game token. A lot of videogame music rips; many of the great minimal art installations (by Dan Flavin, James Turrell) are not that many clicks of the aesthetic dial away from that cool part of Chicago's O'Hare airport where the are lights with a music background that sounds like Brian Eno. 
What I'm saying is, I came into the Mcnay's new exhibition Immersed, in San Antonio, non-jaded. As someone who routinely visits a website called "Soaker's Forum" to see if there are any hot springs near my travel destinations, I was ready to submerge. There are four installations in Immersed, three of which we'll breeze through here. There's not much to say about Andy Warhol's Sunset that hasn't been written before (eloquently articulated on these pages by Peter Lucas for example). It's cool that the McNay got such a legendary piece from the Warhol people, especially because of its relationship to San Antonio, (where it was meant to debut at HemisFair '68). Warhol basically invented the aesthetics of hipster social media, posting 40 years before they happened. The vanity, the sheen, the obsessive reflection. Sunset, with its gorgeous flickering blur and somber intonations by Nico is basically the longest, dopest Instagram Story ever. 
The piece d'resistance of the show is Yayoi Kusama's Aftermath of Obliteration of Eternity (2009). Kusama in recent years has become a museum superstar. Her ticketed installations sell out weeks in advance and are a selfie mecca for pictures with hashtags like #kusamalifeisbeautifulwokeuplikethis. In Aftermath, you walk into a box that's then closed for a minute. The interior is mirrored and lights rise and lower giving one the experience of a flickering, multiplied infinite. Is it sort of like the climax of the weird and expensive Kurt Russell and Sylvester Stallone film Tango and Cash? Yes. Is that a bad thing? No, not really. It's a serene and fairly transportive experience, if somewhat surface-level. 
Philip Worthington's Shadow Monsters, which debuted in 2004 at MoMA, is the weakest installation in this show. Using some sort of choppy processing software to "transform" whatever is placed in front of the projector (a pool noodle, a person, etc.) in a playful "shadow monster", it is akin something a tech start-up would have at the launch party for their new gig-economy app called PeON. I understand that the stakes are fairly low for a piece like this; it's supposed to be whimsical and charming and accessible to kids (as is the entire show).  But it's frankly unimaginative and aesthetically reminiscent of Roberto Benigni's disastrous version of Pinocchio.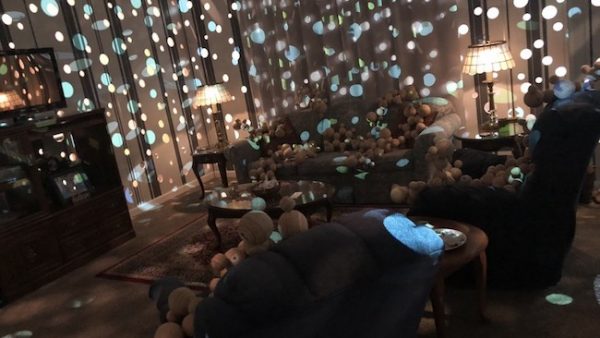 Which brings us to Pleasure Principle (pictured here and at top), local artist Chris Sauter's piece that was commissioned specifically for the exhibition and the reason that despite my japes, I consider Immersed an exciting and vital show. Of all of Immersed installations, Sauter's is the highlight — dazzling and unsettling, truly immersive and dislocating. Sauter assembled a shipping-container-like structure from wood, and furnished the inside as a pitch-perfect, depressingly banal living room complete with giant flat-screen TVs and treacly wall decorations of inspirational quotes. Holes are cut into the wood walls, and the offcuts are transformed into sculptures replicating the chemical structure of dopamine. Video projections play through the holes in the box, conjuring a surreal, ghostly, deeply lonely ambience.
The symbolism is fairly direct — being blasted by endless streams of media essentially designed to trigger emotional responses is resoundingly isolating. Pleasure Principle recalls the end of 2001, and Tarkovsky's Stalker — the idea of a "zone" where things are off. The accelerating culture immerses us in this zone, in our own individual shipping containers, adrift in space. Pleasure Principle crystalizes a profoundly sad experience in a beautiful aesthetic, and it is a testament to the show and to the Mcnay, regardless of the show's cornier elements, to give a local artist the resources to make such an impressive and essential work. 
At the McNay Art Museum in San Antonio through Sept. 2, 2018. Note: Reservations required.