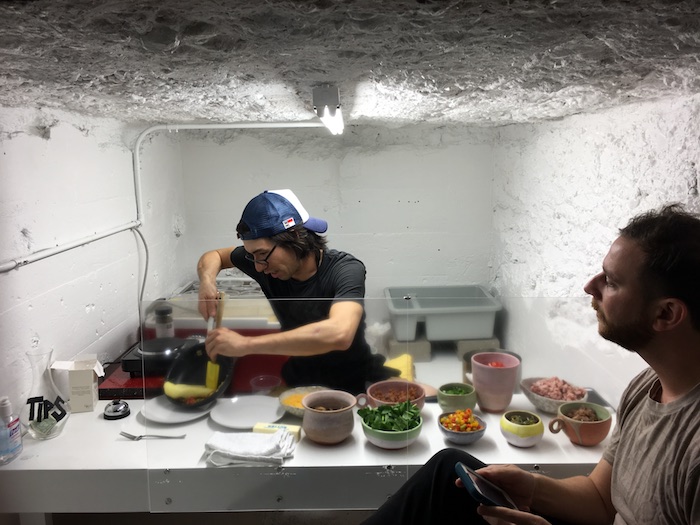 Weekend before last, on June 3, during the traditional hours of Sunday brunch, Dallas-based artist Shelby David Meier hosted a public event he titled Omellete Bar [sic, and the misspelling was intentional). The Culture Hole in Dallas, curated by artists Gregory Ruppe and Jeff Gibbons and located in the floor of the Power Station in Expo Park is an awfully good space for unlikely art and music happenings, and this one was as strange (and charming) as they come.
Meier himself played Oz that day, staying behind the scenes but watching the show through floor-to-ceiling curtains. The Power Station itself has been built out and bisected with a massive concrete wall for a recent previous Power Station show, and so for now, within the big, brutal, walled-off grotto on one side of the wall is the Culture Hole. A smaller claustrophobic space within a larger claustrophobic space.
Omellete Bar invited hungry viewers to descend, one by one, past a scrolling-screen menu of ingredients and down into the Hole, to ask the attendant unnamed chef to whip up a customized omelette, which they would sit and watch him make before ascending with their plate back up into what we can only describe as a Fellini-meets-Lynch (slightly dystopic) dreamscape of an "outdoor café" strung with lights and soundtracked by Édith Piaf. Coffee and mimosas all around. The entire thing felt as though it was happening in slow motion inside a big submarine.
It was a surreal and clever use of all of the space — the Hole and Power Station — and the good news is that it was crowded, and in the end, at the 1pm cut-off time, hopeful people had to be turned away. This reporter skipped the line and the omelette to chat and take pics, but I was told the eggs were good.
(Photos via Glasstire and Gregory Ruppe)