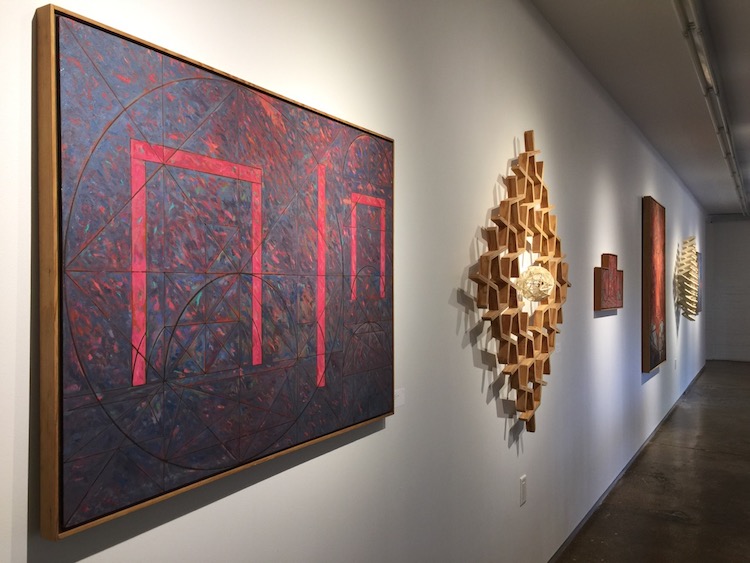 There is a solemnness engulfing Ronald Watson's show at Fort Worth's Artspace111. Five days before Voyage, his solo exhibition at the gallery, Watson succumbed to pancreatic cancer, and the context of his show changed. A couple of weeks after the opening, friends, family, and former students gathered for a memorial befitting of Watson's integral contributions to art in North Texas. Watson served as Director of the School of Fine Arts at Texas Christian University until his retirement in 2012. Whereas before, the exhibition could have been seen as a tight survey of Watson's work over the past 30 years and the artist's devotion to abstraction, the deep spirituality in Watson's paintings and drawings began to align with his soft-spoken, centered personality, and Voyage became an apt moment for reflection on the artist's legacy.
Curated by Watson's friend and longtime TCU colleague Jim Woodson, Voyage is a collection of nine paintings, a charcoal drawing, and three sculptures. Woodson's selection of Watson's paintings from as far back as 1986 reveals a consistency in subject matter by Watson, and his resolve to find deeper meaning in life through his work. In putting the exhibition together, Woodson sought pieces that drew connections with Watson's influences, and the show points to influences from Josef Albers and Buckminster Fuller.
Departure, the title of one of Watson's sculptures in Voyage, becomes a double entendre, adding to the solemnness of the show. At approximately 5' X 5′ square and diagonally hung, the sculpture's shape and composition is full of repeated shapes, with hard and soft shadows cast in the spaces between the sculpture and the wall. This pushing and pulling of the space visually vibrates, with joints and intersections forming x shapes that are repeated equidistant from each other, creating a maze of volume within the work. There are two purple x shapes in the middle of the composition that are a departure from the other sky-blue, yellow, and sea-foam green x shapes. These intersections emerge from the center of sculpture with wooden pieces like tendrils extending beyond the form and into a space that could extend uniformly into infinity. In describing such spaces in his work, Watson is quoted in the exhibition's press release as saying that they are " personal labyrinths, [and] networks of possibilities [which] allow the viewer to consider them as things in the world, and as worlds within themselves."
In the world of Watson's early paintings, bold earthy colors provide a template for marks that have strong connections to landscape, spirituality, and a nod to literary classics.
Evening Light No. 2, 1986, for example, depicts bright pink lines which form pillars and portals on a pointillist surface painted with tones of warm oranges, blues, and greens. The painting is layered with squares derived from golden-mean proportions, creating circles and triangles with intersecting lines. From these early canvases it is easy to trace Watson's transition to sculptural forms. Another example is From the Inferno V 1989, a fiery descent into Dante's second circle of hell, where Watson scrawls cave-painting-like graffiti with names like Helen, Tristan, Cleopatra, and Dido, illustrating a who's who of Hades. Even here there are beginnings of geometry and allusions to the sculptural forms that would later signify Watson's later, mature work.
Exordium, 2006, one of the other sculptures in Voyage, was created eight years before Departure. The works share the same form, dimensions, and materials, but the surface of Exordium is unvarnished. The pencil-like wood grain on the edges of its intersecting pieces counterbalances the smooth wood surfaces, adding more depth to the minimal composition. In the middle of Exordium, the center maze is removed and in its place is a paper sphere, approximately eight inches in diameter, made of isosceles triangles glued together to complete the form.  Without color to guide the viewer through the maze, the individual pieces around the sphere become an elaborate framing device with right angles and shadows engulfing the multiple geometric forms created within its volume.
Within these forms and in his writings, Watson wrote about his materials as bringing attention to the order that surrounds us. In a narrative about his work on his website, he asks: "What is the nature of the cosmos and how can it be understood… what forces were at work to create symmetry, regularity, and consistency?" In Voyage we see Watson's lifetime contemplation of these questions. Searching lattices, webs, and grids, Watson explored 'personal labyrinths' to find meaning in his world.
On view through June 16 at Artspace111, Fort Worth