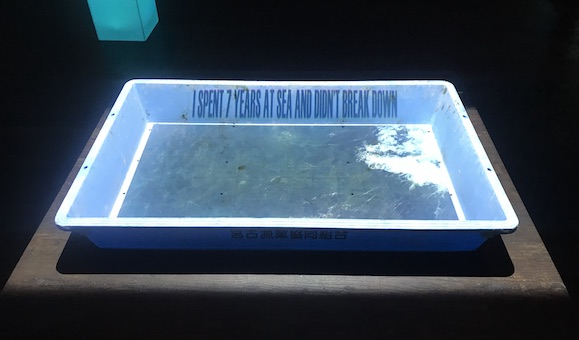 Array was a one-night visual art and musical collaboration event in Deep Ellum in Dallas, part of the larger three-week long Soluna International Music and Arts Festival, which focuses on merging classical and contemporary music with arts and technology. As a multimedia video artist, I'm always interested in how artists use technology to create innovative sculptural installations. A few challenges that new-media artists face include expensive equipment requirements and technical expertise in both installing work and maintaining the work during an exhibition, as well as lighting (or a need for total darkness in an otherwise lit gallery space). Capital One was a major sponsor for this event, so I hope the event's artists and curator received some funding for their respective commissions. Canton Hall was a perfect setting for this event — a dark club venue with enough light to safely maneuver throughout the space without compromising the integrity of the video and light works. (Similar to Aurora, but on a smaller scale.) Curator Erica Felicella chose ten local artists to create multi-sensory, immersive works specific for this event. 
One of my criticisms of some new-media work, as shown in large public spaces (like Aurora), is the emphasis on the technology as the driver for visual experience. In other words, the technology seduces the viewer, providing a stimulating "eye candy" visual, and sometimes an immersive experience, but one that's conceptually vacuous. The Array artists exceeded my expectations. Most of the artists that I spoke with were using technology as a tool in their investigations into larger conceptual issues relating to culture today. 
Please note: Given the personal nature of the experience, I was not able to document Tramaine Townsend's Virtual Reality work. Acclaim is a piece of 360-degree VR new animation. I didn't want to leave him out, so I mention him here.
'Array' took place on Saturday May 12th at the Bomb Factory and Canton Hall in Deep Ellum, Dallas