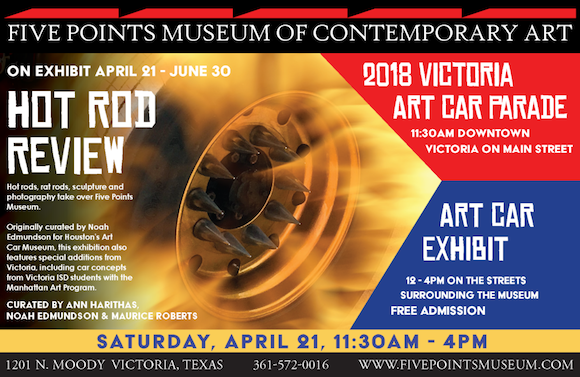 Victoria, Texas' Art Car Parade (and surrounding events) takes place this Saturday, April 21, and this year there's a free shuttle bus available to take people from Houston to Victoria for the day. It's organized by Wayne Gilbert's G Spot Gallery (in the Heights in Houston) and the bus has bathrooms and free wi-fi for its two-hour (each way) journey.
Victoria's Art Car Parade, now in its seventh year, is organized by Ann Harithas, Noah Edmundson, and Victoria's Five Points Museum of Contemporary Art. At least 50 moving artworks are included in this year's parade, which meanders through downtown Victoria from 11 am – 4 pm, followed by a BBQ from 4 – 7 pm. Via Five Points: "When the parade is complete, make your way over to the Five Points Museum and get an up-close look at the parade vehicles…" and "…several of the vehicles will remain downtown as part of the annual JAM Fest happening that day, a FREE music festival featuring artisans, live music, shopping, and great food." There's also an exhibition opening at the museum titled Hot Rod Review, which, curated by Noah Edmundson for the Art Car Museum in Houston, "…features custom hot rods, rat rods, motorcycles and other build-from-scratch rolling sculpture… ."
The shuttle leaves from Houston's G Spot on Saturday April 21 at noon, and arrives at Five Points by 2:30 pm. After all the festivities, it departs Five Points at 6:30 pm to head back to Houston.
The ride is free, but reservations are required. Call (713)-822-4842 to reserve your spot on the bus.
For more info, please go here and here.