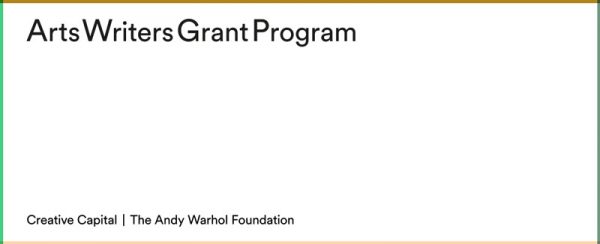 Creative Capital and The Andy Warhol Foundation announced today that applications for their annual Arts Writers Grant are now active. Open to both emerging and established writers, the grant features awards ranging from $15,000 to $50,000 in four different categories of writing: articles, blogs, books and short-form writing. There's one catch: writing produced from grantees needs to specifically address "contemporary visual art" as it is defined on the grant's website:
"By "contemporary visual art," we mean visual art made since World War II. Projects on post-WWII work in adjacent fields—architecture, design, film, performance, sound, experimental music, etc.—will only be considered if they directly and significantly engage the discourses and concerns of contemporary visual art. Projects with a pre-WWII component will only be considered if the project's main focus is contemporary."
To be eligible for this grant, an arts writer must be:
—an individual;
—applying for a project about contemporary visual art;
—an art historian, artist, critic, curator, journalist, or practitioner in an outside field who is strongly engaged with the contemporary visual arts;
—a U.S. citizen, permanent resident of the United States, or holder of an O-1 visa;
—at least twenty-five years old;
—a published author (specific publication requirements vary depending on grant category; see the project-specific eligibility requirements).
Some past grantees include Kelly Klaasmeyer, (one of Glasstire's former editors), Eileen Myles, who Glasstire brought in to speak with Catherine Opie in Houston (watch a video of the talk here), Harbeer Sandhu, the former Editor-in-Chief of Free Press Houston, and Raphael Rubinstein, who teaches at the University of Houston.
Applications are due May 21, 2018.