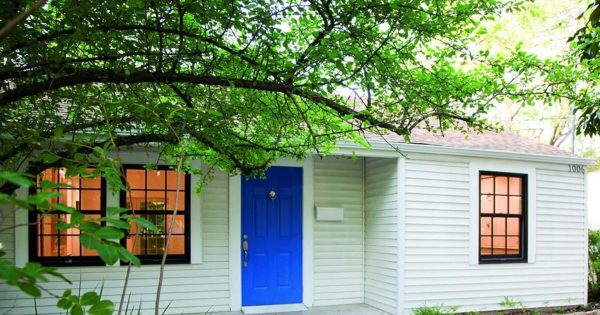 In an email this week, Marja Spearman announced that de stijl | PODIUM FOR ART, an artist-run 900 square foot gallery space on West 31st Street in Austin, will close. A ceramicist by trade, Spearman ran the gallery with fellow artists Christina Coleman and Dameon Lester. de stijl is located adjacent to another 1100 square foot building that served as a workshop space used by Spearman and others.
The gallery opened in the spring of 2016 with an exhibition featuring works by the six black alumni of the University of Texas at Austin's Masters of Fine Arts program. Since then, de stijl has featured shows with works by by Larry Graeber, the Los Outsiders collective, and Elizabeth McDonald Schwaiger & Seth Orion Schwaiger, among others. While the venue's workshop space has been leased to four local artists, de stijl's gallery building is set to go on the market soon, according to Spearman's announcement, which you can read in full below:
"2017 was a great, creative year for de stijl, and a super hard year for me personally. It's ups and downs also accelerated future plans, and prompted me to set up a place to create in California sooner, allowing me to spend more time with kids and grandkids now, and forcing me to decrease the size of my workspace here in Texas.
I considered leaning harder on Dameon and Christina during my anticipated periods of absence as an option, but they too wanted to focus more on their studio practices.
So, we contemplated other ways of doing things and ultimately decided not to continue running the gallery. We promise it wasn't an easy decision! I want to thank Dameon and Christina for everything they have done. They are the best!
We also want to thank everyone who supported us, friends and fellow artists who helped, those who came to our openings and talks, the fabulous collectors who supported our business, and especially the artists we showcased. We also owe thanks to all the amazing people who helped us produce our catalogs. Forgive me for not contacting you individually and giving you a heads up.
Of course, we won't regret our investment in supporting the arts. At the outset we had hoped to continue this for a much longer time. Those curve balls, though!
Our workshop space has been leased to four local artists. We will introduce them to you in the near future. The gallery space will go on the market soon.
We promise to stay in touch!
Marja Spearman
de stijl | PODIUM FOR ART"