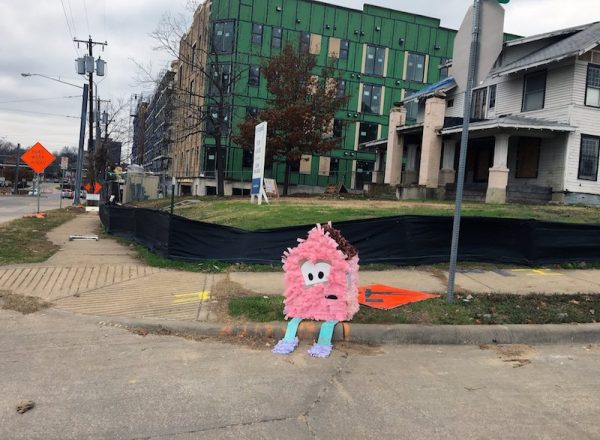 Yesterday our friends over at Dallas' Art & Seek published a nice story that demystifies the recent appearance of the small, house-shaped piñatas that have been popping up in and around Oak Cliff, specifically near big new development sites. Those of us who know Giovanni Valderas' work may have recognized them right away (although this feels like the first time he's made such anthropomorphic piñatas — they really are very sad and very cute; they practically emit imaginary cartoon 'sad horn' sound effects), but they tend to disappear pretty quickly as well. He calls them Casita Tristes (or, Little Sad Houses).
Valderas is as well known in North Texas as an effective activist working on issues of affordable housing and gentrification run amok as he is known for being an artist. He's also director of Kirk Hopper Fine Art and a college professor. He's a busy man, but he takes the time to make art work that serves as both art and community advocacy.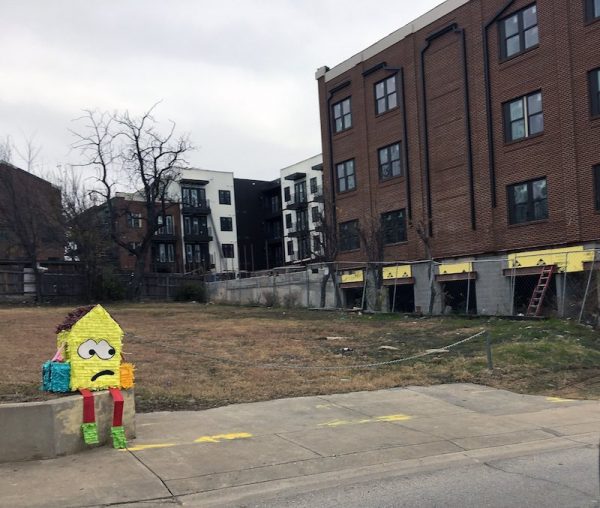 Dallas, much like Houston and Austin (and many other cities across the country), has seen its cost of living and housing prices spike precipitously in the past ten years, and especially in the last five. Dallas artists are responding, and Valderas is one of the most visible, witty, and consistent artists to stay on top of the issue.
There's a nice video and interview with Valderas on Art & Seek, so go here.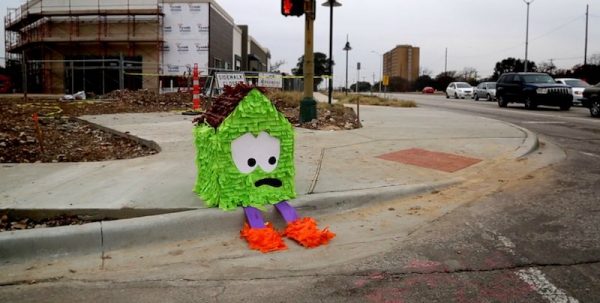 Top two photos by Kevin Todora for Art & Seek. Interview and story on Valderas by Hady Mawajdeh for Art & Seek.